GENERAL SUPPLIES:
SUPPLIES FOR PROJECTS:
FOR JOURNAL PAGE:
Use your favorite supplies. You won't need everything below but here's a list of my favorites, some of which I'll use in the video.
FOR THE PHONE CASE:
FOR THE ACCORDION BOOK:
FOR THE CHILDREN'S CROWN:
A note about traveling with scissors or knives: Within the US you can bring scissors on a flight as long as the blades measure less than 4" in length from tip to screw at the joint. In Europe and especially in Britain you may not bring any sharps at all. My scissors are much shorter and smaller than the regulations. Check the rules if you plan to fly with scissors. Knives of any kind are never allowed in a carry on bag.
Disclosure of Material Connection: Some or all of the links in this supply list are affiliate links. This means if you click on the link and purchase the item, we will receive an affiliate commission and we are disclosing this in accordance with the Federal Trade Commission's 16 CFR, Part 255: Guides Concerning the Use of Endorsements and Testimonials in Advertising. Please note that we only share the supplies listed by the teacher in this course. As always, our heart is to encourage you to use what you already have and, when we suggest products, we only share supplies that we use and endorse.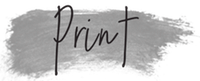 ---