Today I want to share my Home Favorites of 2012.
You can see my Business Favorites of 2012 HERE and my Creative Favorites of 2012 HERE.
I think home favorites are so different then some of the others I will be sharing this week.
Our home is about connecting, relaxing and living together.
It is not so much about the things as the spaces we have created and what we love about them.
It is the little things.
I have tried to mix this post up with the things you can find and spaces you can create:-)
I hope it will be a reminder that our homes are so much more than our "stuff"!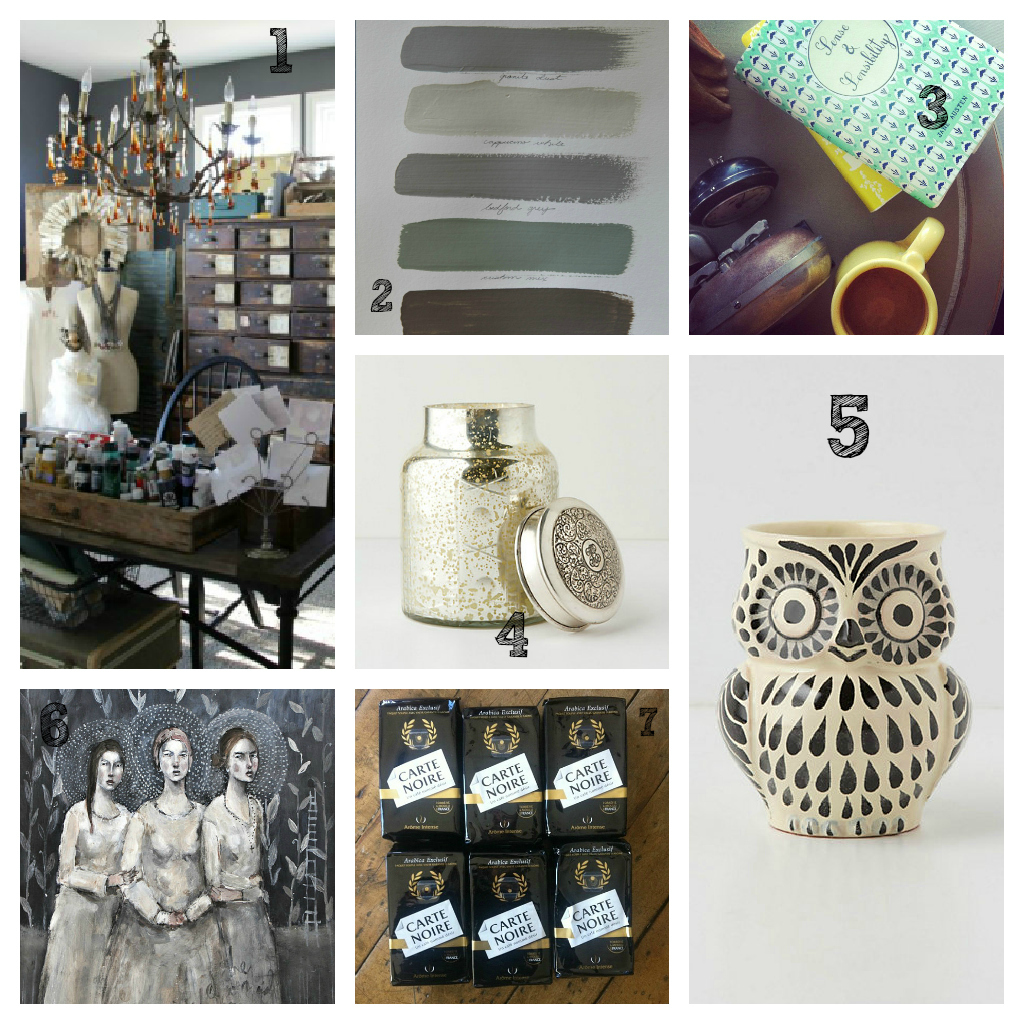 1. One of the things I love most about our home is that three years ago we turned our dinning room into my studio.   There isn't a day when I don't smile when I look into this space.  This space is a true gift of love from my husband and it is the first room you see when you come into our home.  It shouts so proud and loud that I am an artist and I HAVE to create!
2. This year we repainted almost the whole inside of our home.  It was like a breath of fresh air and made it feel like a brand new home.
3. Books!  We are a little crazy for books around here. Books fill our library, piled on the floors and stacked besides beds.  I had to pick up these "new" books at Anthro recently.  The covers were so beautiful!
4. We always have candles burning in our home.  The kids are asking to light them when I don't and I love that they love them too.  The Capri Blue fragrance is one of my favorites.
5. We have pretty cups hanging all over our reproduction wine bottle drying rack.  It is fun for all of us to have so many pretty choices each morning for coffee or tea.
6. I love having art all around our home.  I like having special pieces that you don't find everywhere.  This piece is my favorite new piece and is from my favorite artist, Misty Mawn.
7. I can't drink American coffee anymore.  It is a sickness.  I blame Tracey Leber for getting me hooked!  French coffee is now an addiction.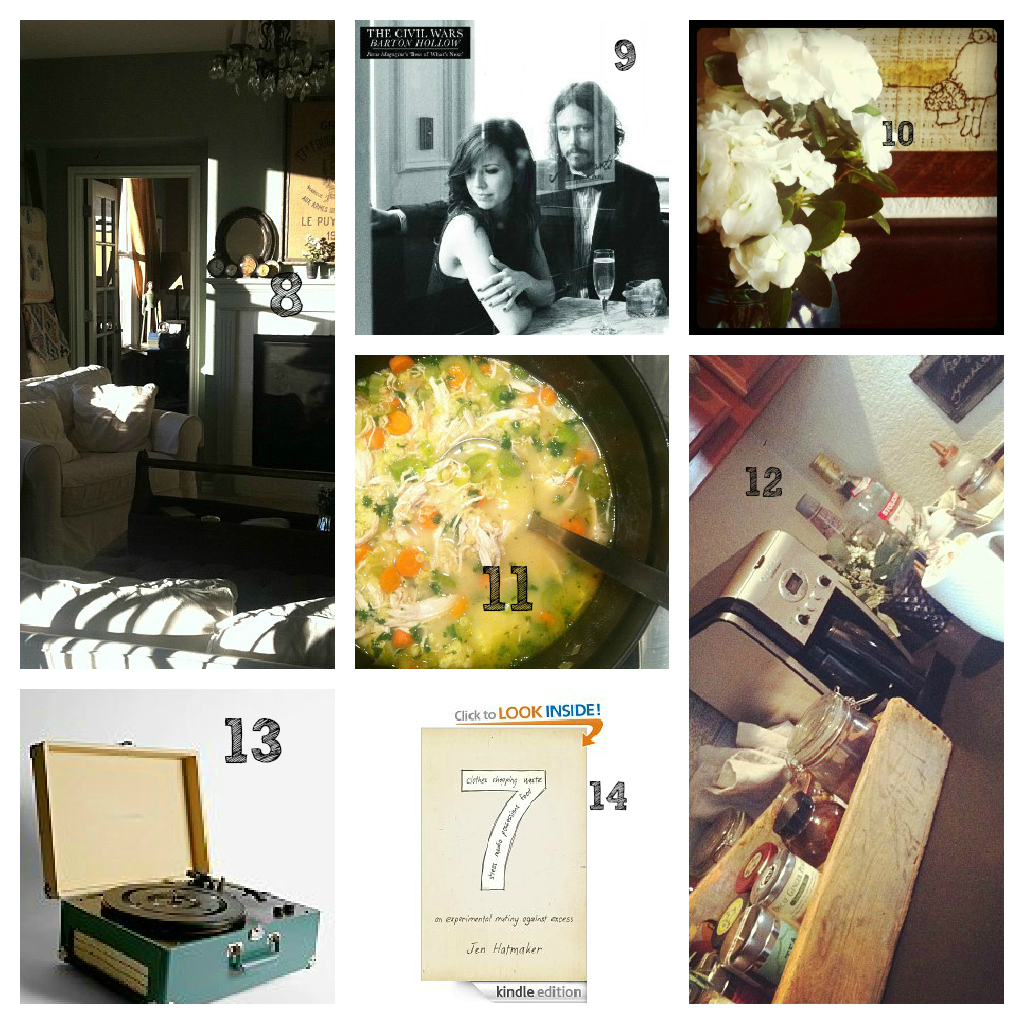 8. One of my favorite things to do in the whole world is to cuddle up and read.  I love it even more when the house just feels cozy and the kids join me.  I love looking up and seeing them all wrapped up in blankets reading too.  I am smiling now just thinking about it.
9. Music is such a huge part of our lives. I am playing music all day long. While we do school I may have classical playing and then we take turns choosing a channel on Pandora.  My favorite group of 2012 has to be The Civil Wars.  Swoon!
10. My house feels a bit naked without flowers!  I don't feel like my home is put together until flowers are splashed around the house.
11. I am a sucker for Dutch Ovens.  I bought myself a new one this year and ever soup, stew or roast is not safe from it!  It is the best feeling to have something hot and yummy on the stove waiting for my family!
12. This year we took the empty counters in our butler's pantry and made it into a beverage station. We all love it.  This is where we make coffee, tea, hot cocoa and keep special drinks. The kids like that their friends think we are super cool:-)  Shhhhh…don't tell them the truth!
13. I don't know why I still can't get enough of this thing but I just love it!  I have had it for over a year and love looking for old records when we are out.  It just brings back my youth (the funny thing is that it really just makes me old but I don't care).
14. THIS book will change your heart.   I loved reading Jen's journey, why she did it and it has helped me to put down many things knowing I didn't need it.

You would think I could have squeezed these last three things into the other collages…obviously not!
15. The nicest thing I have done for my family over the past few years is to use cloth napkins everyday for THEM. Not just company.  I am so glad it didn't take me longer to make that change.
16. I love that we make art in this home. Together. Alone. We make art!
17. This is a funny thing to include but I really love these.  I found these at Urban Outfitters and they look FOREVER to come in but I am so glad I was patient.  They are so pretty in our bedroom.
There you have it.
Just a peek into some of things I loved for the home in 2012.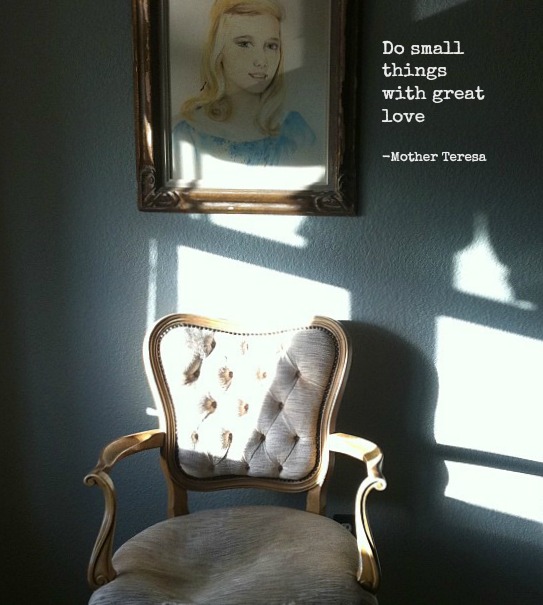 The best part of our home are the three crazy, messy kids and the one husband that I love now more than when we got married.
THEY make the home!
See you tomorrow for my Beauty Favorites of 2012!