I only offer 1-2 online courses a year because I want what I offer to you to be so true and authentic of me that I share because the art is changing me and my own work. When I create an online course it is because I have no other choice but to dive into this course that has been calling me. I am so excited to share that I have a brand new online course and this time we are taking storytelling through your art to an even deeper level. We are going to create some incredibly moving and powerful art together.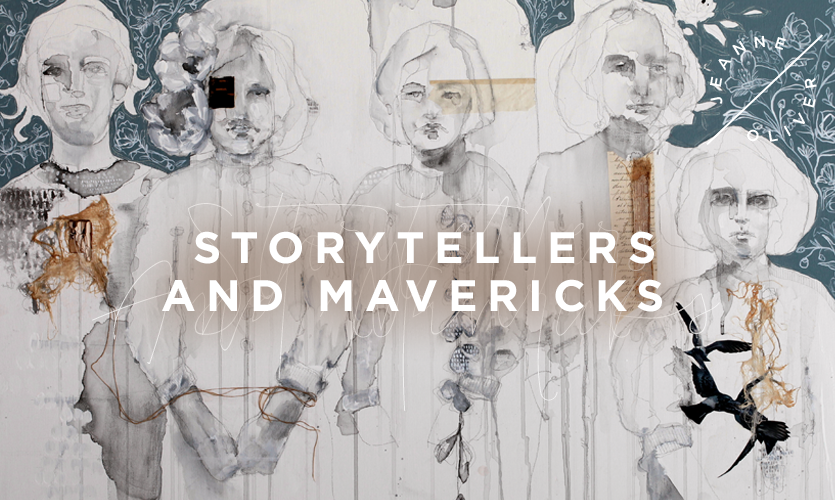 Each piece of art that I have ever created has led me to this time and each piece has brought me closer to my own journey in storytelling through my art. Only through practice and honoring my own journey and story have I been able to have the courage and vulnerability to create art that tells the story of my heart and those around me.
Join me as we look into the eyes of those that have come before us. Let's tell their story. The story of the Mavericks. The story of those that have waited for a time such as this. With sketching, painting, collage and mark making we will bring the past to life. We will take beautiful and broken stories and intertwine our own poetry and journey.
We will spill out our stories onto the canvas with hidden messages, symbolism and depth. We will create art that shows emotion, inspires and connects. Maybe there are stories in you that you didn't know you had to tell.
Discover the power of healing through expressive storytelling and tell the stories that are begging to be known.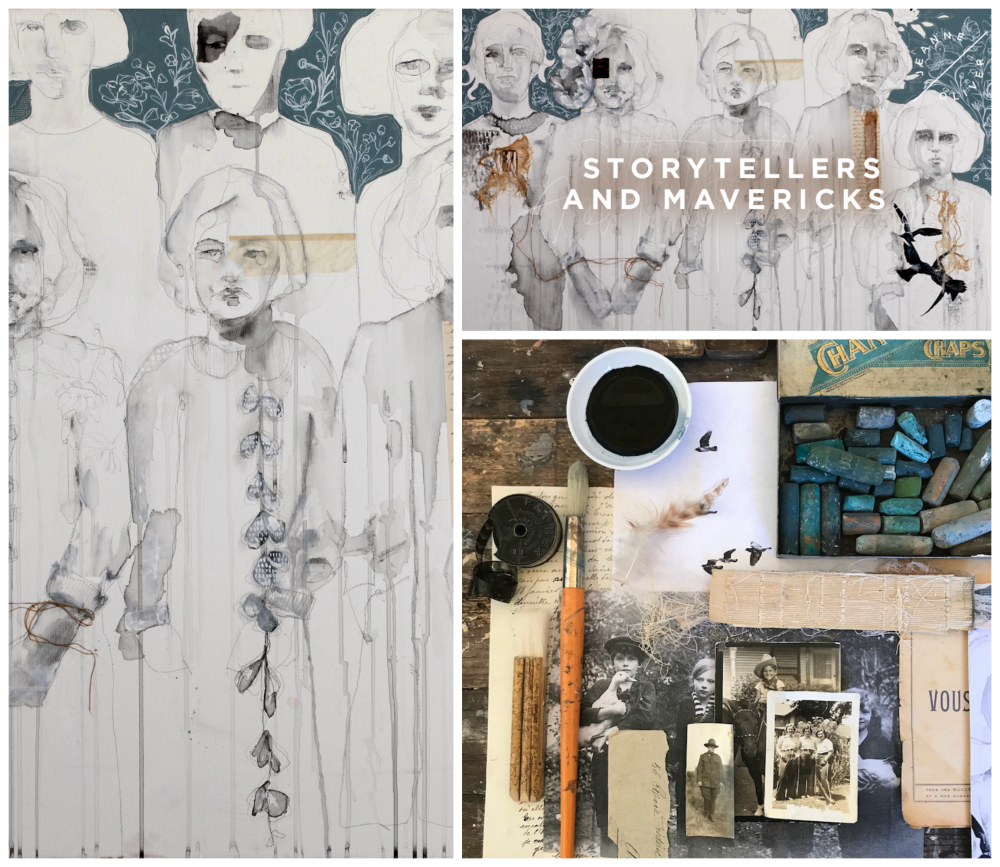 Techniques and art that will be taught in Storytellers and Mavericks:
Storyteller techniques to use in your art
Sketching with graphite, Stabilo, charcoal
Portrait painting with acrylics and/or oil paints and watercolors
Alternative image transfer methods
Mark making with stitching and metalwork
Storytelling through mark making
Storytelling and symbolism through collage
Incorporating vintage elements into your work
*The images shown are a reflection of the content that will be taught.
Come and Watch The Course Trailer
The early registration price for this 4+ hour course is $38.00. The price will go to $58 on October 22nd 10 pm MST, and the class will go live on November 14, 2018.
To read more or to register for this course please click HERE.
If you have any questions about the course please contact here at https://jeanneoliver.com/contact
See you in class!

If this is your first course with us or you are a longtime member we want to share how easy it is to find out more, register, see the supply list and share with your friends.
1. Come and read all about the new course HERE.
2. If you think your friends would love this course we would be beyond honored to have you share the promo video. We have included all of the social media links under the video to make it easy. You can also directly share the course page. You do not have to be a member of this site to see what we have to offer! LOVE THIS!
3. We also have over 100 other courses and to see what we are offering you can go directly to jeanneoliver.com and then click on courses.
4. All of our courses are pre-recorded so you can watch at your convenience. The best part is that you have lifetime* access.
5. If you have any questions about the course please contact here at https://jeanneoliver.com/contact
*As long as we manage the creative network