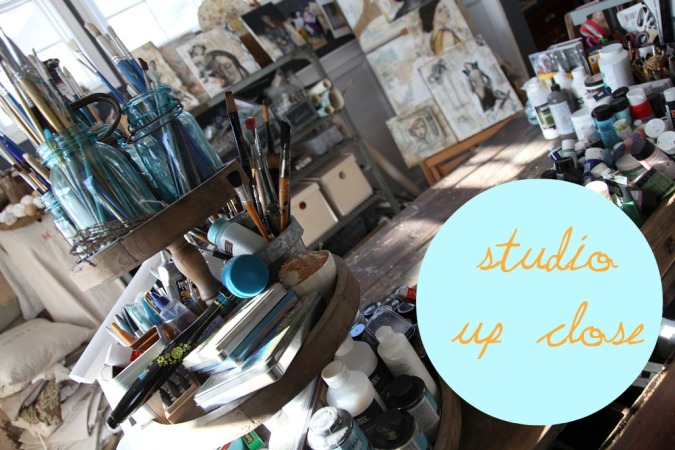 I recently had a post where I showed you my home studio.
This is where I make art alone and often with my children.
This is where I put the music on and let my mind wander.
I received many private emails asking me questions about my studio and where I got certain pieces.
I hope this post helps.
If I forgot to answer your question or if you have a new one please leave a question in the comments of this post.
Here we go…..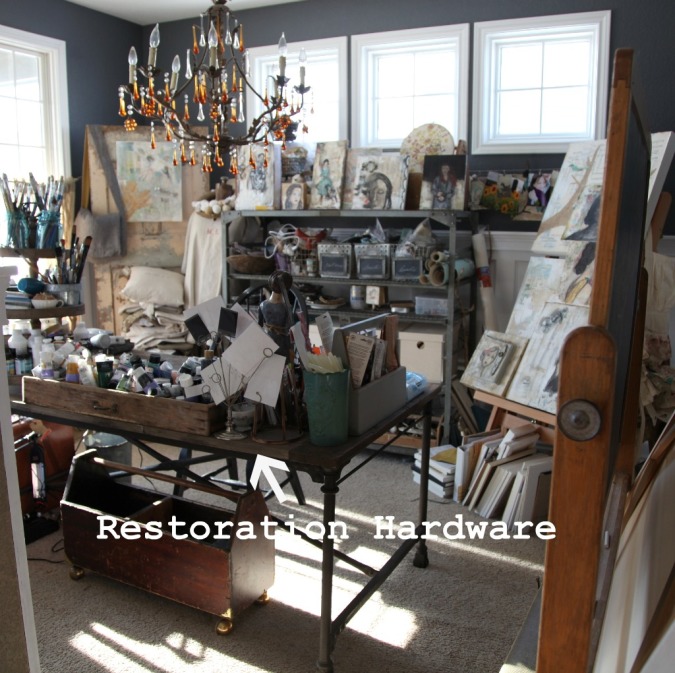 When we were looking for a desk I was originally looking for a vintage farmtable.
I wasn't finding one the either the right size or height.
Looking online you would think you would find them everywhere but when I needed one they were nowhere to be found.
We decided on THIS desk from Restoration Hardware.
We waited until it was on sale.
I wanted this desk because it was already rough looking and I knew I wouldn't be reluctant hammering a nail into the side to hang something or freak out if paint got on it.
It was going to be my painting desk…it was going to get messy and messy right away.
I absolutely love everything about this desk.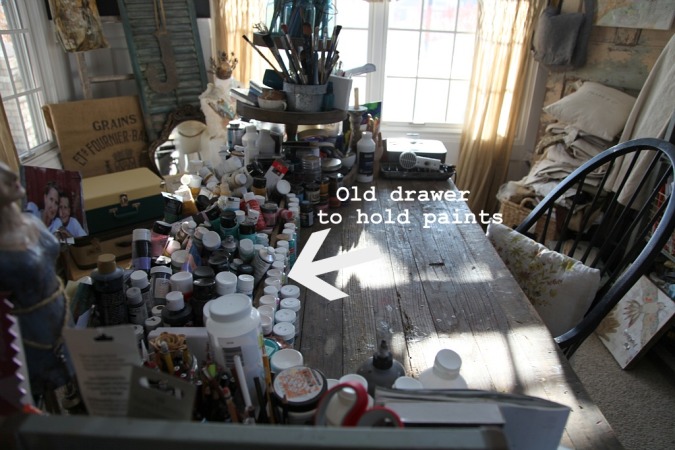 I love using old drawers, bins, muffin tins etc to store my supplies.
They are inexpensive and had tons of character to my space.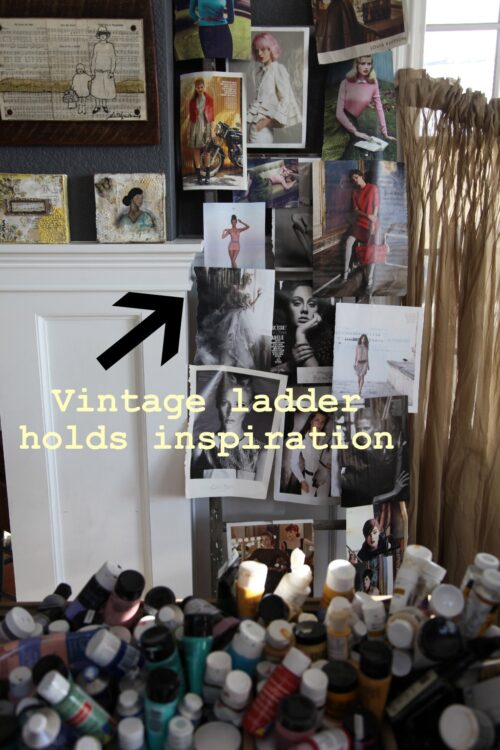 I don't know what my deal is with vintage ladders but I have three in my house.
Two are in my studio and one is in our living room holding all of our vintage quilts.
Here I have tons of inspiration hanging from one of the ladders.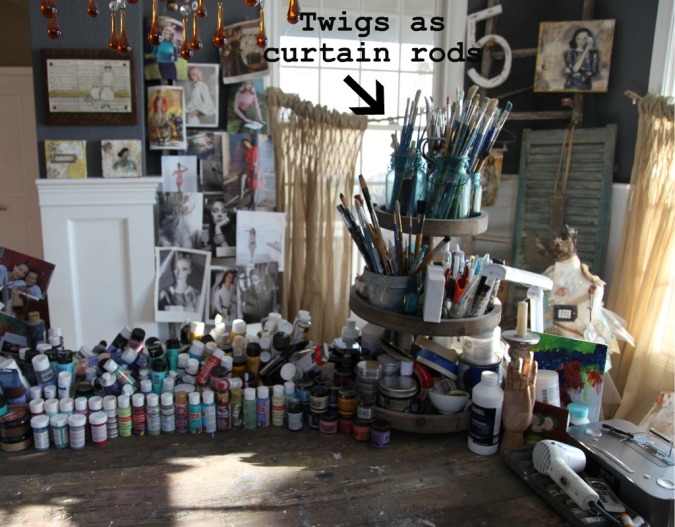 My curtains are from Pottery Barn.
 My friend, Tracey, has the white ones and I fell in love with them.
I could never find any curtain rods that I liked so I begged my brother-in-law to saw me off some branches from their trees.
I love them this way and they make the space more whimsical.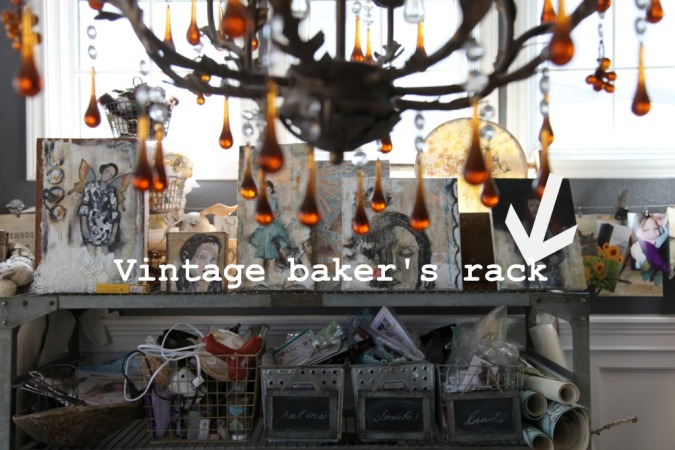 I love vintage items for storage!
Whether it is a vintage dresser, printing press storage, shoe racks….they all add so much character.
We were fortunate to find this amazing wood and metal baker's rack at Old Glory Antiques.
It is exactly what we were wanting and needing.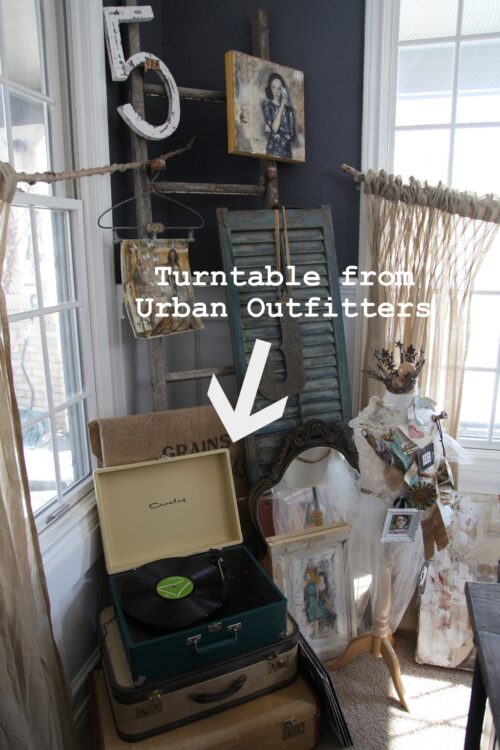 I use vintage suitcases for storage throughout my studio.
I also always have music playing.
Either I have my iphone docked and playing on my desk or I have a record spinning on my turntable.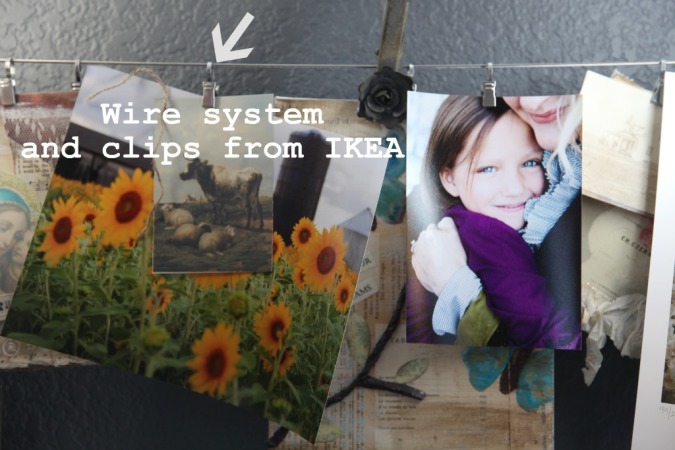 I have to have a place to put up my favorite photos, art, gifts and letter from friends and peers.
I loved this so much that each of my boys also have them in their rooms to old their art.
Thank you for all of your questions and please feel free to ask more if you want (or if I didn't answer your previous question).
The original post can be found HERE if you want to see more photos.
**************************
Please excuse how some of the photos look from previous posts.  We added a column to the side of my blog for the time being to show the information about the new e-course.  Unfortunately, it has smooshed some of my photos.