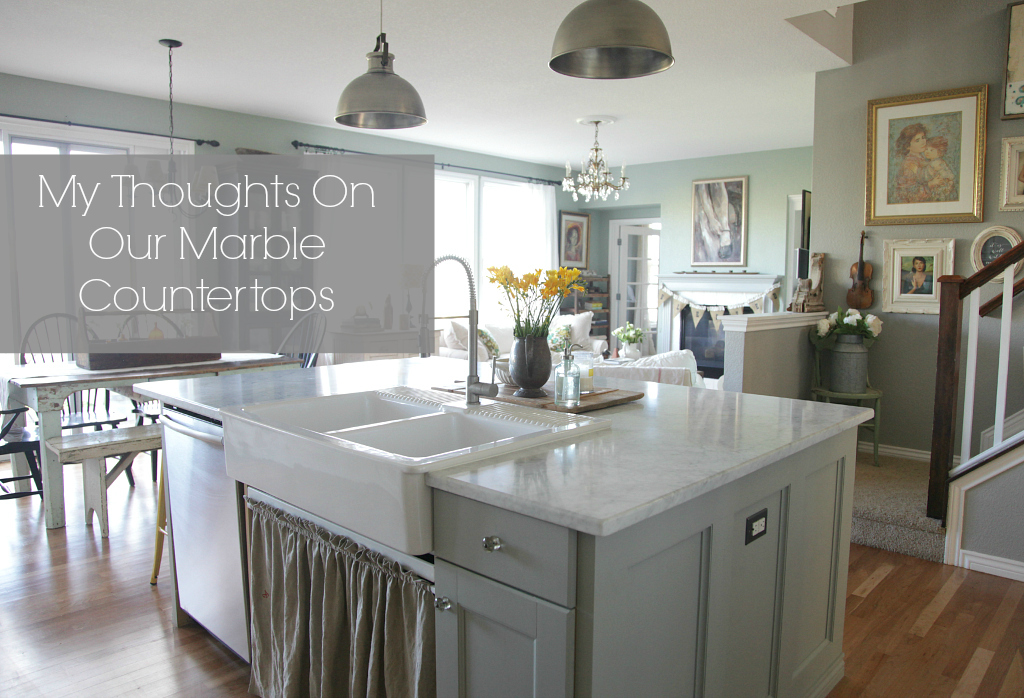 I have found that so many people have very strong opinions about having marble countertops.
A few days after we had our marble island counter installed an acquaintance was in our home and this was her response as she ran her hands over our marble…
"Oh, my!  You went with marble!  Are you going to regret that?"
Hmm
I won't even go into the next five minutes of me defending the honor of my shamed marble.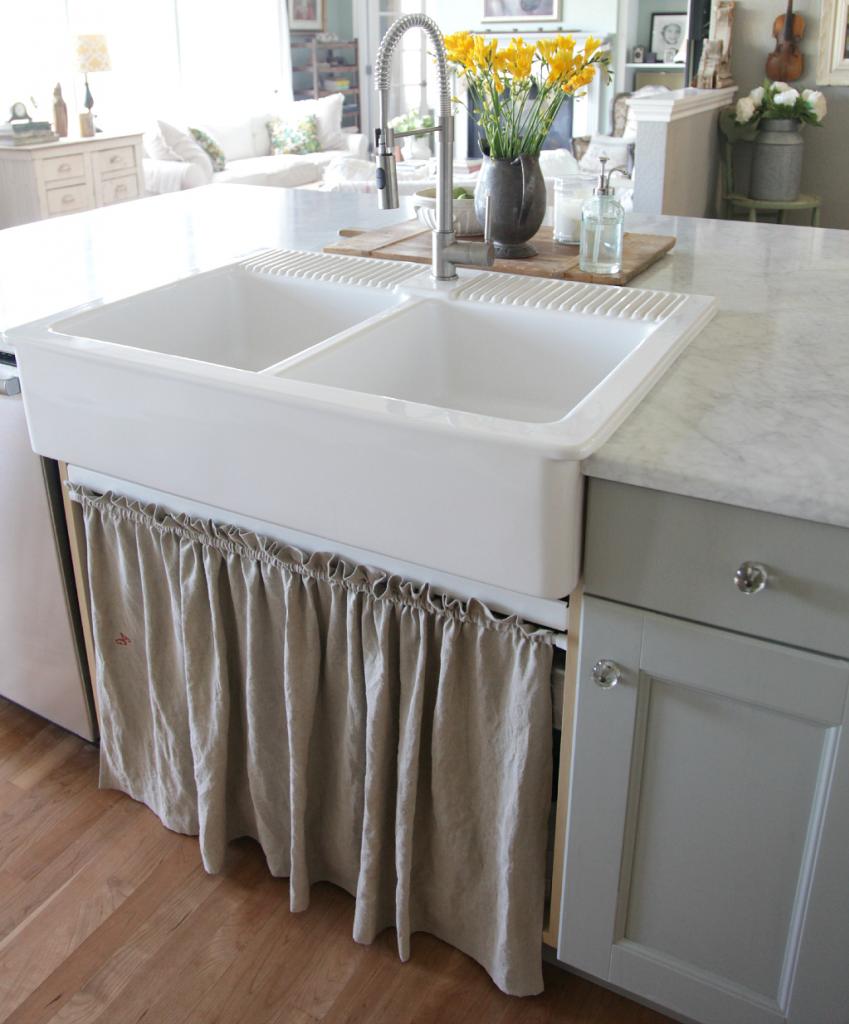 This wasn't my first experience with the opinions and gratefully I was better prepared this time to stand strong in my choice and to be proud of it.
Let me go back just a bit and explain how we came to getting the marble and what I think about it after living with it for 6 months (the good, bad and ugly).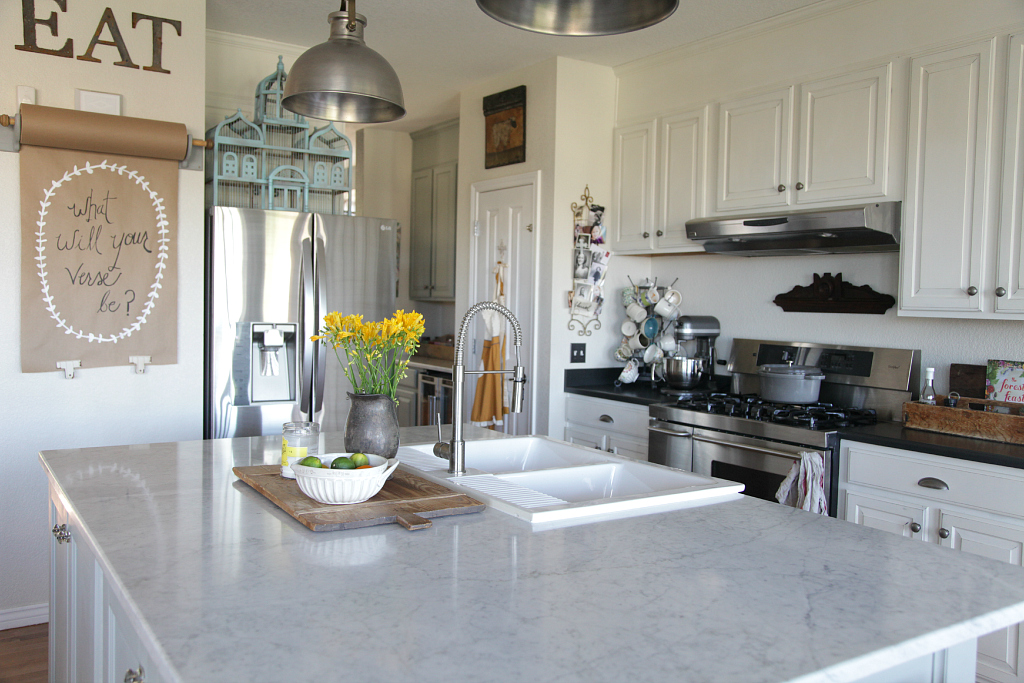 This was our first big remodel of our home and I was so excited to add new character and design elements into our home.
Keep in mind that it had been 12 years since we had picked out flooring, tiles etc. while we were building our home and obviously there is always a budget. Dang budget…I hate you.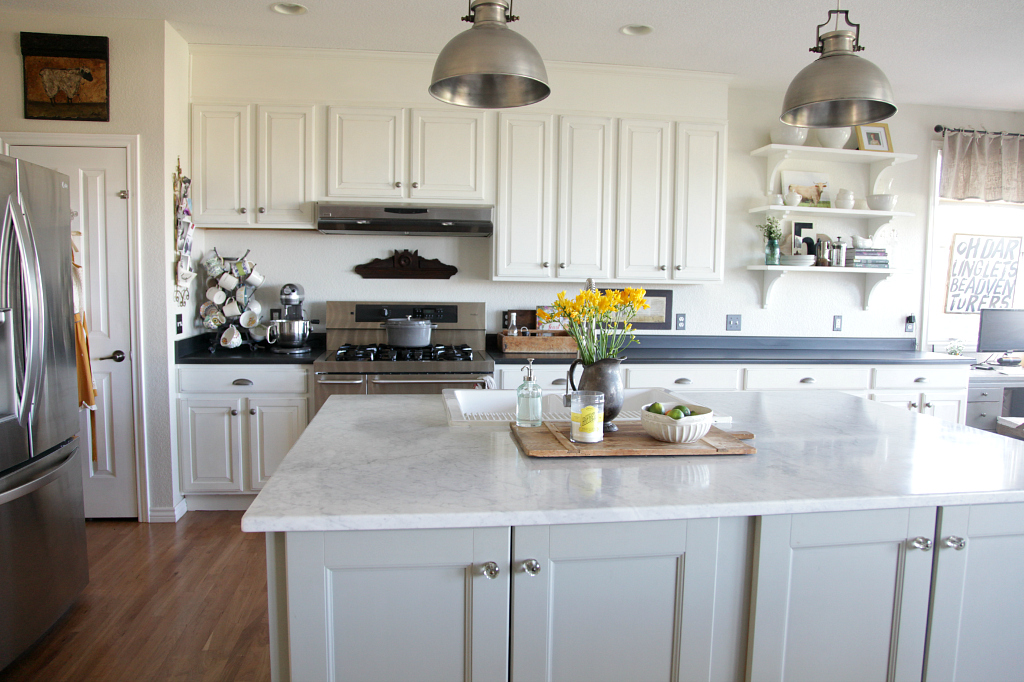 Kelly and I headed out to find the stone that would be the icing on top of our newly built island.
I was so excited!
I wanted to keep an open mind about what kind of stone we chose but I also knew I wanted the island to be a light color because I did not want it to become a dark hole in the center of the room.
We went to many different showrooms and even walked among the huge slabs that were outside (in 7 degree weather I might add).
All of the men working with us kept telling us how awful marble would be, completely ignored me and then proceeded to show me the most manly granite you can even imagine.
I think they thought I was building a manly cabin in the woods.
Each showroom left me more and more discouraged and everything I was being shown I truly hated.
I sank into the car seat as we headed home, turned to Kelly and said, "This isn't as much fun as I thought it would be." I think I probably sulked the rest of the ride home like the mature woman I am.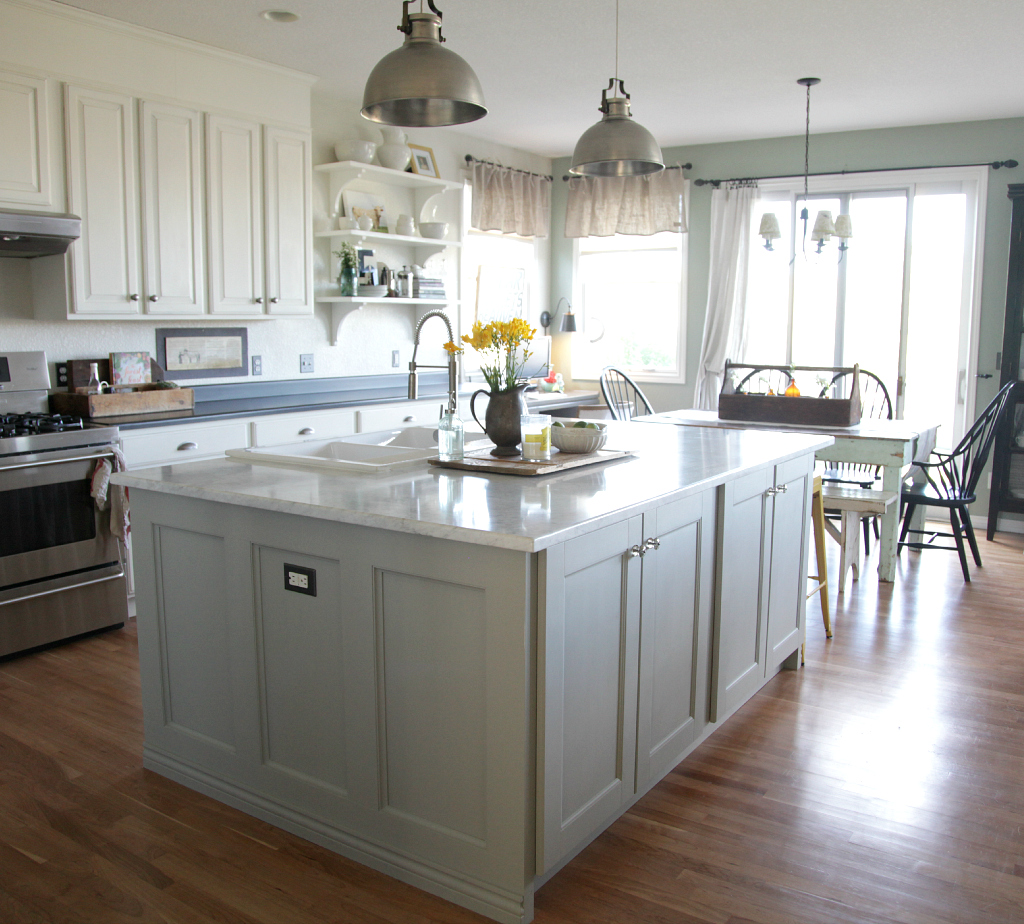 Kelly had made it clear from the beginning that he could care less what stone we got and this decision was up to me.
I forgot for a moment that I know what I liked and I just needed to stand up for it.
When we got home and I had sulked some more I gave one of my closest friends a call.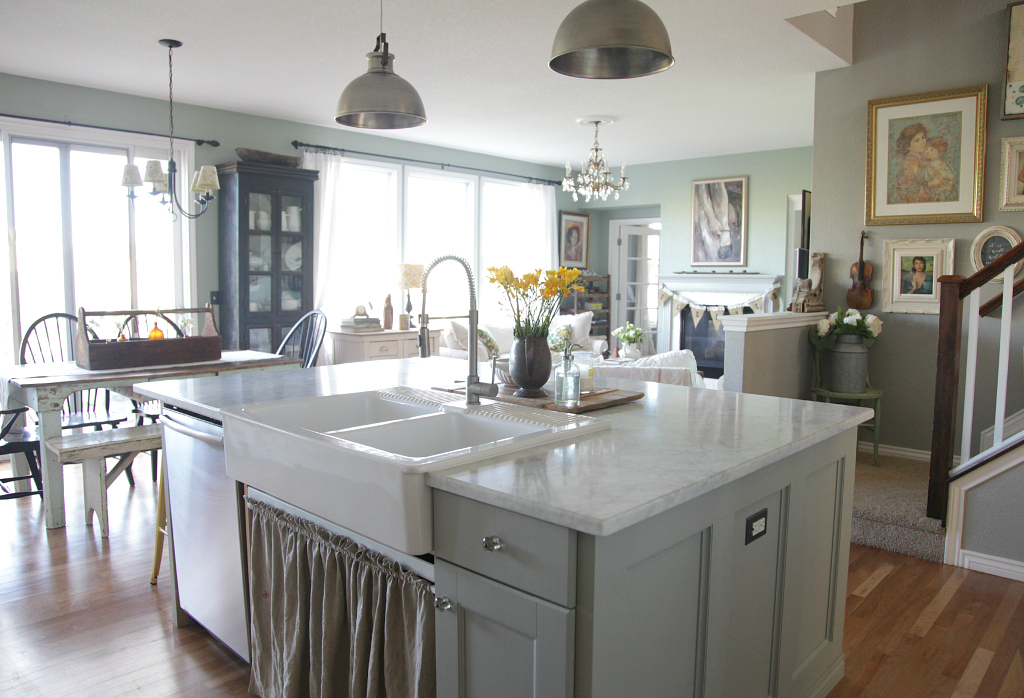 This girl is my artist in crime, travel companion, cocktail expert, best Halloween costume maker, designer extraordinaire and the funniest story teller.
I called her feeling defeated and I told her that I wanted marble for the island and every showroom was trying to talk me out of it.
The rest of the story is why I love her so much and I should have re-created it on video so you would all get a good laugh out of it.
"I hate when people know what they want and people try to talk them out of it!"
I want you to know that I have known Alexis for years and the following phone conversation was the most heated I had EVER heard her.
Alexis has one of the best homes of anyone I know because of her eclectic style and amazing design sense.
She told me that when they were remodeling her home that many of the installers of the tiles, counters etc. made her sign a waver because they didn't agree with her choices (isn't that a laugh) and they thought she would later regret what she wanted and they wanted it documented that they had warned her against it. Serious.
Of all of her choices she only regrets one and loves, loves, loves everything else she did.
Who cares what anyone else is saying…even the "experts". Go with your gut and stand your ground.
When I got off the phone I thought I could take on the world…or at least the guys at the showrooms.
I have traveled to so many beautiful parts of the world and in so many of the hotels, restaurants and museums there is marble that has yellowed, dipped, stained and I find it all gorgeous!
I had originally hoped to find a vintage marble slab so all of the "beautifying" would already be added. No such luck for such a large slab.
As soon as I got off of the phone with Alexis I went immediately to Kelly and let him know that after Alexis' pep talk we had some marble to pick out.
We then went to an amazing stone showroom with so much stone that we joked that it was God's art gallery. Incredible stone that I had never seen in my life.
We picked out many different styles of marble and really made our final decision based upon price.
So, what do I think about it now that we have been living with it for 6 months?
We went with a honed carrara marble slab.
1. It is SOOOO beautiful. Truly gorgeous.   I love it so much and we have plans of adding it to the bathrooms when we update them.
2. It will not be perfect for more than 5 seconds…if it was even flawless when you got it.  I went into it half way relaxed and knowing that it would have marks of some sort immediately. Lucky for us our installers messed it up right away so that even relaxed us more.  Half of the things in our home are chipped or scratched because they are vintage.  I only want things in our home that we use and this ain't no showroom. This is real life and I want to use what we buy.  It helped that I have lots of friends that have marble and they prepared me to just go with it…it is worth it.  We have flat marks, we have a few scratches etc. but I think it is still gorgeous. I really wish I could age it a hundred years and enjoy THAT beauty but I am sure with five of us in this house we will do our part.
3. It is easy to clean.  We only clean it with water.  We do need to look into a sealer that we can apply every once in awhile so if any of you have a great suggestion please speak up.
4. It is exactly the look we were going for.  No other stone would have done it for me.
5. We use it!  We make art on it, do homework, do devotions and enjoy the conversations that happen around it all of the time.  Jack has been known to take naps on it:-)
6. It softens the space so beautifully and will work with whatever direction we want to take the kitchen next.  The marble is a perfect neutral for any other color we want to paint the cabinets or walls.
7. Marble is timeless.  No matter what is in style or trending at the moment marble has been used in kitchens, bathrooms, floors, walls etc. for hundreds of years and they are holding up beautifully.
I am so glad I didn't settle or compromise on a look I didn't really like.  Every day when I come downstairs I have never regretted once getting the marble and the investment we made.
I think the moral of the story is to keep your opinions to yourself and let people enjoy their choices, don't be talked out of what you really want and everyone needs an Alexis in their life!