Art Under Resin | Alcohol Ink in Abstract with Noelle Mena
Course Description
Join Noelle Mena for her second course here at the Jeanne Oliver Creative Network! While you're here, please take a look at her first course The Art of Alcohol Ink. It is not a prerequisite but Noelle does not repeat the content of the basics introduced in the previous course.
My heart in this course is to lay the groundwork for loving what you create. We use alcohol inks as a base while adding layers of mixed media and finishing in resin. This is not The Art of Alcohol Ink course that is completely focused on alcohol inks start to finish.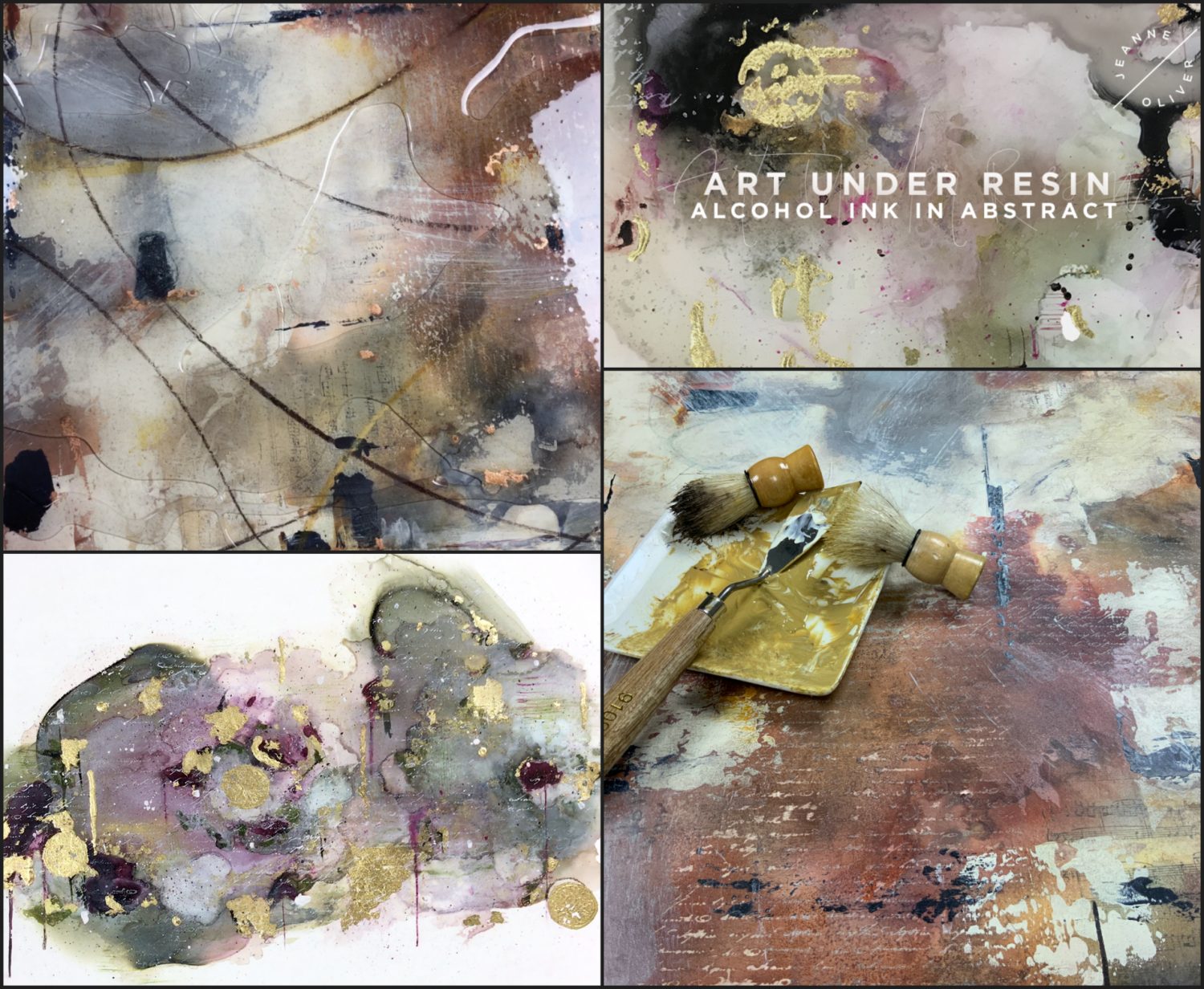 Art Under Resin | Alcohol Ink in Abstract is forgetting about your alcohol ink edges and easily create pieces you love. Using the right supplies, you have a foundation to build and create the work you have been desiring. We will start small and create a series that finishes in resin. We will then take it big and bold using other techniques with endless possibilities. Watch how alcohol ink can be your bottom layer creating beautiful surreal windows of color in your piece. Adding layers of acrylic paint + inks, pastels, watercolor, inktense, conte, and gold, silver or copper leaf (oh my) and any medium you choose!
We will seal, cut + mount our pieces to wood cradled board. Skipping no steps! Discover a process that works and leads to success in your continued outcomes.
Moving into resin you will learn how to prepare yourself, your space and your piece for ridiculously beautiful results. I wish I could be standing next to each one of you as you watch the magic of resin on your art work. The ethereal depth that finishing your piece in resin is worth every second.
*You could take this course and use any medium for your art pieces and follow the same process for adding resin as your final layer… or layers.
Learn how to get your desired outcome every time be it professionally or just for the thrill of it.
This is not The Art of Alcohol Ink course that is completely focused on alcohol inks start to finish. Use the coupon included when you purchase Art Under Resin and enjoy The Art of Alcohol at 30% off to learn all of the basics of alcohol ink. The Art of Alcohol Ink is not a prerequisite to this course.
Techniques Taught in this Course
-Set the stage to loving your work with the right tools and supplies.
-Unleashing the possibilities by letting go of the frustration
-Using alcohol ink as a starting point
-Working with mixed media to create layers of interest
-Using your palette and your marks
-Easily create a series.
-Take it big and bold from start to finish, layer after layer
-Preparing and sealing your work for next steps
-Preparing your wood cradled board
-Mounting your art work to the wood cradled board
-Setting up your space for working with Resin
-Measuring, Pouring and Torching Resin
-Preventing Resin Mishaps
-Fixing Mishaps
-Creating layers of work and resin over work and resin