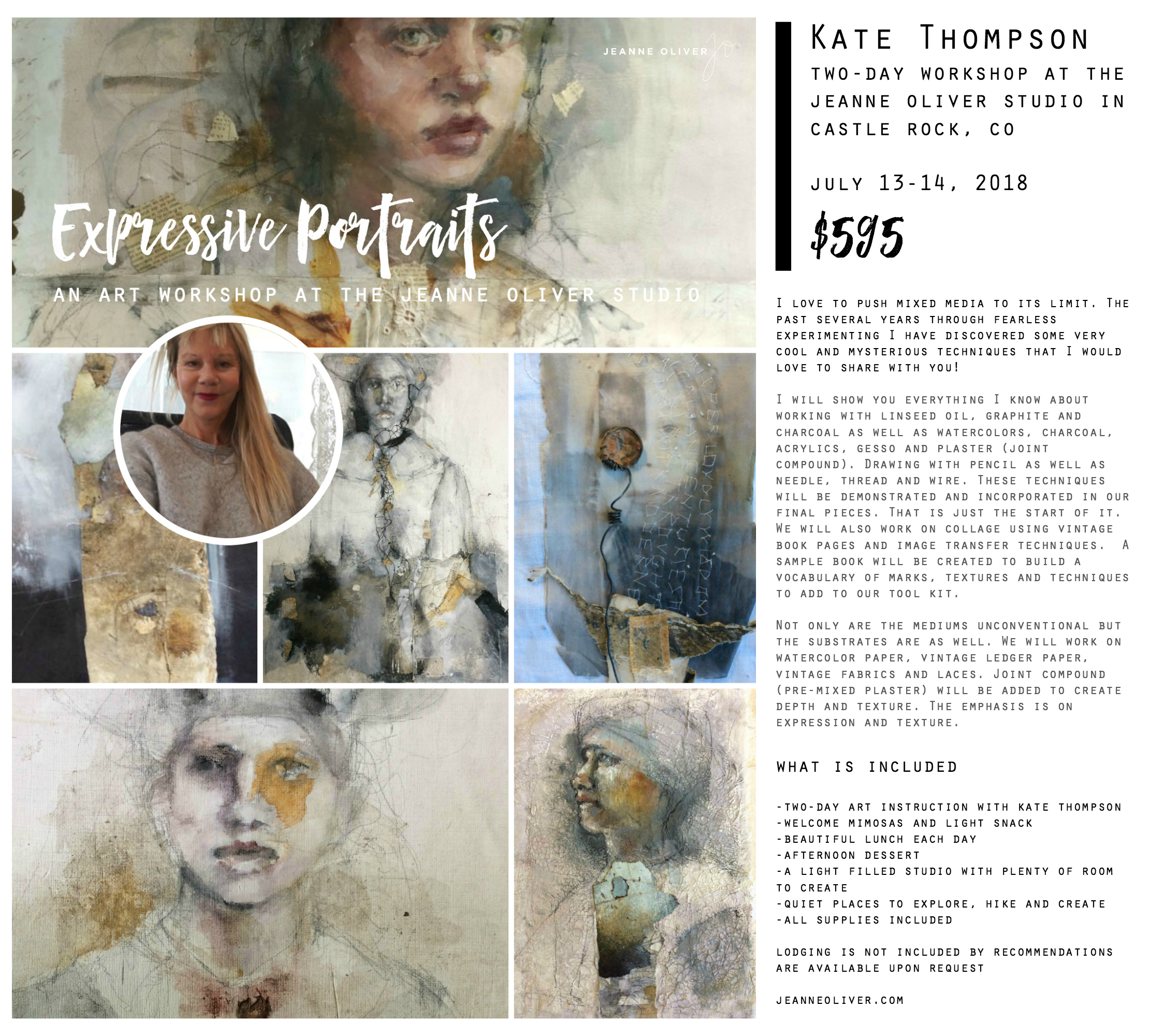 Join Kate Thompson in beautiful Castle Rock, Colorado on July 13-14, 2018 for a two day art workshop.
Our studio is light-filled and surrounded by wooded property that lends itself to exploring, creating and relaxing.
You will have opportunities during the workshop to also make your way through some of our wooded paths and find a spot to create.
It is our heart's desire that your time on our land and studio brings you rest and dreaming.
When you arrive on Friday morning you will be welcomed with mimosas and a light snack as we find our places and meet each other.
All main supplies will be provided for this workshop.
Each day there will also be time spent in the beautiful land surrounding the studio including our lunchtime in the garden.
At the end of day one, we hope you will join us for dinner at one of Jeanne's favorite local restaurants (this is not included) or explore the sweet town and find the perfect place to relax after a full day of creating.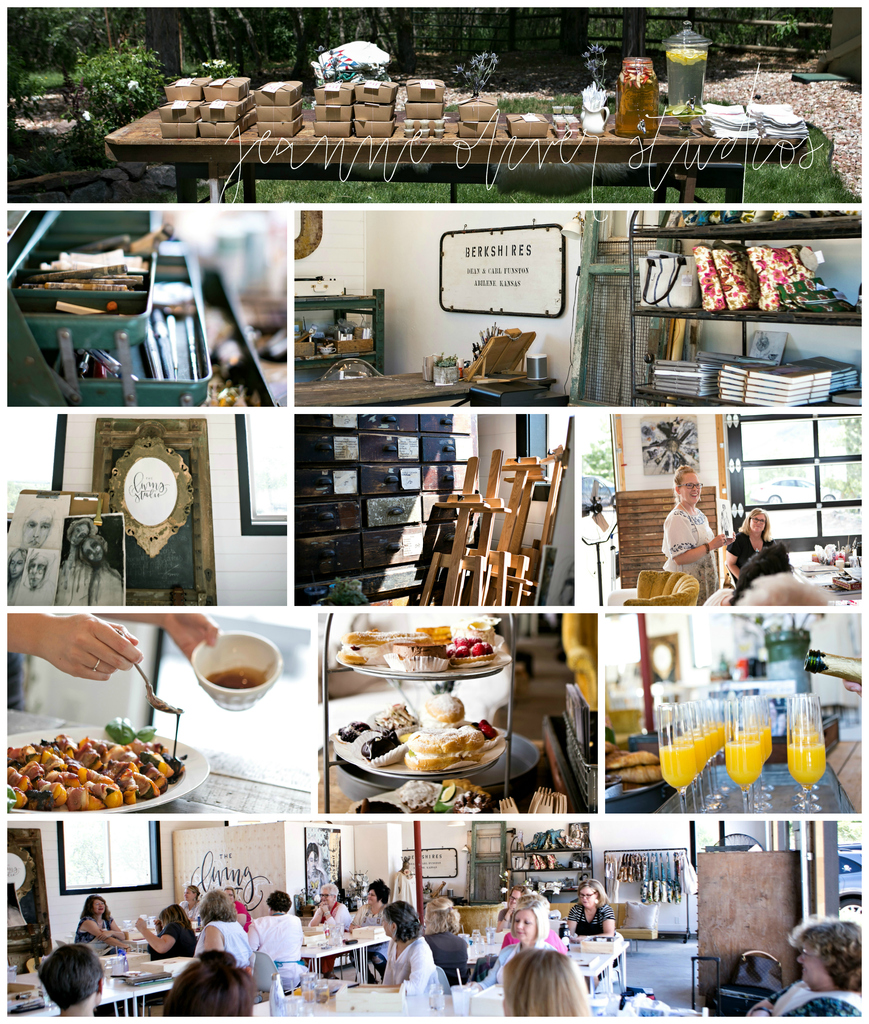 Expressive Portraits Workshop with Kate Thompson
I love to push mixed media to its limit. The past several years through fearless experimenting I have discovered some very cool and mysterious techniques that I would love to share with you!
I will show you everything I know about working with linseed oil, graphite, and charcoal as well as watercolors, charcoal, acrylics, gesso and plaster (joint compound). Drawing with a pencil as well as a needle, thread, and wire. These techniques will be demonstrated and incorporated into our final pieces. That is just the start of it. We will also work on collage using vintage book pages and image transfer techniques.  A sample book will be created to build a vocabulary of marks, textures, and techniques to add to our toolkit.
Not only are the mediums unconventional but the substrates are as well. We will work on watercolor paper, vintage ledger paper, vintage fabrics, and laces (check the vintage stores for a source of amazing fabrics to use). Joint compound (pre-mixed plaster) will be added to create depth and texture.
I will demonstrate my portrait techniques that work so well with the mediums we will be using. The emphasis is on expression and texture.
What is included
-two-day art instruction with Kate Thompson
-welcome mimosas and a light snack
-beautiful lunch each day
-afternoon dessert
-a light-filled studio with plenty of room to create
-quiet places to explore, hike and create
-all supplies included
lodging is not included by recommendations are available upon request.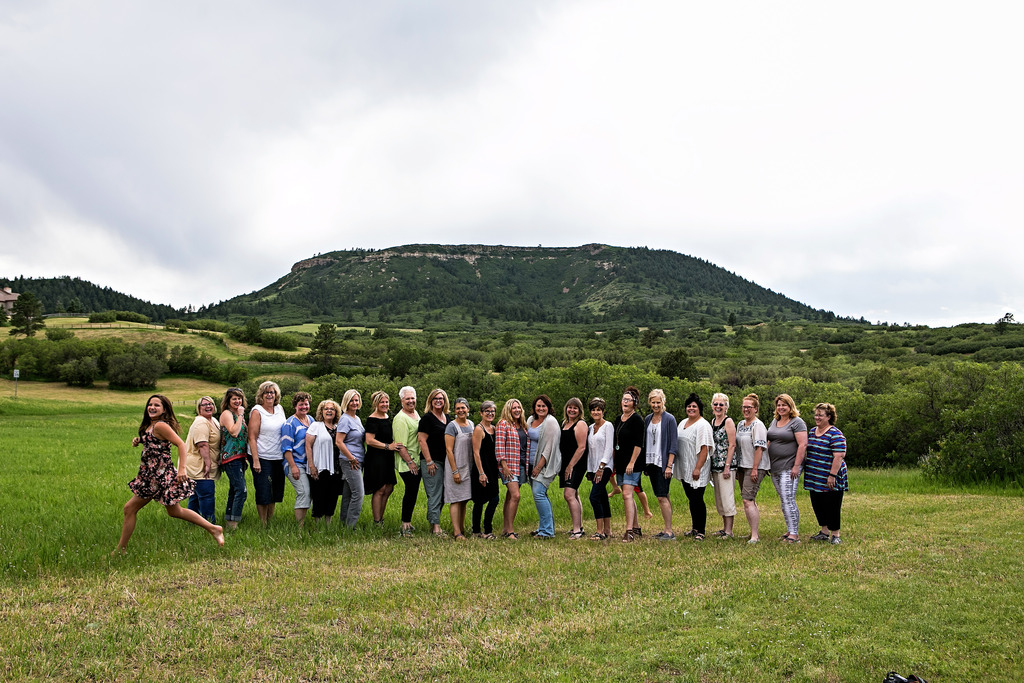 |Some of the women at our first workshop in our front yard|
While you are in the area we will make sure to point you in the right direction to all of our favorite restaurants, hiking spots, and antique stores.
Our town has been ranked one of the best towns in America and we have to agree. I suggest you stay a few extra days to enjoy the beauty of Colorado!
Space is limited. If you have any questions please email us at contact@jeanneoliver.com.
You can register below or request an invoice.