No more Oprah and no more "favorite things" episodes.
I haven't watched Oprah in more years than I remember but I used to love the Favorite Things show….until last year.
It was crazy and over the top.  It was just too much!
Maybe it had been for years and I just hadn't watched them.
So, last year I wrote about more realistic favorite things  Here and Here.
It was so much fun last year that I thought I would do it again.
These are the books, products and little extras that I loved this year.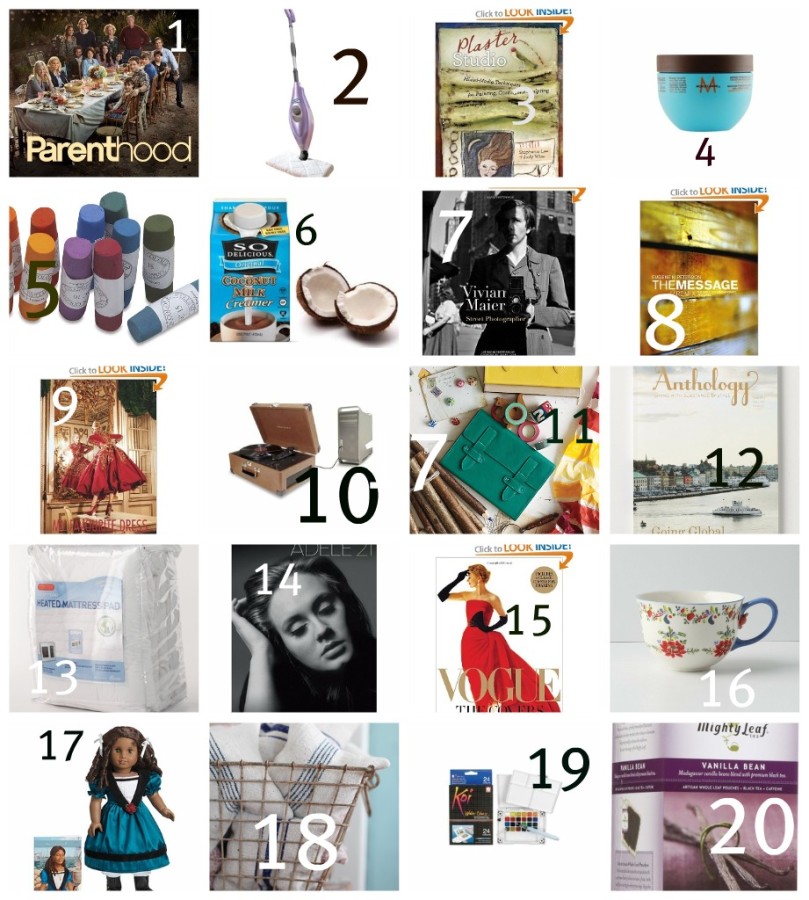 1. Until my beloved Mad Men comes back I am so glad to have a new love...Parenthood.  I loved the writing and characters from the FIRST show!
2. I do not like mopping the floors.  I have been known to go WAY too long without cleaning them.  Sorry.  I bought the Shark last year while Christmas shopping for other people:-).  I LOVE it!  It is so easy and makes mopping the floors something I don't dread.
3. I just love anything from Stephanie Lee. It is not just her art…it is HER!
4. I have dry hair and nothing really works on it except Moroccan hair treatments. I like the oil a lot too.
5. These are my favorite pastels.  They are handmade and ALMOST too pretty to use.  Almost.
6. Most of us in my family have a mild dairy allergy so coconut milk creamer is my favorite dairy substitute.
7. My friend, Lara, introduced me to this book and it is fascinating.  You can't put it down.  The whole story behind the book is as good as the photos themselves. Beautiful!
8. The Message Bible has such an easy language that it can be a wonderful addition to what you are already reading.
9. What could be better than top designers sharing what their favorite dresses are.  Stunning.  My Favorite Dress.
10. This is my most recent splurge.  I have been wanting this for over a year (mine is turquoise). The little crackle makes Adele even more incredible.
11. Pretty journals from Anthro make me so happy…throw in a new pen or pencils and I am down right giddy!
12. I think Anthology is one of the best new magazines out there.  It is in print form and everything about it is perfection…the paper, layout, minimal advertisers.  Worth the money and worth your time.
13. I never grew up with a heated blanket so for some weird reason I love them.  I love getting into a bed all toasty warm. This year my husband talked me (reluctantly) into a heated mattress pad. The jury is in and it is AMAZING!
14. Anything by Adele connects with me.  I have her new album on my Christmas wish list.
15. Here is another book if you love the history of fashion. It is a book full of Vogue covers.  Beautiful and fun to see the evolution of style.
16. I have a large French bottle rack in my kitchen full (really full) of the most beautiful mugs and tea cups.  We use them everyday and they make me happy.
17. My daughter has loved American Girl dolls since she turned 5.  Every birthday and Christmas for the past 4 years have included something from American Girl. I love the historical girls and the sweet books that go along with them.
18. In our living room are the prettiest lavender sachets made from vintage grain sacks.  We fluff them all of the time to release the smell.  The kids know how much I love the smell so they are always "fluffing" them for me:-)
19. My favorite portable watercolor set. The best part is the water pen so you don't have to worry about water on the go.  I love it so much that my kids are getting sets for Christmas.
20. I love my coffee (even though I know I should give it up) but I am a tea drinker too.  This is one of my new favorite flavors.  Yum.
Obviously, the list could go on and on and on….but we have orders to wrap so I will stop now.
Leave links or comments letting us know some of your everyday favorite things.
********************************************************************************************************
In shop news:
We are now offering gift certificates in the shop.
There is still time to sign up for my e-course Creatively Made.   A perfect way to start the New Year for yourself or gift it to someone special.  You can read more HERE and HERE.
Our new Natalie Camera Bag is selling quickly so don't wait too long to order one if you have had your eye on it.
You can see my interview in the newest Folk Magazine and I was also interviewed in the most recent issue of Ready, Set, Create E-Mag (you will also find us in the next issue of Somerset Life).