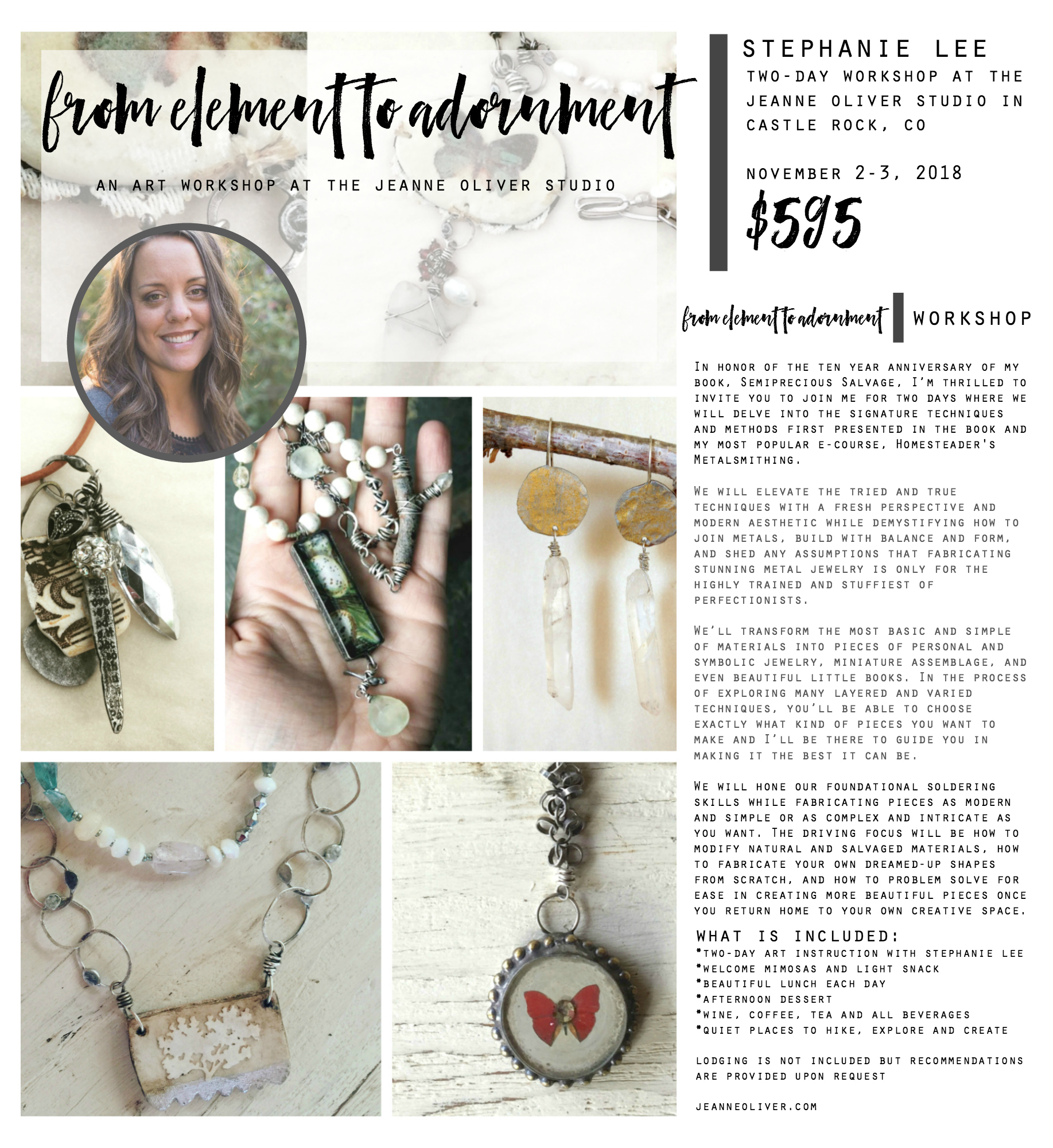 Join Stephanie Lee in beautiful Castle Rock, Colorado on November 2-3, 2018 for a two-day art workshop.
Our studio is light-filled and surrounded by wooded property that lends itself to exploring, creating and relaxing.
It is our heart's desire that your time on our land and studio brings you rest and filled with inspiration.
When you arrive on Friday morning you will be welcomed with mimosas and a light snack as we find our places and meet each other.
Most of the supplies will be provided for this workshop.
Each day there will also be time spent in the beautiful land surrounding the studio including our lunchtime in the garden.
At the end of day one, we hope you will join us for dinner at one of Jeanne's favorite local restaurants (this is not included) or explore the sweet town and find the perfect place to relax after a full day of creating.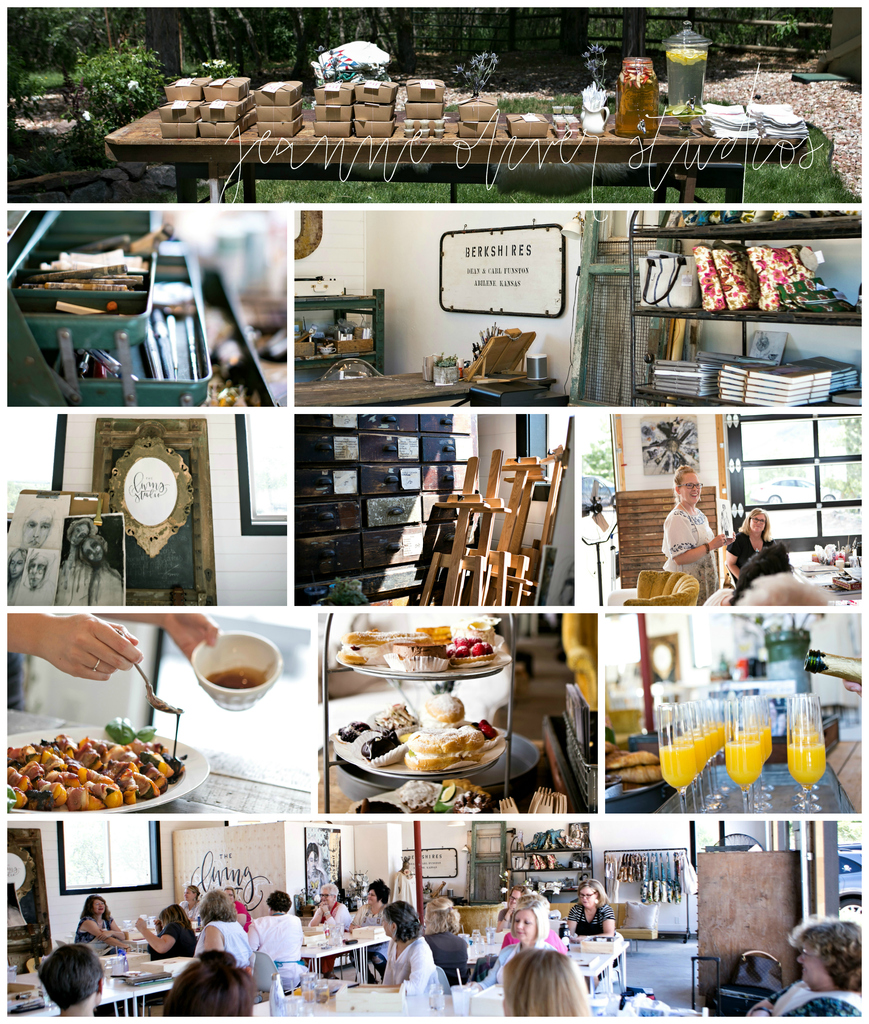 From Element to Adornment with Stephanie Lee
In honor of the ten year anniversary of my book, Semiprecious Salvage, I'm thrilled to invite you to join me for two days where we will delve into the signature techniques and methods first presented in the book and my most popular e-course, Homesteader's Metalsmithing.
We will elevate the tried and true techniques with a fresh perspective and modern aesthetic while demystifying how to join metals, build with balance and form, and shed any assumptions that fabricating stunning metal jewelry is only for the highly trained and stuffiest of perfectionists.
We'll transform the most basic and simple of materials into pieces of personal and symbolic jewelry, miniature assemblage, and even beautiful little books. In the process of exploring many-layered and varied techniques, you'll be able to choose exactly what kind of pieces you want to make and I'll be there to guide you in making it the best it can be.
We will hone our foundational soldering skills while fabricating pieces as modern and simple or as complex and intricate as you want. The driving focus will be how to modify natural and salvaged materials, how to fabricate your own dreamed-up shapes from scratch, and how to problem solve for ease in creating more beautiful pieces once you return home to your own creative space.

What is included
-two-day art instruction with Stephanie Lee
-welcome mimosas and a light snack
-beautiful lunch each day
-afternoon dessert
-a light-filled studio with plenty of room to create
-quiet places to explore, hike and create
-most supplies included
lodging is not included by recommendations are available upon request.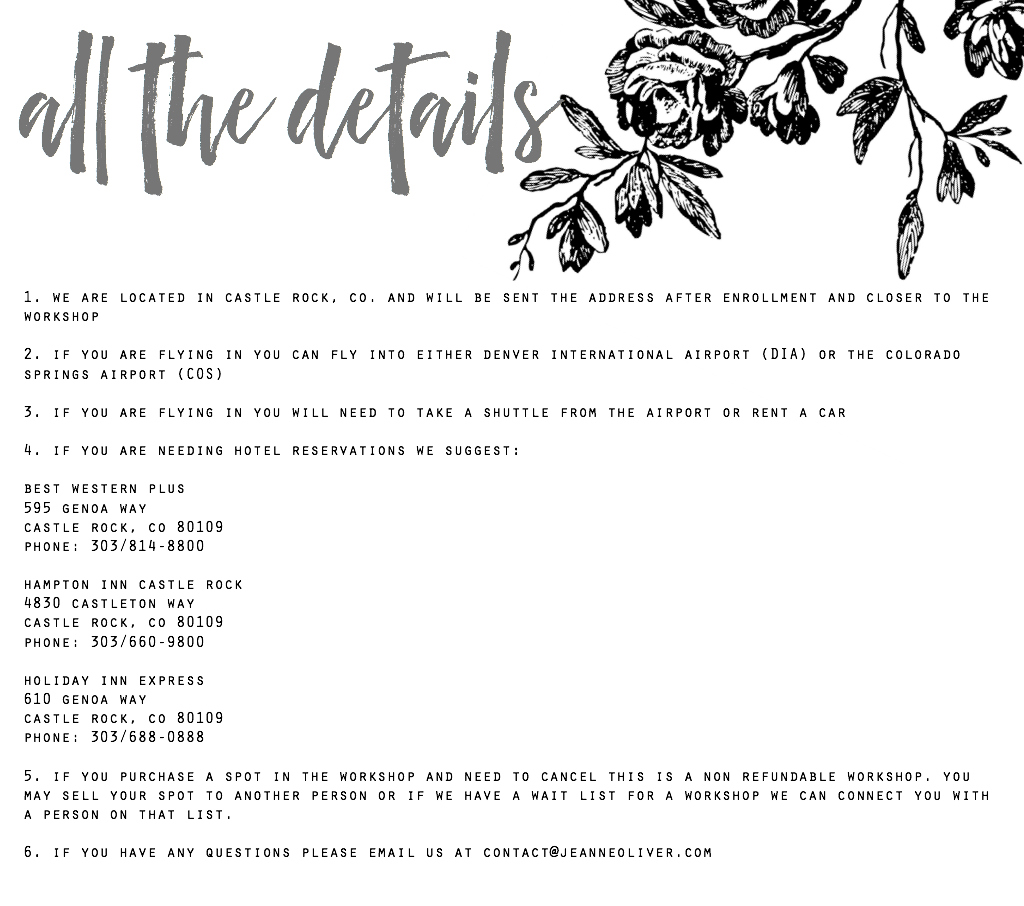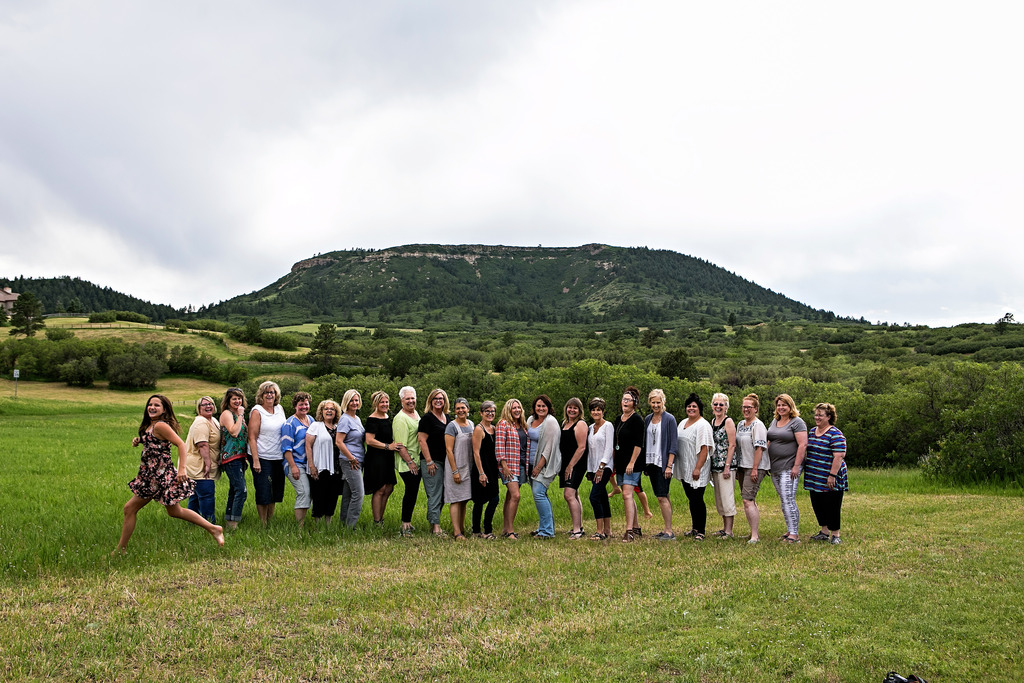 |Some of the women at our first workshop in our front yard|
While you are in the area we will make sure to point you in the right direction to all of our favorite restaurants, hiking spots, and antique stores.
Our town has been ranked as one of the best towns in America and we have to agree. I suggest you stay a few extra days to enjoy the beauty of Colorado!
Space is limited. If you have any questions please email us at contact@jeanneoliver.com.
You can register below.