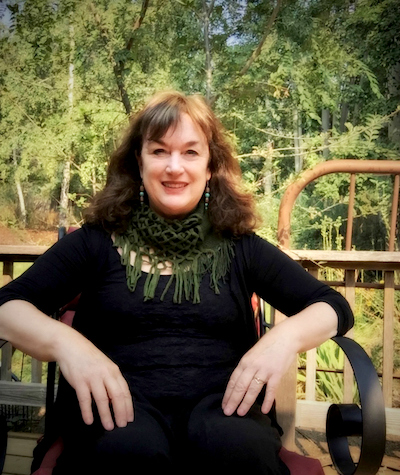 I live and create in the beautiful Pacific Northwest. The mountains, the river lands and the wildlife that surround my home are my constant inspiration and show up in all of my creations in some way or another.
I teach workshops internationally and my work has been shown and hangs in homes throughout the world. I'm very honored to have been published in many wonderful books and magazines.
I also teach online workshops that have been enjoyed by hundreds of artists and art lovers. And I am an Adjunct Professor at Oregon Institute of Technology where I teach Mixed Media Art and Art Journaling.
I believe that when we make art we are telling our own stories, and love watching them immerge, both in my own work and the work of others. Through my art I would like to convey the feeling of connecting to nature and humanity, timelessness and hope. I especially love the Book Arts, Collage and Mixed Media. As an artist I am constantly learning and growing. Art is my passion, my love and my soul.
Teaching enables me to share my passion…nothing makes me happier than helping my students through their own process of creativity. My goal is to help you find your magic!
My book: Storytelling with Collage, was published in March of 2016 by North Light Books. And my newest book, Dancing on Raindrops was just released July 2017.
Roxanne's Website