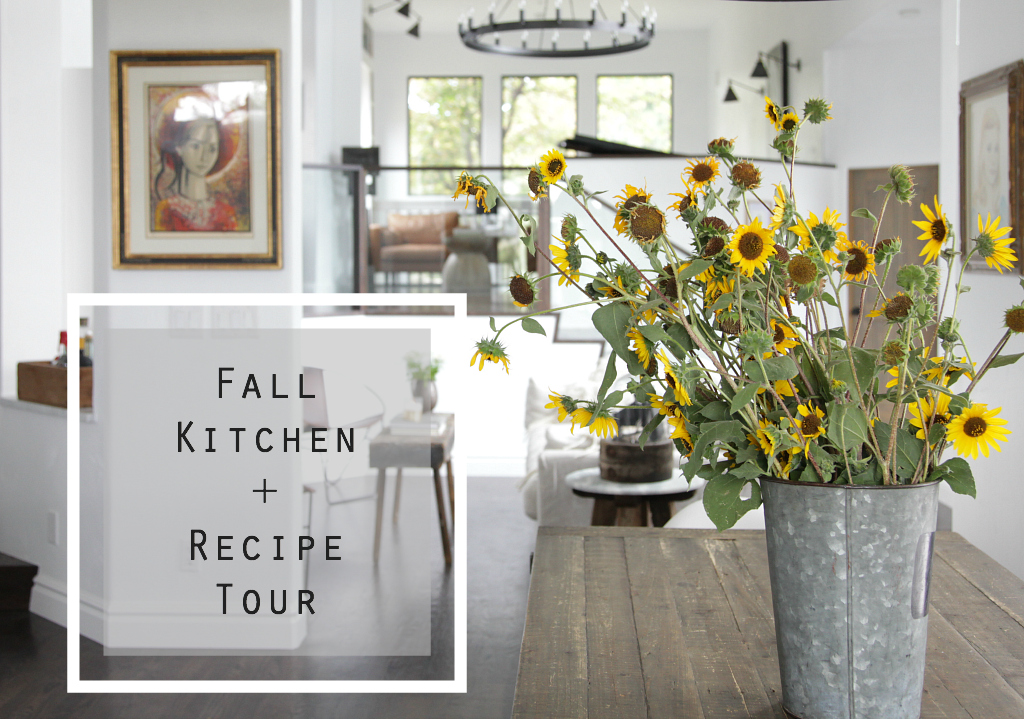 Welcome to our first home tour in our new home! Thank you for joining me for the Farmhouse Holiday Series. Come back each week over the next few months and get peeks into our home dressed up for Fall and Christmas.  Our hope is that this series will be glimpses into our homes during the holidays, and that we will be sharing inspiration for simple cozy spaces.
We went on a crazy home journey within the past year and you can read about it here, here and here.  We had no interest in moving and then here we are. It was a year ago this month that we looked at that first home and all of the adventuring began.
We have been in this home for 6 months now and we have worked the hardest to turn an unfinished workshop and garage into our new studio.  We have so many ideas and plans for this home and we have been having the best time making it ours.  Today we are taking a peek into our kitchen and this is an area where we will only be making small changes for awhile.  Before we moved in we had the whole house painted Nano White by Behr (ceilings, walls, baseboards) and we had the window frames painted Tricorn Black by Sherwin Williams. We also replaced all of the lighting throughout the whole house. It is amazing what just paint and lighting can do to transform a space.
All of the homes we put offers on were mid century or more modern homes.  We had been wanting this change for awhile and it feels so good to have this new creative energy. Creating comfortable and beautiful spaces within our home for our family and friends is one of my greatest joys.  I am not in a rush to fill the space and want to allow the space to organically come together.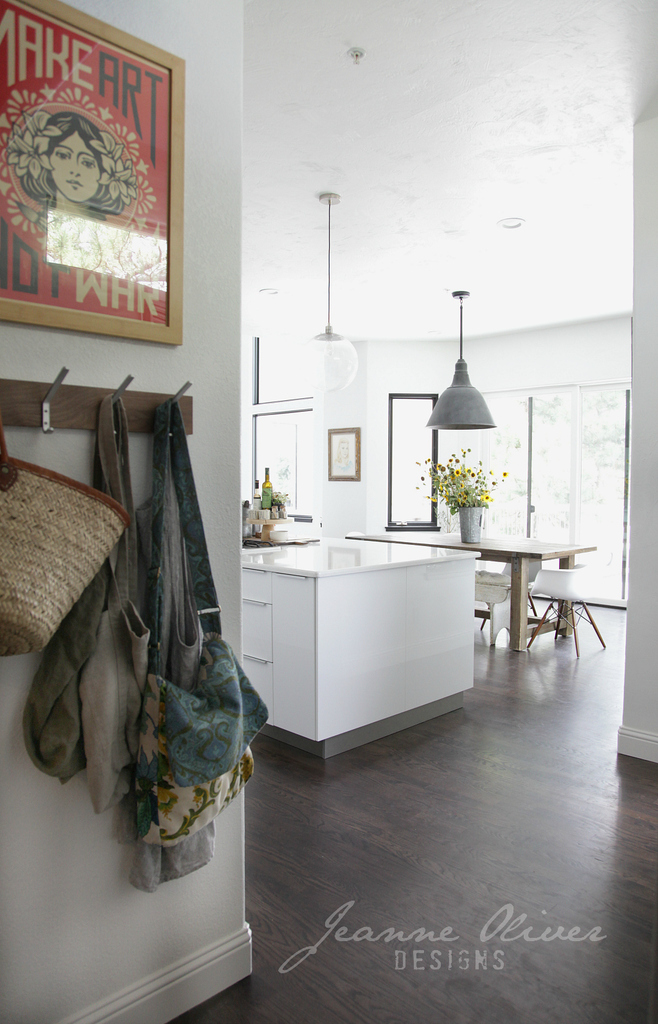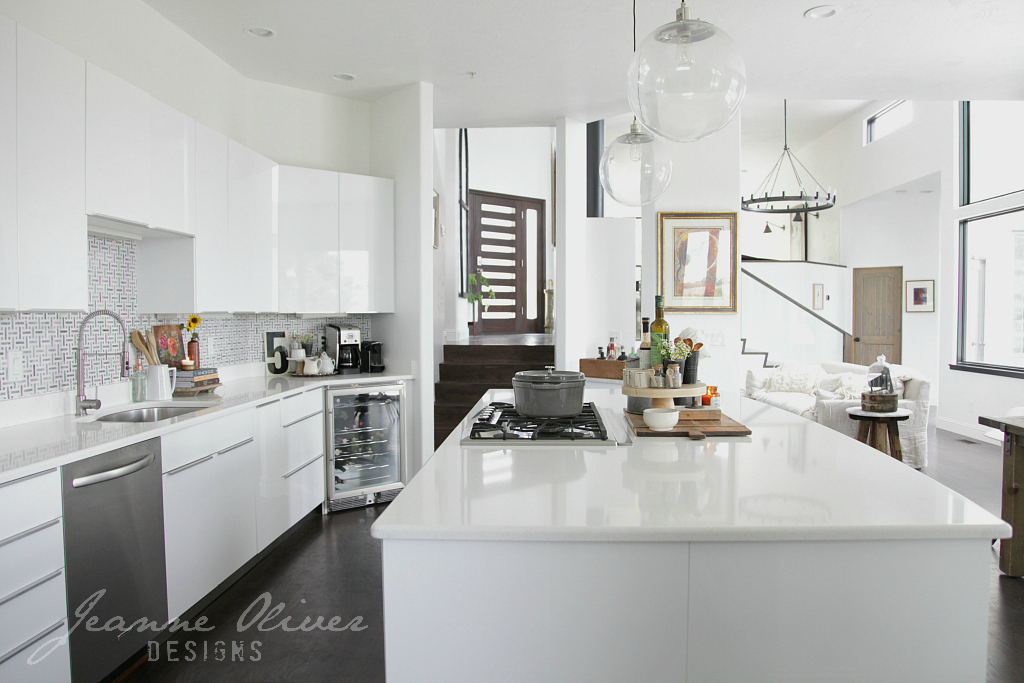 One of our favorite parts about this new house is the layout and all of the windows.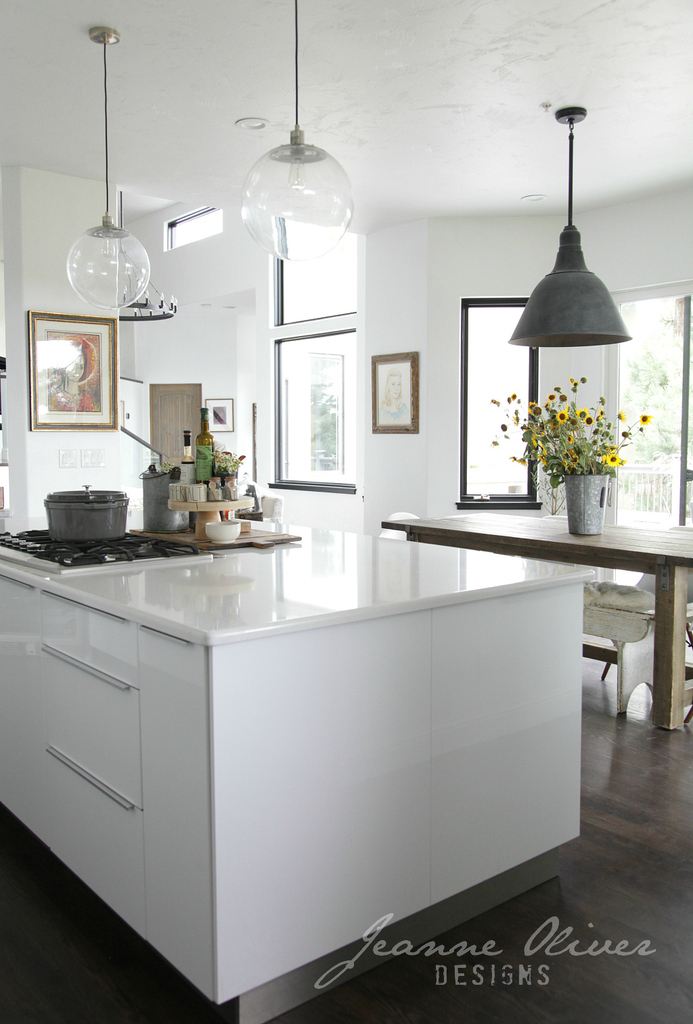 I love making breakfast each morning and looking out the back windows and seeing the mountains. If we are really lucky we will see our favorite residence of our woods…the does and fawns.
I hope that never gets old.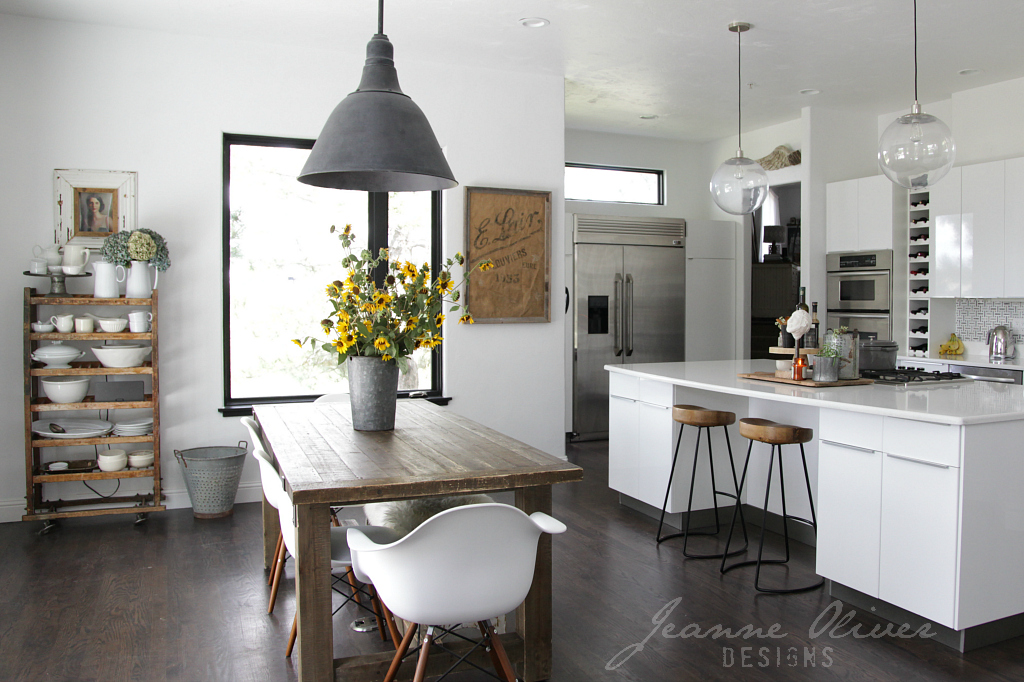 We were able to take many of our vintage pieces and mix them with more modern pieces in this home and I think they work beautifully together.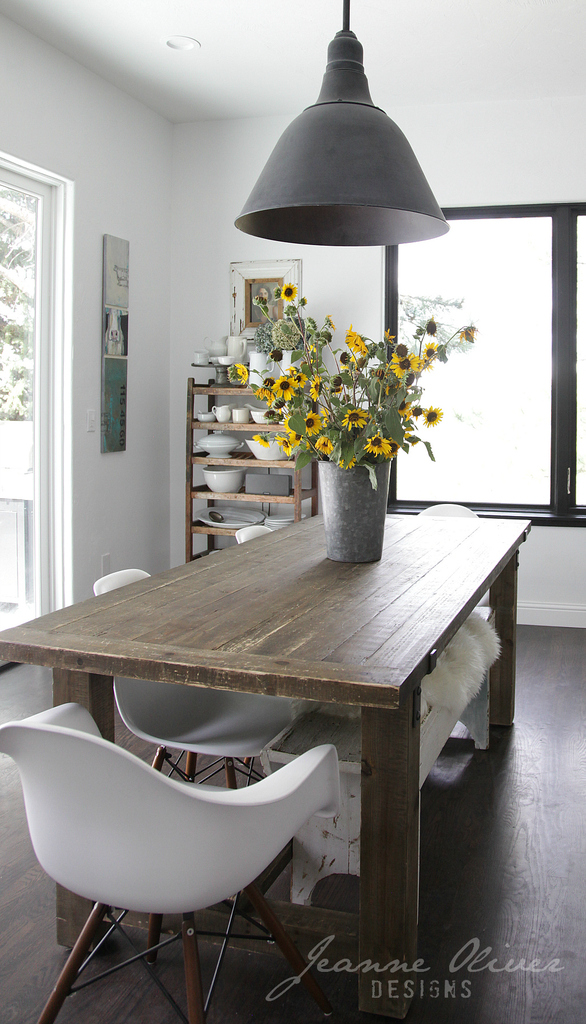 I have learned to carry scissors in the car so I can cut all of the wild flowers along the side of the road on my way home each day:-)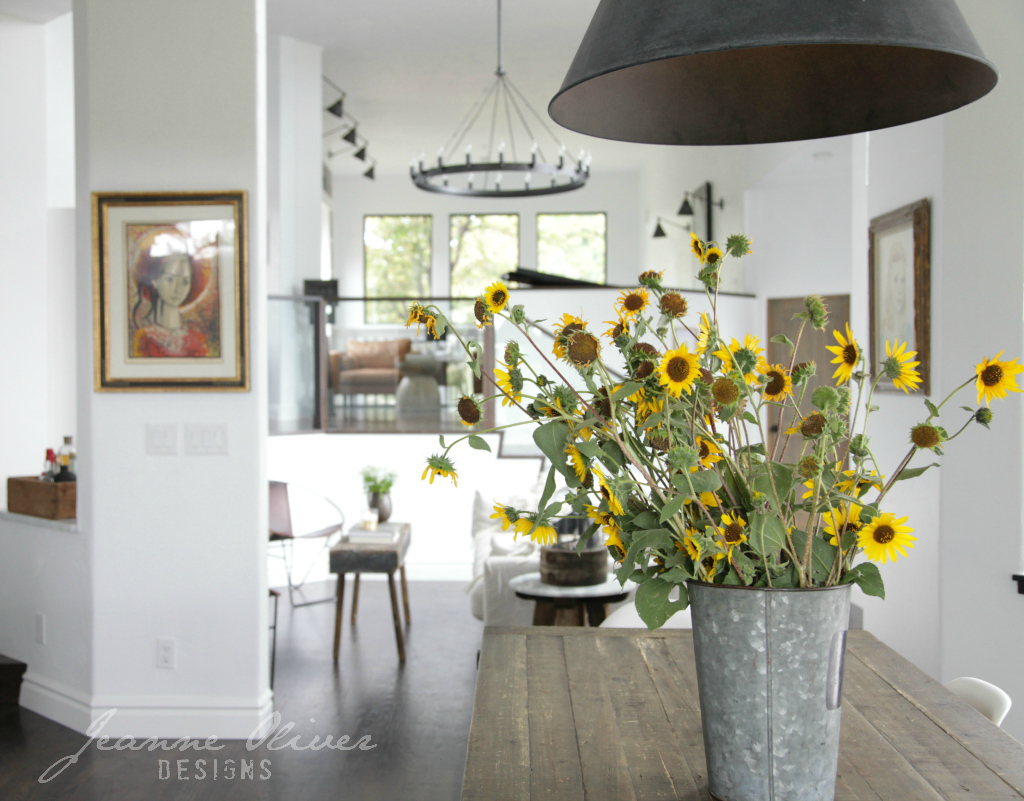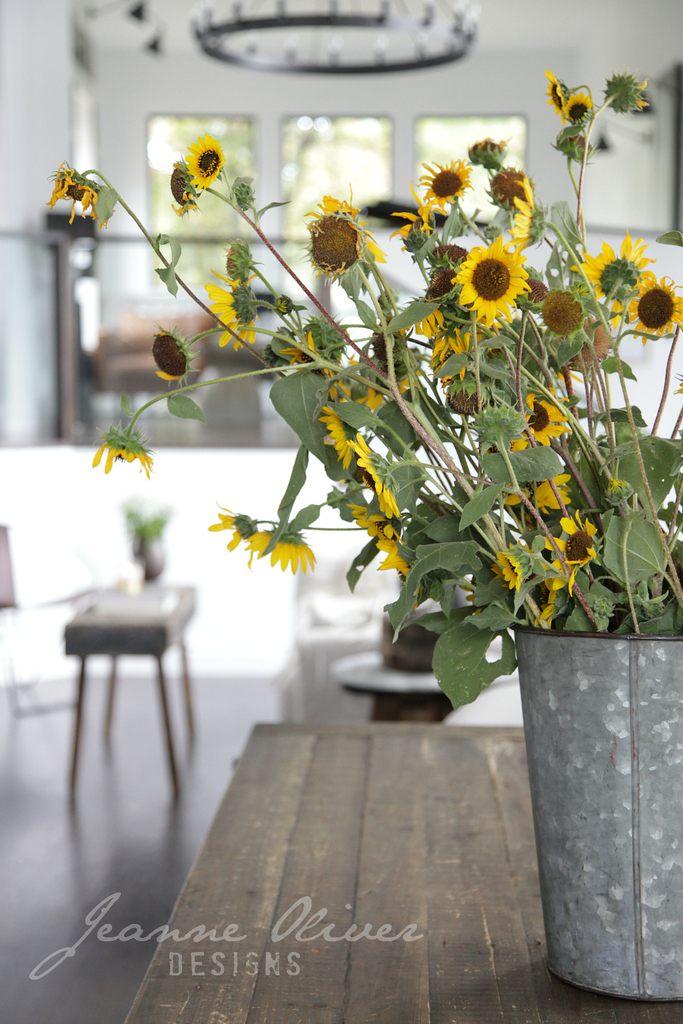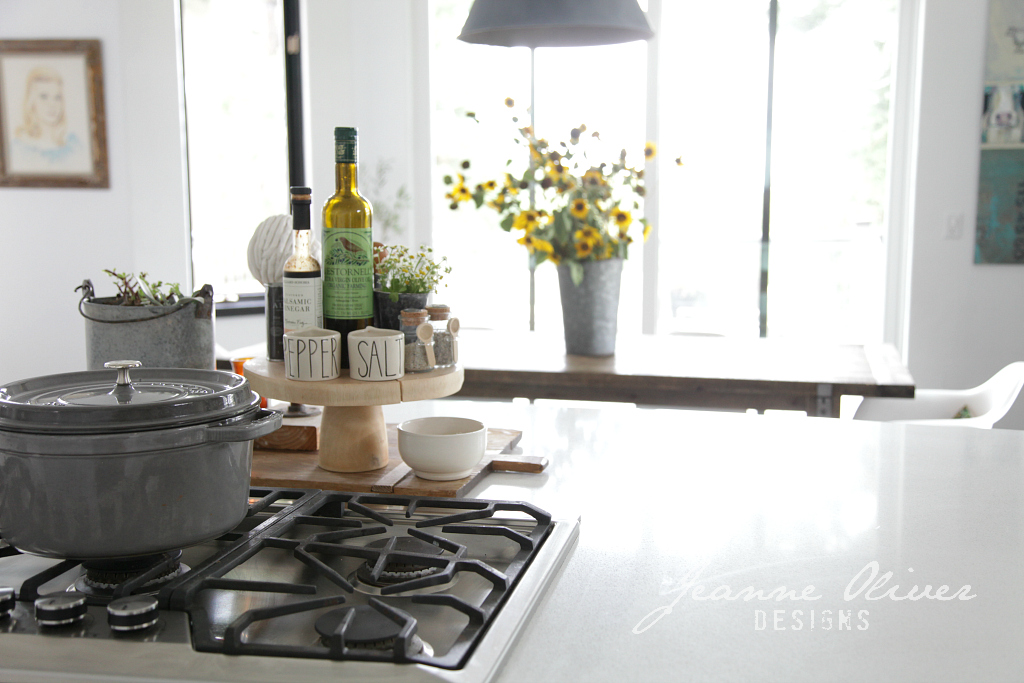 I like to have my cooking staples on hand and easily within reach.  I love creating layers in decorating throughout the house and the kitchen is no exception.
I change out everything on the vintage cutting board each month based upon the season and what plants I can find.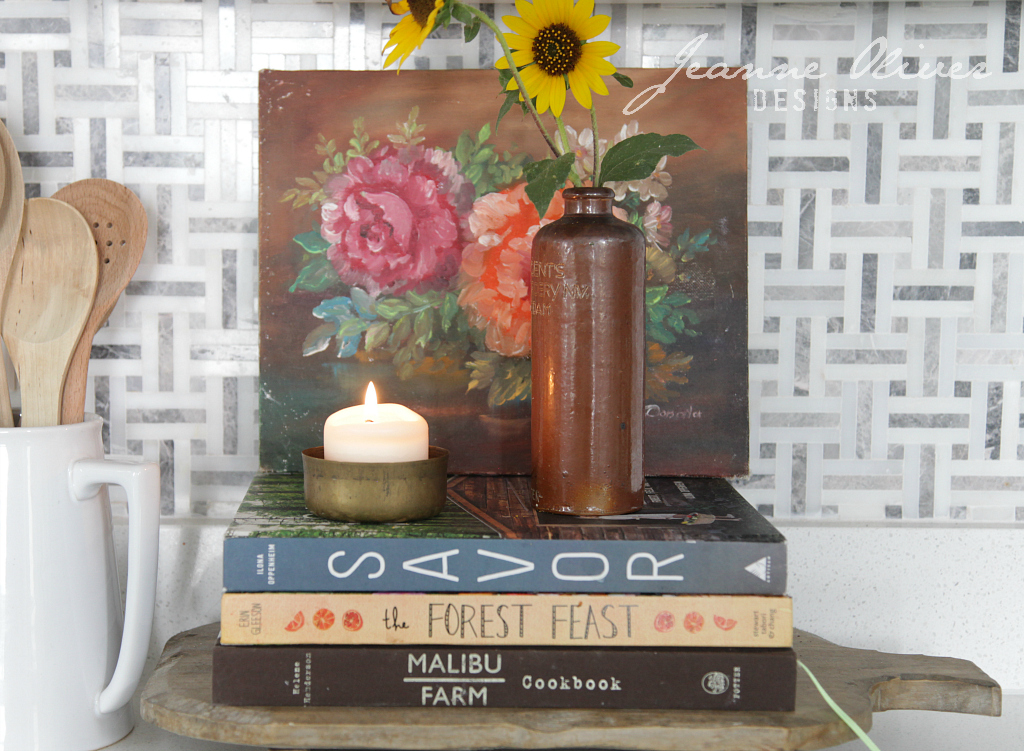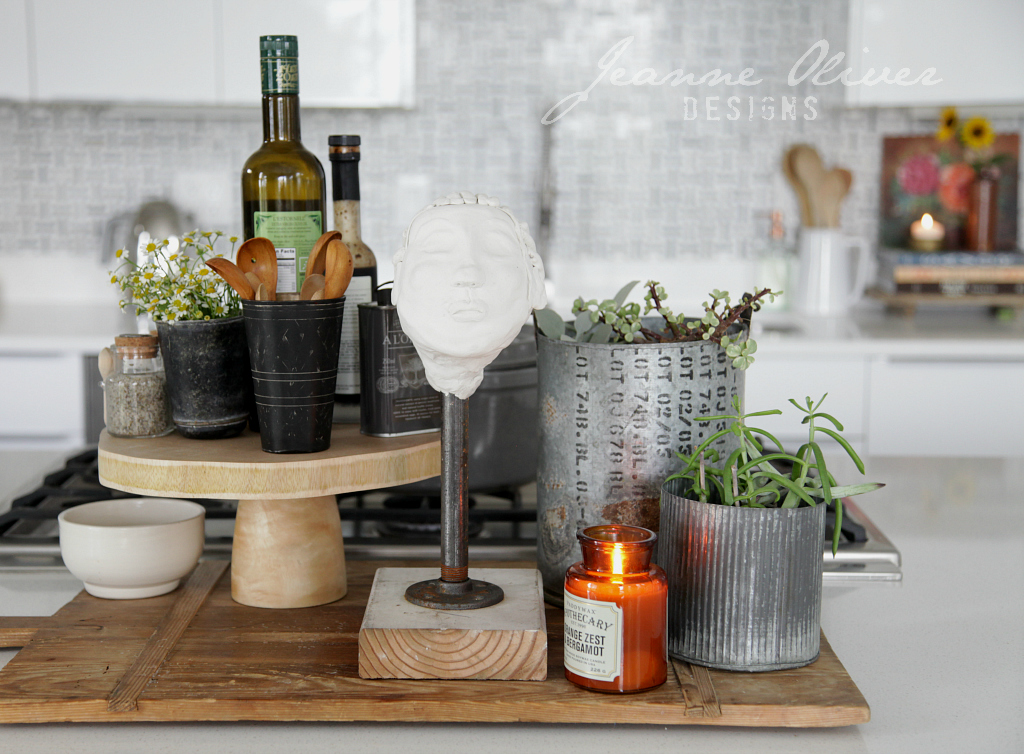 I love including our children's art throughout the house and I adore this sculpture that our Maddy made a few years ago.
I love when they will let me show them art techniques and then they run with it and create mini masterpieces in my eyes.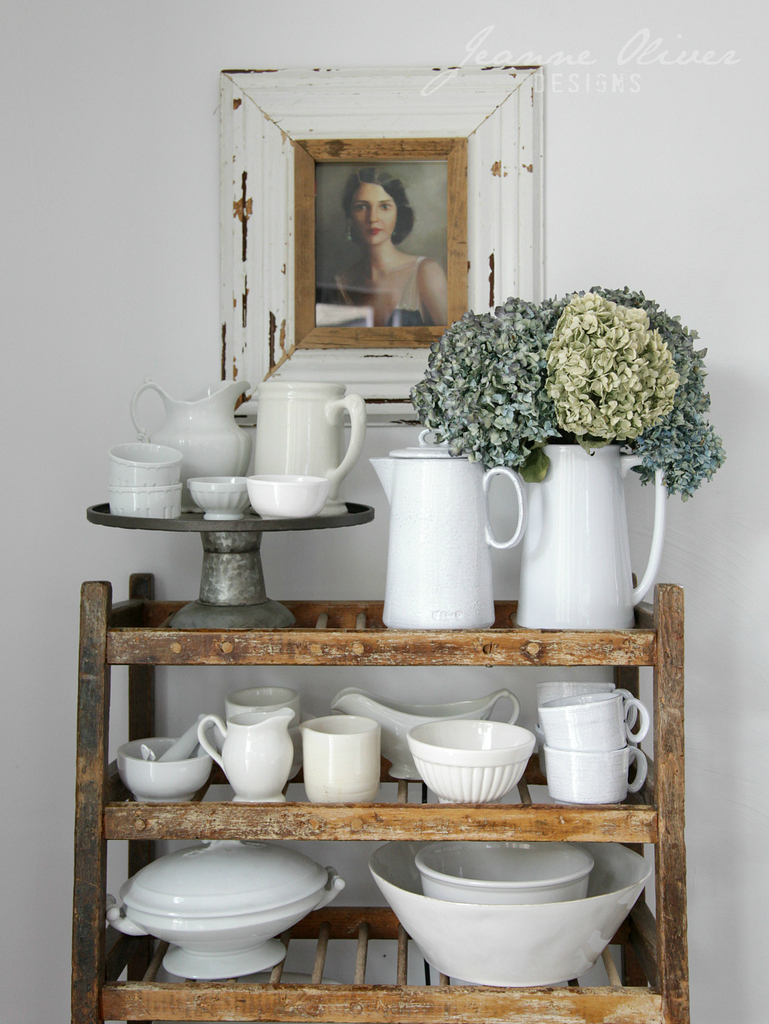 We had originally planned to put up open shelving in this area but we have loved the mix of the vintage shoe trolley with the white ironstone and other collected serving pieces.
We have lots of years to play with this space.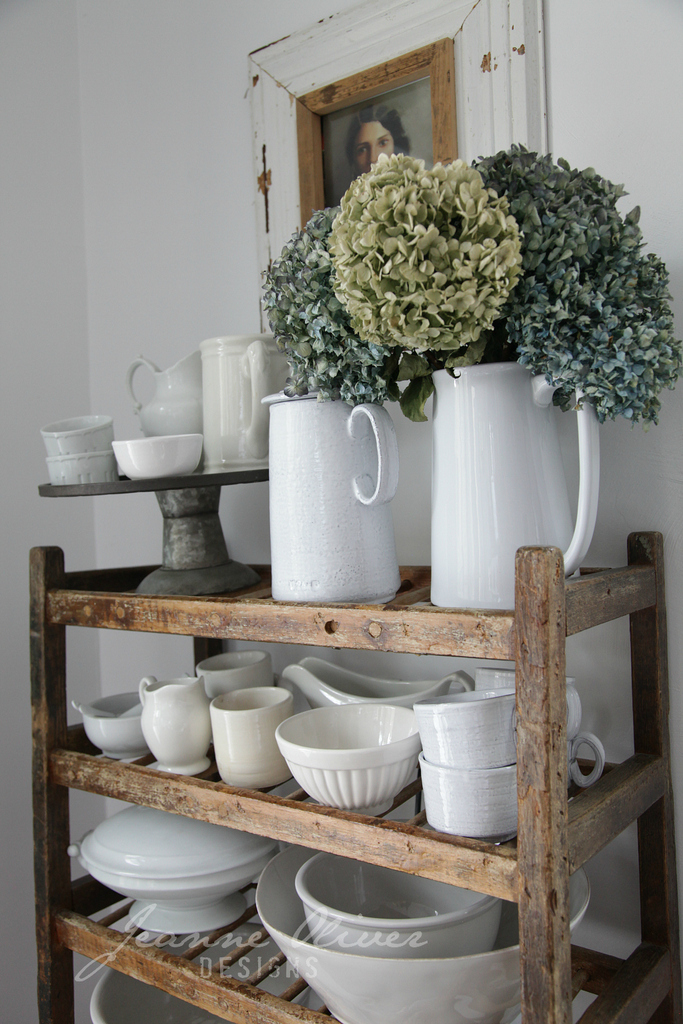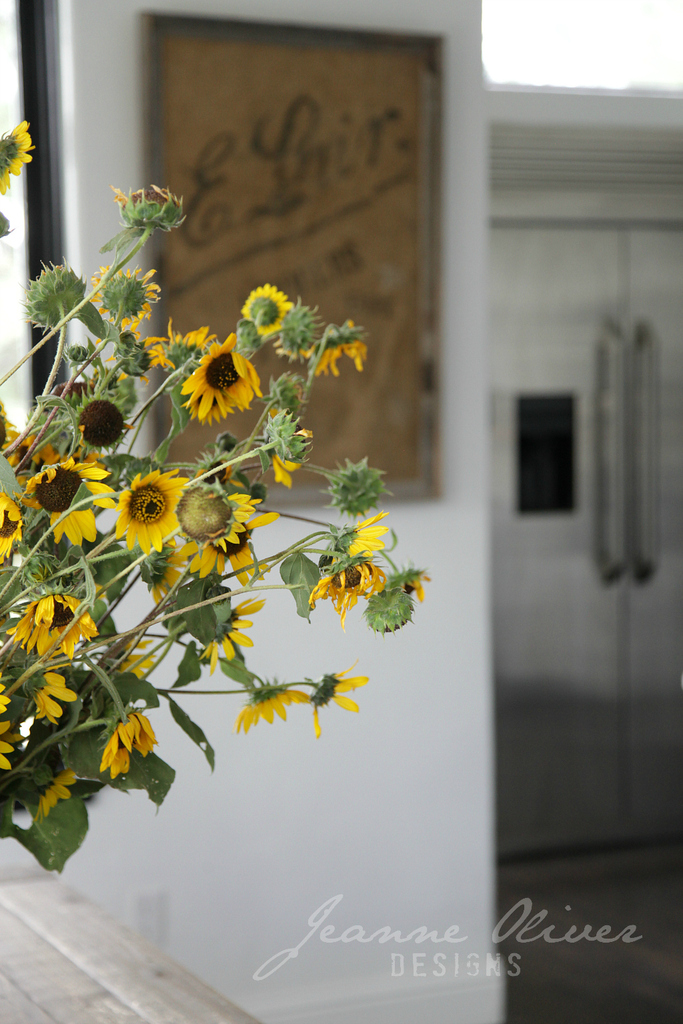 While I was in Normandy a few years back I found some of the most wonderful vintage grain sacks.  I framed many of them and you will find some of them around this home.
If you have vintage needlepoint or fabric but you don't know what to do with it I highly recommend framing it. It adds so much interest and texture to a room.
Because I know that photos make it hard to feel the flow of a home I wanted to make a quick kitchen video for you all.
Kitchen Video Tour
******
I love cooking for my family but also having friends over and casually and comfortably entertaining.
The biggest thing that I have learned over the years is to cook things that I love to cook and things that I have cooked so many times that I am not stressed with my guests.
So, make a fun cocktail for your guests and enjoy cooking for your friends and family and keep the focus on them and having a great time.
I have included a few of my favorite recipes below with videos that were created for my Art of Home online course from last fall (back when I had red hair:-)).
Butternut Squash + Sausage Soup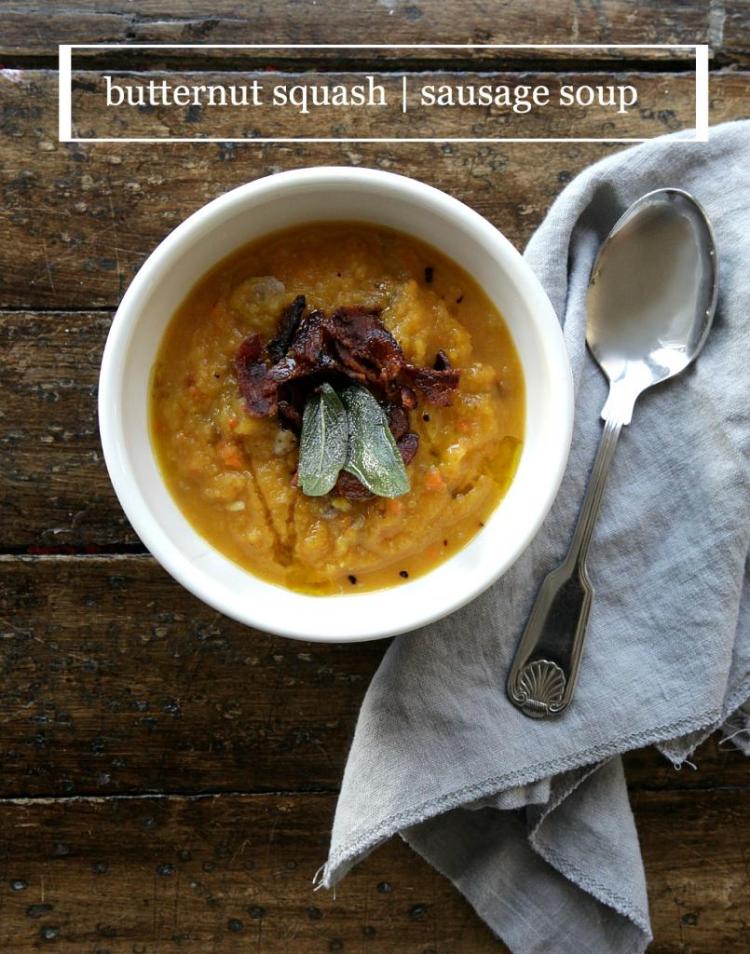 Butternut Squash + Sausage Soup Video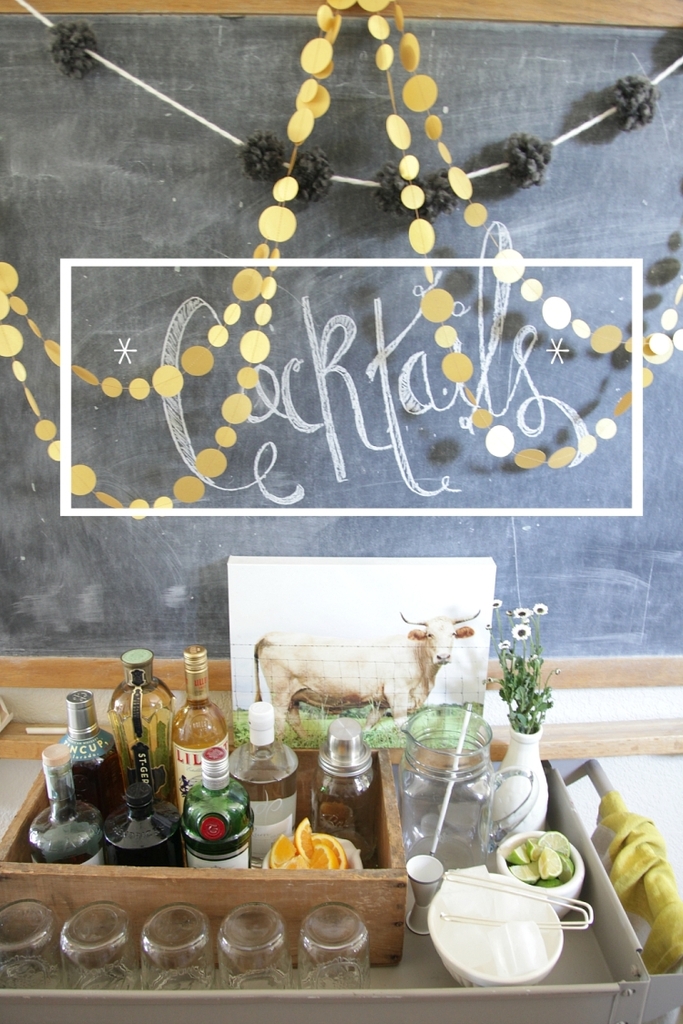 Easy Cocktail Recipes Video
 ******
Come and check out all of the beautiful glimpses into the other kitchens in the tour.
Ella Claire | Craftberry Bush | Miss Mustard Seed | Jeanne Oliver

Love Grows Wild | Rooms FOR Rent | Shades of Blue Interiors | Dear Lillie

French Country Cottage | My Sweet Savannah | Kindred Vintage | Jennifer Rizzo
******
If you are new to my blog you may not know that we have the most gorgeous and fun online home courses on our creative network!
We have a brand new online course beginning on November 1st with the talented Melinda McCoy of House 214 Designs.

Feel Home: Creating a Timeless Feeling Home is all about how to decorate a comfortable and beautiful space!
We all have the same questions when it comes to designing our homes. Where do I begin? Is this really me or am I making this decision because it is the latest trend? Am I still going to like this look six months from now? Whether you are the everyday home designer or working with a professional, the choices you make for your timeless home need to be made with intention. This course will guide you through the process and teach you the framework that I use to create a timeless home with my clients. We will create storyboards, discover the language for a timeless home (hint, it has a lot to do with your personality), and learn the exact design elements that create a timeless feeling. You will learn by doing. As a result, making design decisions for your timeless home will be easier. You will be making your decisions with intention and confidence rather than because you saw it in the latest issue of a favorite magazine. This course will teach you not just the what, but the how and why behind creating a timeless feeling in your home.
If you are new to our creative network here are easy steps to get you started…
1. Register at jeanneoliver.ning.com (this is free).
2. Once your account is active you are able to take advantage of our free courses, series and even pay for courses.
3. Go to jeanneoliver.ning.com and along the top header click on "COURSES" and you will be able to view all three pages of online courses and free series.
4. To purchase a course please choose your course, click on the +join in the upper right hand corner, pay and you will be INSTANTLY in the classroom.
5. All videos can be found along the right hand side of the page under "COURSE CONTENT".
*as long as we manage the jeanneoliver.ning.com creative network