Welcome to An Artist In series. In this series a different artist, that is intimate in different parts of the world, will share their insider tips for where to eat, stay, see the best art, sketch the best views, rest at their favorite cafes and more. You will be able to go out and adventure here in the US and abroad and feel like your best friend shared the best kept secrets about an area and you can explore with confidence.
The seventh in the series is An Artist in Bellagio with Jeanne Oliver.  I have had a love affair with the Lake Como region since my first visit. There are a few places in this world that I feel deeply at rest and peace, and this is one of the them.  You can read previous episodes, An Artist in Florence HERE  , An Artist in Tuscany HERE,  An Artist in Marrakech HERE, An Artist in Lombardy HERE ,An Artist in Oaxaca HERE, and An Artist in Lisbon HERE.
I have been exploring Bellagio and the surrounding villages for the past ten years. I am not an expert of the region by any means but each time I visit I fall more in love and also discover a beautiful secret that I had never noticed before. There is no particular order of beauty and experience in what I am sharing. Just pick one and you will be off on a beautiful adventure. There is a different rhythm in the villages along the shores of Lake Como that deeply connect to my creative heart and eyes to see beauty all around me. If you go, please don't be in a hurry and then you will capture what is so special about this part of the world.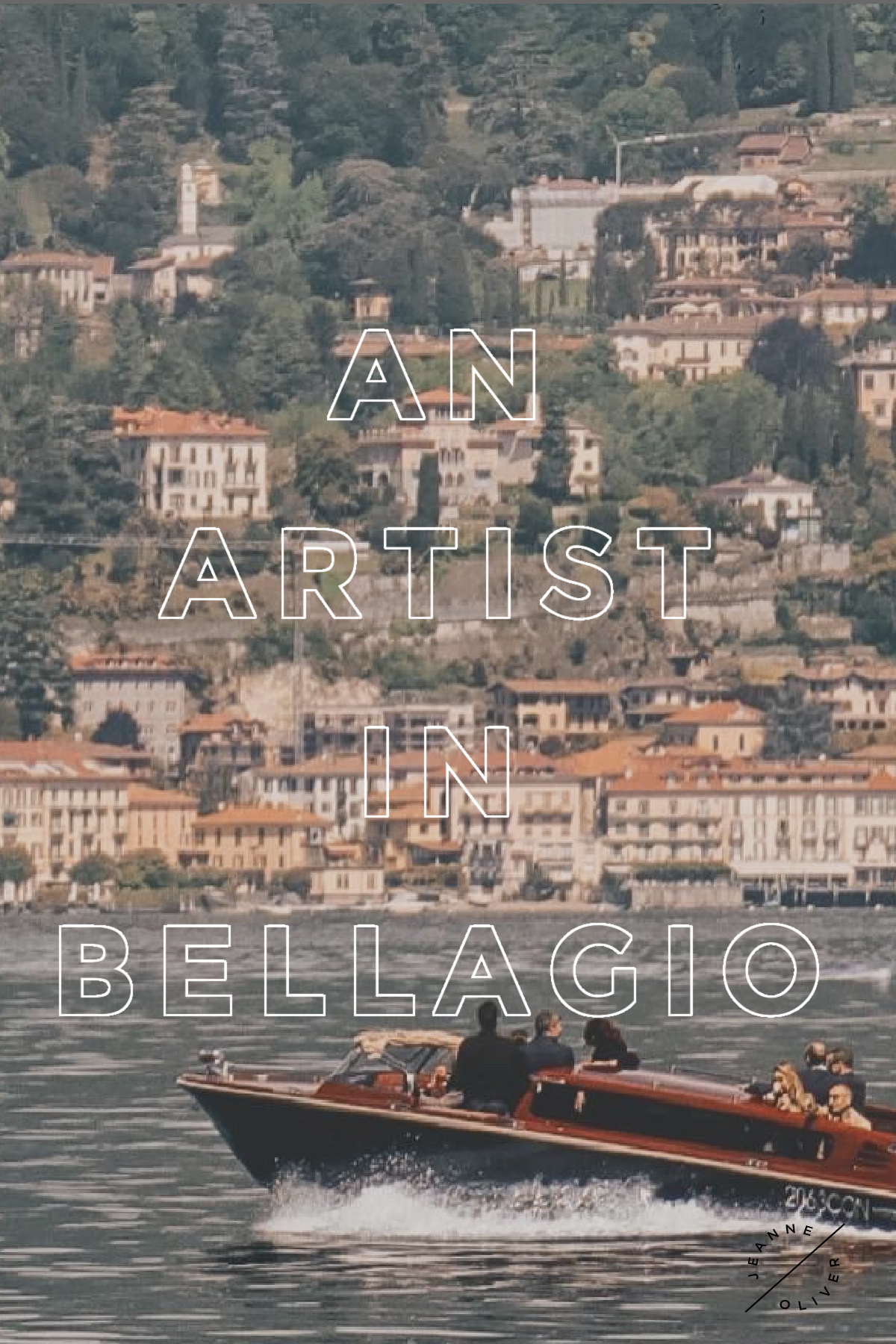 The Gardens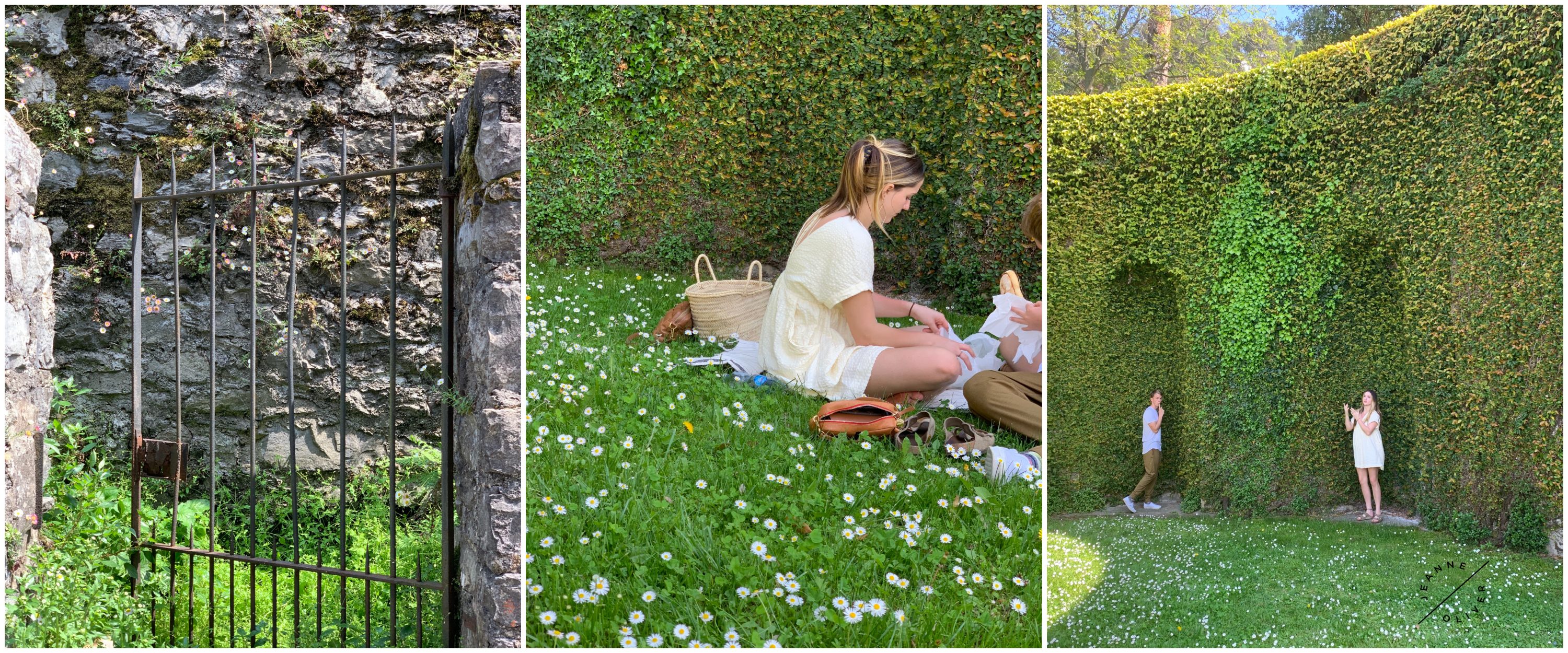 I can not smell Jasmine without thinking of Bellagio. It seems to be dripping off every building and stone wall. It is not just the Jasmine though, you will find large and small gardens sprinkled all over the villages of Lake Como. I think the small secret gardens are my favorite and that is where I encourage you to sneak away to with a blanket, book and some art supplies. My favorite secret garden was found with some of my friends many years ago now and I love coming back to this spot again and again. If you are coming to Bellagio for the first time do not worry about finding your own treasured garden…I promise you if you have your eyes open you will find one.
The Beach
There is nothing better on a hot summer day in Bellagio as jumping into the cool water of Lake Como. There are not many beaches in Bellagio but our very favorite spot is the San Giovanni Beach. It is a 20 minute walk from the town center of Bellagio, has chairs you can rent (if you don't want to bring your own), has a cafe in the summer, and even has floating docks you can dive off of. The beach is very rocky so I suggest having water shoes or at least flip flops to make it easier to wade out into the lake. The water is so refreshing and really beautiful. This won't be the only time I tell you to jump in the lake in my suggestions!
We like to make a day of it with lots of water, towels, a picnic lunch, a good book and art supplies. I try to keep the art supplies simple (mainly so nothing melts in the sun) with a few watercolors, pencil and sketchbook. It is a really sweet way to spend a day in Bellagio.
Breakfast at The Grand Hotel Villa Serbelloni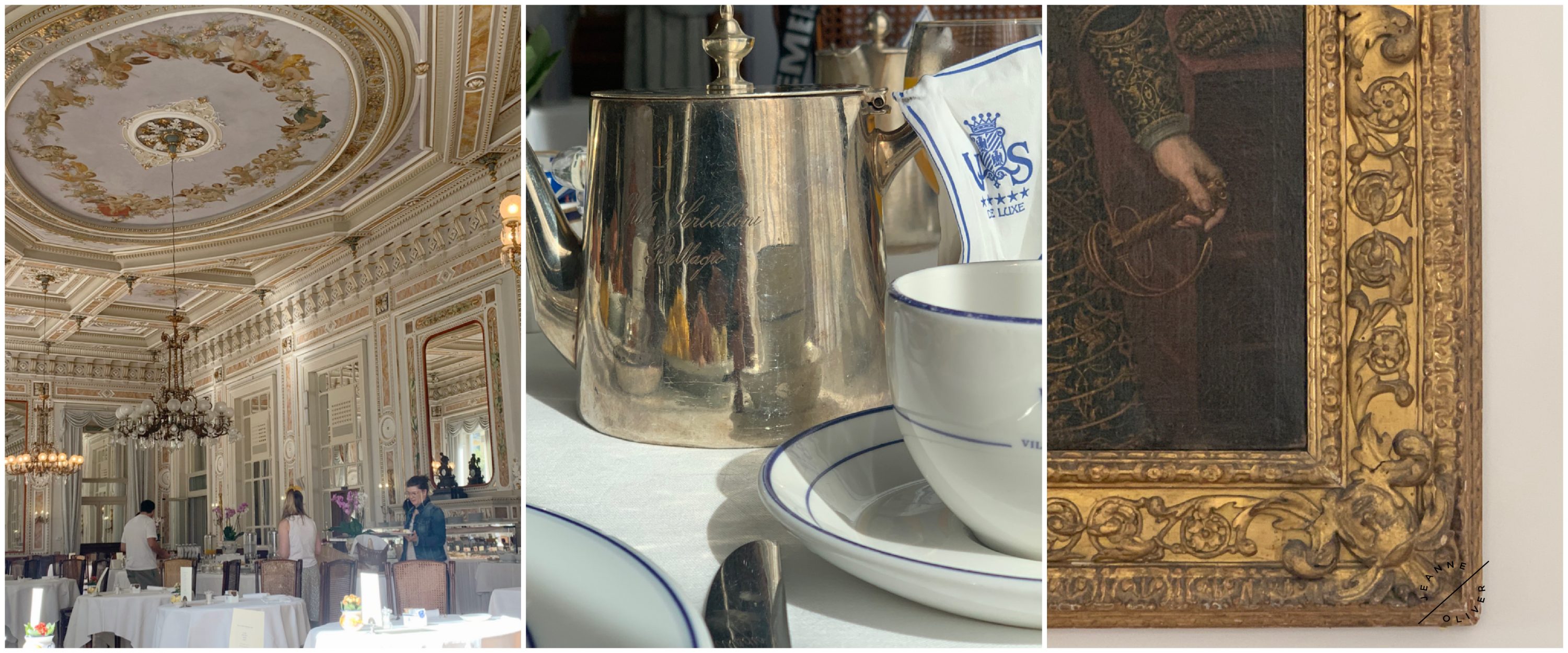 If you would appreciate neoclassical design, hand painted ceilings, chandeliers, white linen tablecloths and your coffee service made from vintage hotel silver…then you may just love breakfast at The Grand Hotel Villa Serbelloni.  You will enter the hotel and then take one of the staircases upstairs to the second level. Follow the sound of dishes and morning chatter and find a table. I suggest one near the window if you can. Don't feel intimated if you are not staying at the hotel and know you belong here! Get there with enough time to casually eat your breakfast (don't miss the fresh tray of honeycomb), read the morning paper and feel like a princess as you pour your tea out of the vintage hotel silver teapot. It is worth every expensive cent for the experience.
Kayaking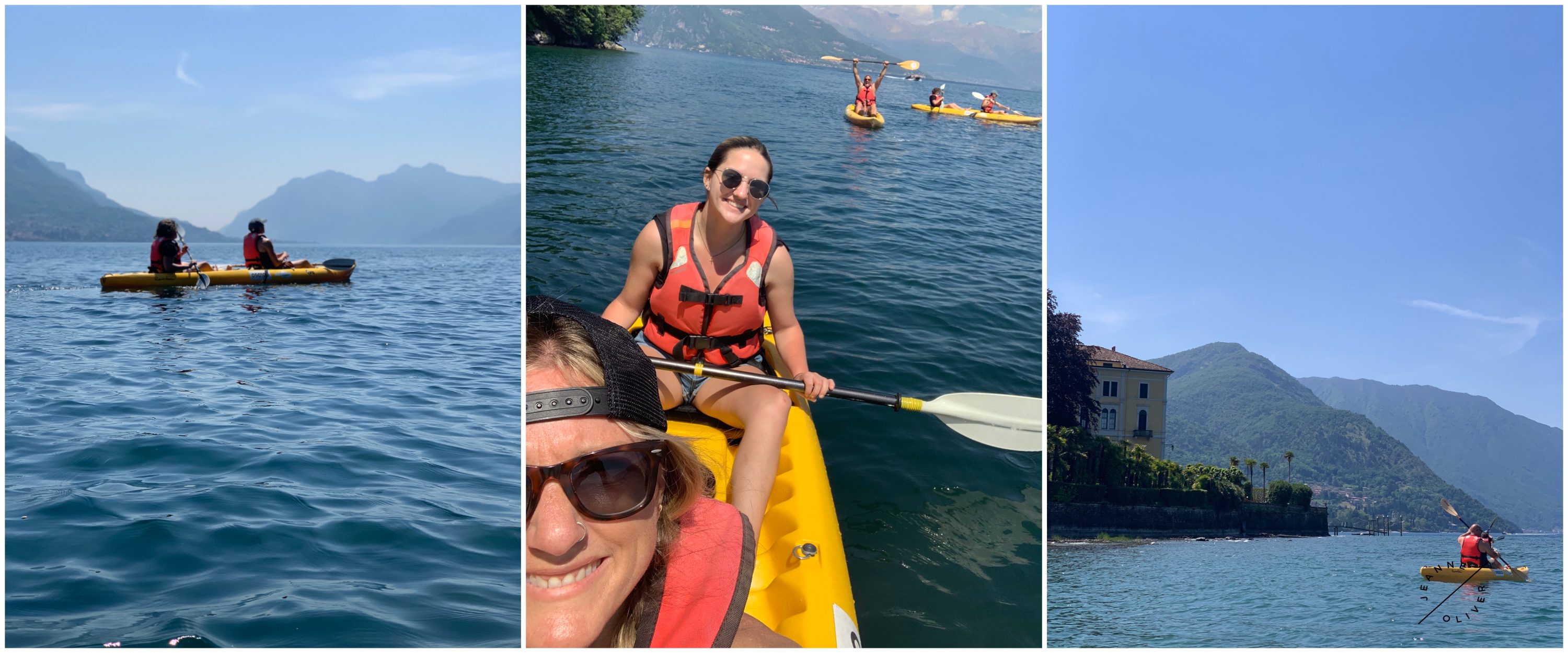 The lake is beautiful and all but you have to be ON THE WATER to truly know the magic of this area. The idea of The Living Studio | City Art Walks Around the World started while I was in Paris with Kelly. Over eight years ago many of you joined me in Bellagio for The Living Studio Bellagio. The heart behind my international art retreats was that you EXPERIENCE an area and when you leave you have the forever changed memories of making art OUT in the region, you sketch in the chapel, you take a history tour and learn about where you are staying, you eat good food, read a book while you sip your cappuccino as you hear the bells of the church ringing, you hike, kayak…you get dipped in the beauty of an area. Since that first Living Studio in Bellagio I have been kayaking on the lake and taking along whoever will join me! You can rent a kayak and head out on your own or you can take a tour with Bellagio Water Sports.
Ditch the Plan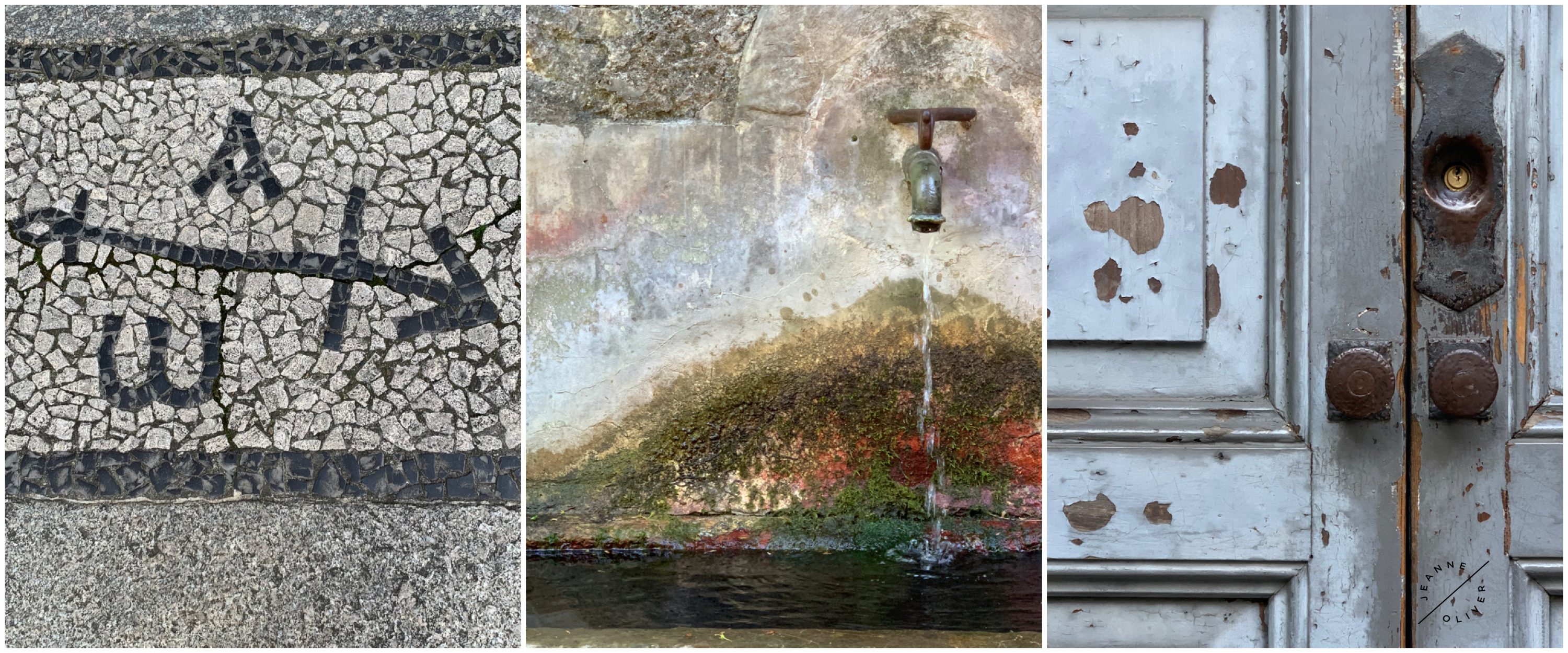 I like dinner reservations and making sure other things are booked so we don't miss out on big experiences but for almost everything else I like to hold the days loose while we travel. I want to experience what is magical about an area and that means I can't try to control it too much. So, I would recommend the same to you! While in Bellagio pack a lunch and just get on a ferry and explore the other villages or stuff a book, notebook and lunch in a backpack and just start walking. Let the day reveal itself to you and enjoy making decisions as new opportunities reveal themself to you. Just be open. I can promise you that these moments will become some of your favorite (they have been mine).  Give yourself time to notice the little things that are really the big things.
Art Session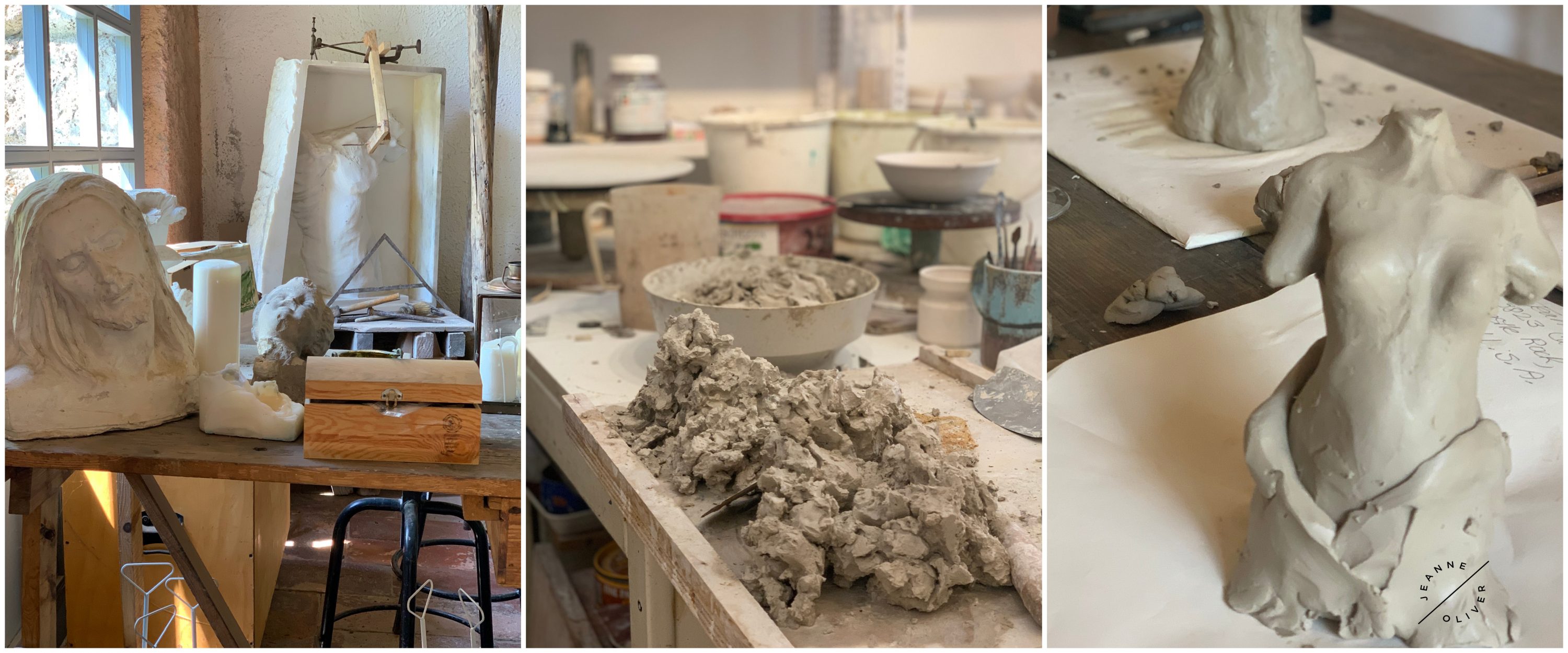 When we travel I look for other artisans to support by purchasing their work and it is extra special when I can spend time with them or learn from them in some way. I will be spending more time with Abele Vadacca during our stay next summer because I have so much more I want to learn from him about sculpting. I talk about my time with him HERE. If you dream of painting a landscape, learning to sculpt, sketching florals etc. (even if you have never done it before) I highly recommend that you find a local artist and make it a priority. It will be a treasure you keep with you for the rest of your life. Get out of your comfort zone and be ok with being a beginner at something.
Markets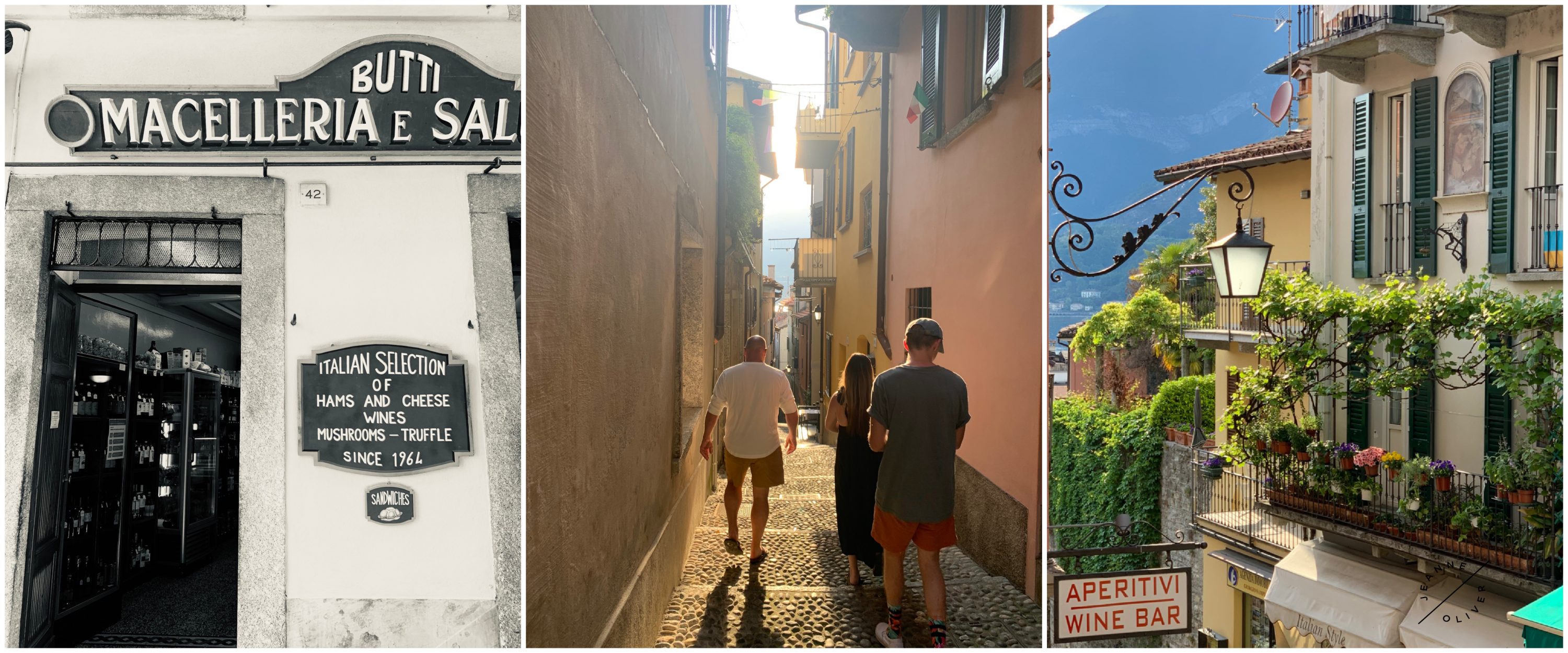 My favorite, favorite, favorite part about staying an extended time in Bellagio is that I can walk everywhere. If you know me you know this is one of my biggest loves in life! If I can walk and ride my bike everywhere I am in HEAVEN! So, getting my groceries, going to an open air market, picking up a bottle of wine etc. just makes my day so beautiful to me. If you love outdoor food, clothing and vintage markets you can find what is available along Lake Como HERE. I also highly recommend getting on a ferry and exploring the different markets in the region.
Rent a Boat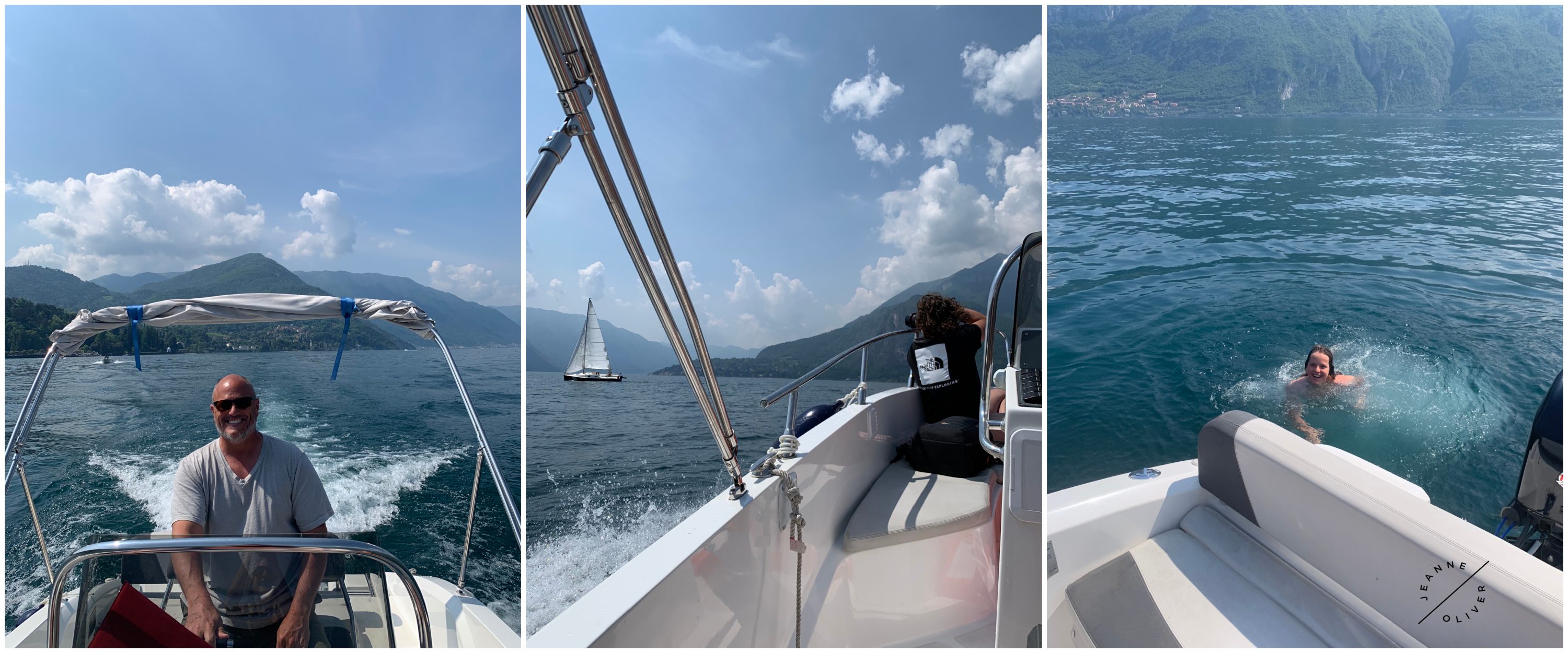 You can find these little boat rental companies up and down Lake Como, they are easy to operate, affordable and they go pretty dang slow AND they are a total blast!  We rent a boat once a week, pack a lunch, lots of water, sunscreen, towels, books and make an afternoon of exploring new places along the lake and of course jumping in! The hotter it gets the more you will want to jump into the lake! We rent our boats from Bellagio Rent a Boat and do not believe the photo on the website. I have never seen one of these go that fast:-).
Boat Tour and Lemon Ravioli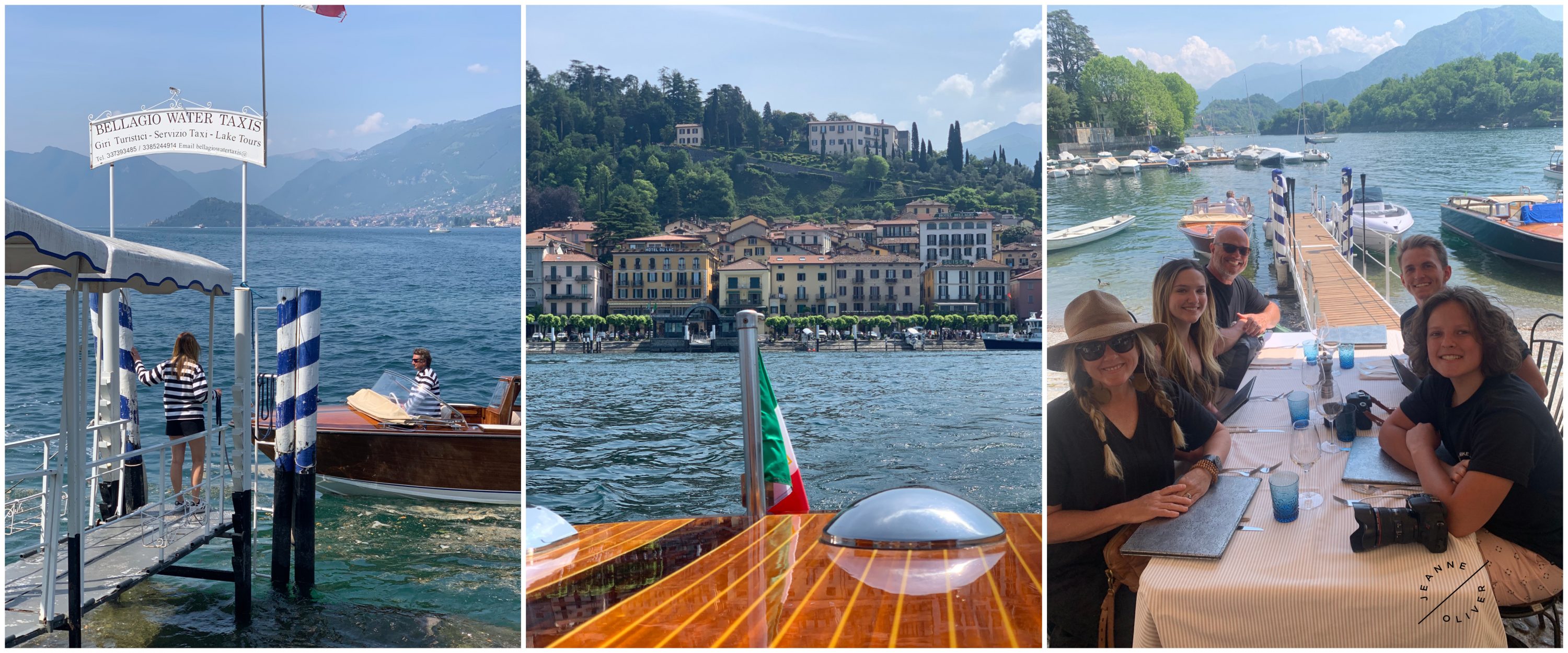 The vintage boats that you see all around the lake add to the beauty and glamour of Lake Como. I am a sucker for the little Italian flag waving in the wind at the back of the boat and it does give you all of the movie star vibes as you are touring the lake in luxury. Seeing the villages from the lake is always a highlight on any trip here but I have to admit that the lemon ravioli steals the show. We book our tours through Bellagio Water Limousines and we love their popular Lunch by Launch tour. You have a beautiful tour of the lake and then they take you to one of the local's favorite restaurant in a cove, Locanda La Tirlindana. I would recommend you try the ravioli with mascarpone and lemon and the peach sorbet (if it is in season). You will dream about it until your next visit.
Sketch in Pescallo and Basilica of St. Giacomo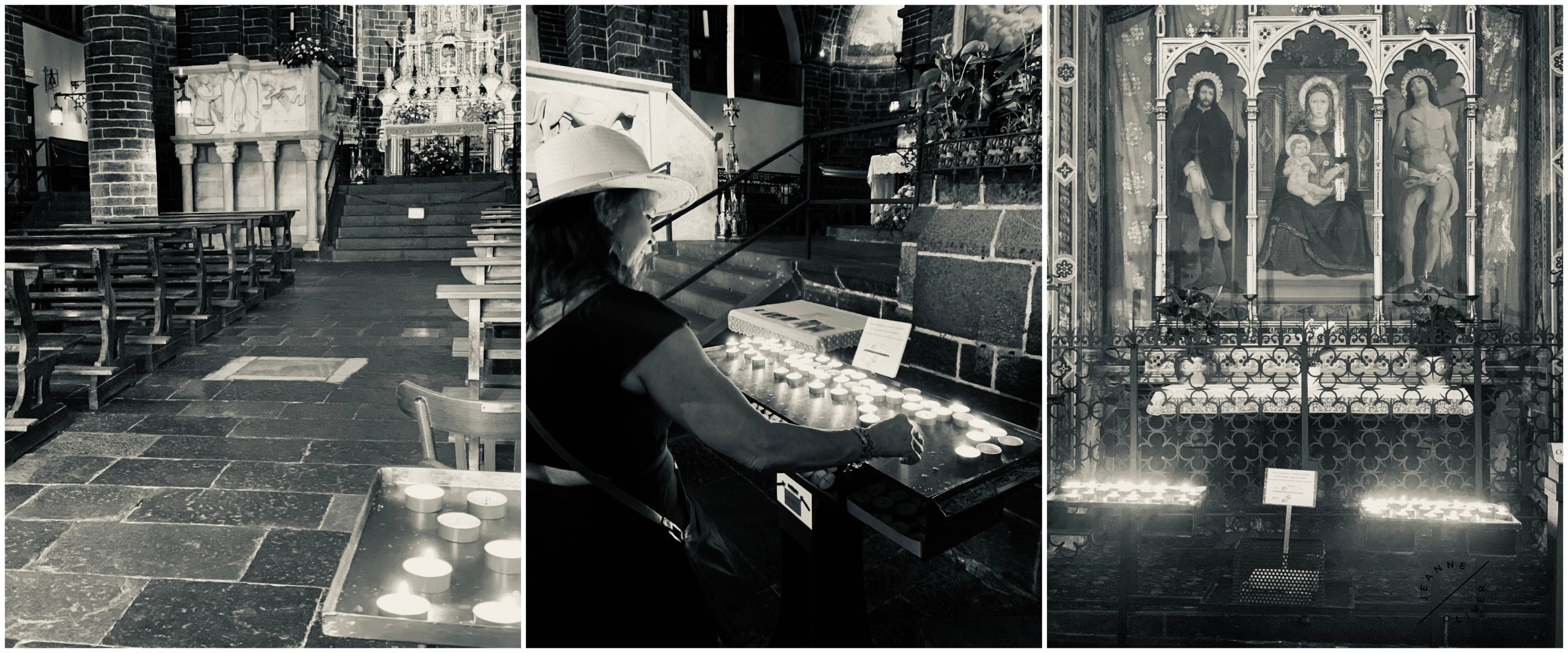 I recommend you have a sketchbook and pencil with you at all times because there is something extra special about being present and sketching what you see when you travel. I started leading artists to sketch at Pescallo and in the little chapel in the Bellagio town center, Basilica of St. Giacomo, from my very first Living Studio Lake Como. We sketched in the Duomo in Como, along the lake, in the gardens, churches, markets etc. I love making art out in an area and to hopefully plant small seeds to encourage others to stop and be present through creating. The art you make is just for you and I can promise you that some of the art will be bad BUT I can promise you that you will never forget the sounds, the way the cold pew felt, the way the light was coming through the stain-glass windows, the way the flame of the candle flickered and how you saw…really saw what was around you. When you look back at that sketch years later you will remember so much more than whether your art was good or bad.
Ride Bikes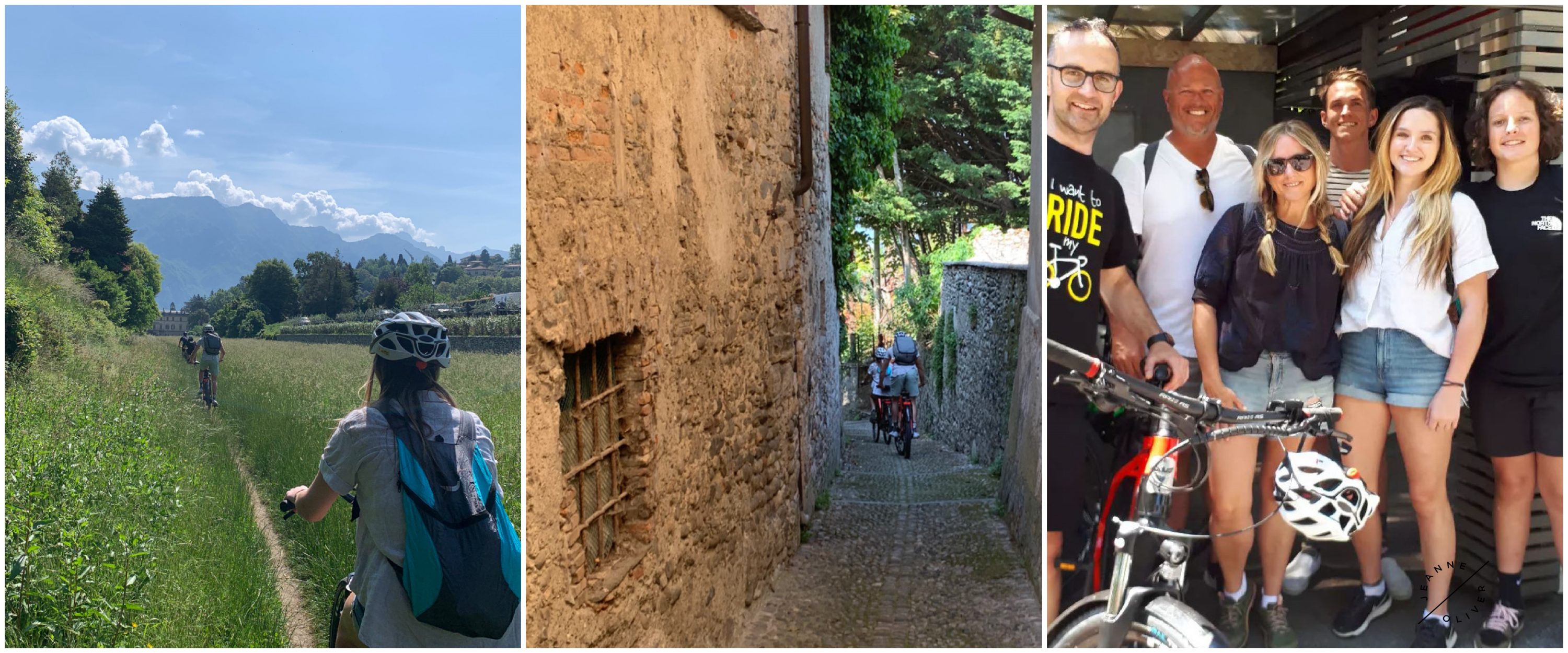 If you have followed me for any amount of time you know how much we love to hike and ride bikes. I just want to be out in nature and out exploring wherever we are. Nothing helps you to explore an area faster than riding a bike. When we ride bikes in Bellagio we often use the petal assist e-bikes so we can explore miles away from the town center and also tackle some of the huge hills with a little more ease. You still need to pedal but I promise you that you can stay out longer and see way more! This last visit we explored areas I had never been before and it helped me in a whole new way to really know this beautiful village. The kids would even go and pick up a bike for just a few hours to go explore on their own. If you are a kid in Bellagio you feel so much freedom compared to most towns in America. It is a really sweet gift to give them. I can highly recommend our friends at Como Lago Bike. If you take a bike tour with them you just may end up at Hotel Il Perlo Panorama for the most gorgeous views and they will also feed you well. It is a sweet reward for all of your pedaling!
Picnic + "My" Steps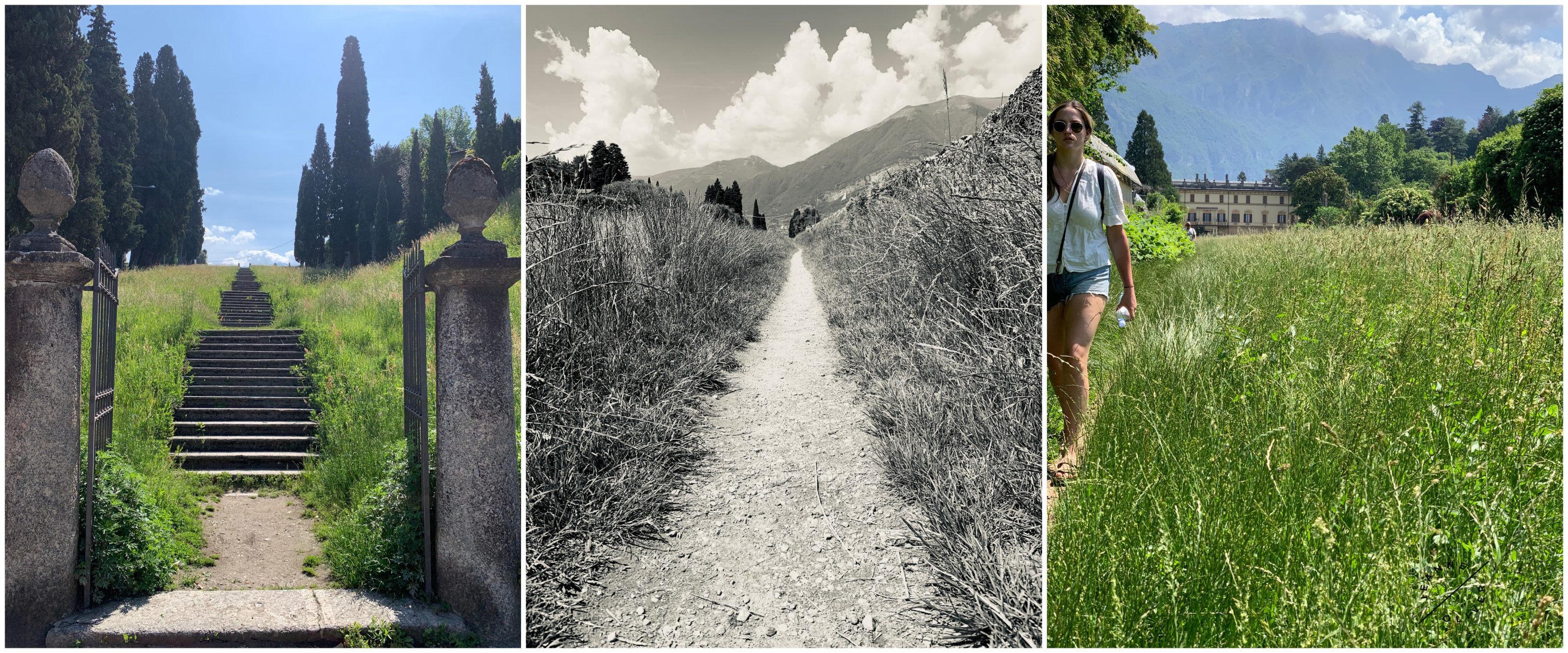 Ok, they are not really MY steps but I have been in love with these steps since my first visit. By now you notice I am telling you to pack a picnic each day and explore. So, go pack a picnic and on your way to the beach stop at My Steps:-) and enjoy your lunch. I have done this again and again and take anyone with me that will come.  These steps lead up to Villa Giulia (I am obsessed with this villa by the way) and they begin near the lake in San Giovanni and lead you directly to the Villa. There is even my favorite little walking/biking path that also heads straight towards the villa.
Hike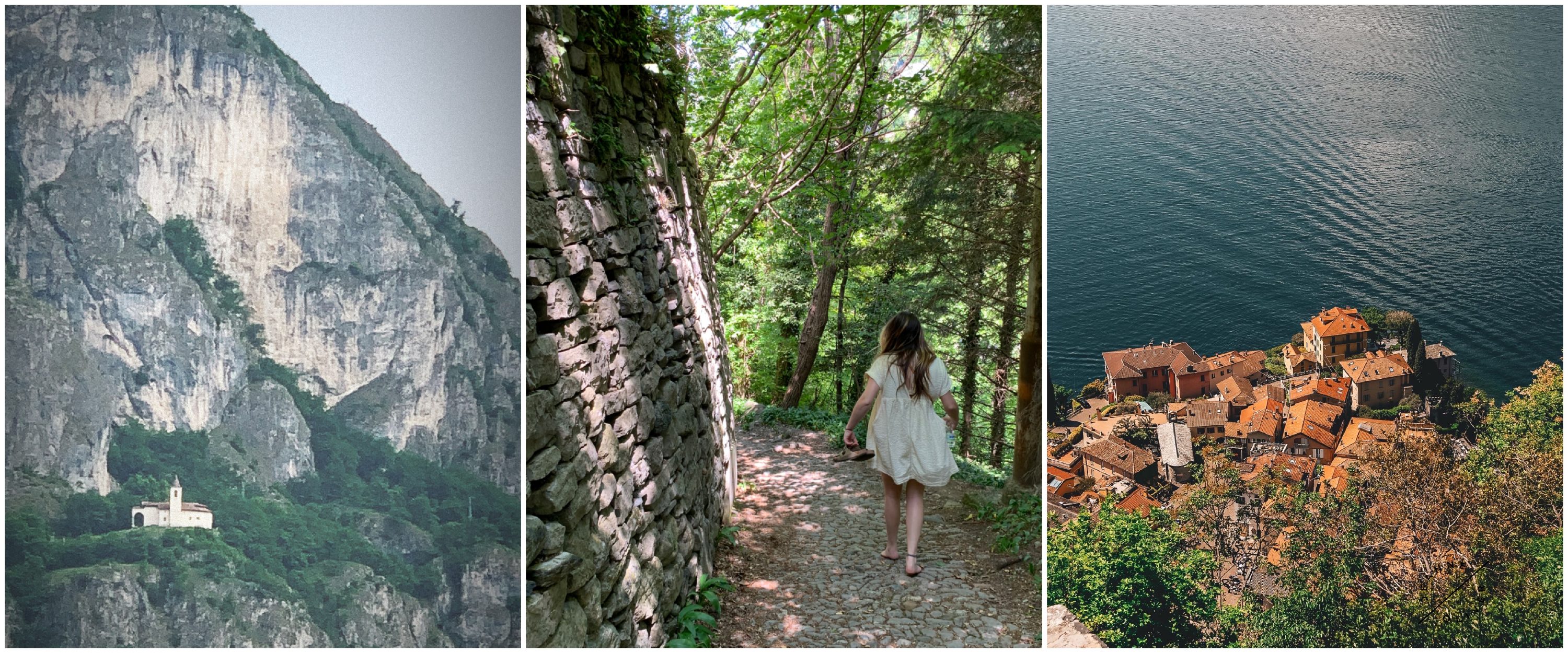 My second to last suggestion for you in Bellagio and along Lake Como HAS to be hiking. You will not experience this area the same without going up! Whether you are walking through village after village on the old Roman foot paths, hiking to San Martino, to the castle ruins above Varenna, the waterfall and gorge hike that will take you through villages until you reach the falls, the Dorsale del Triangolo Lariano that begins in San Giovanni, and so many hikes we haven't yet explored. Hiking has allowed us to see villages, meet people, explore history and connect with Lake Como in ways that wouldn't be possible without being on foot. Each hike has been a treasure to me and my whole family.
Eat Eat Eat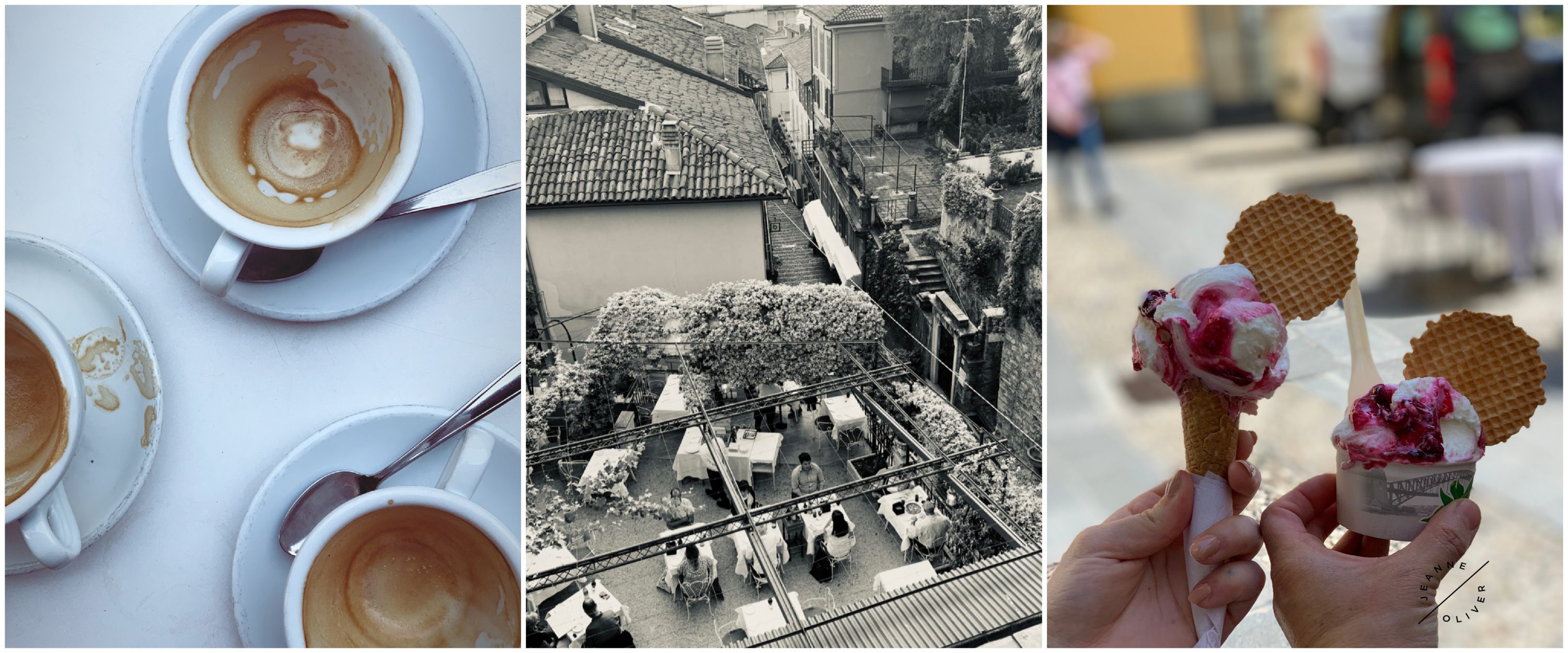 You will be walking everywhere so this is the one vacation that I promise you that you can literally eat anything you want and you won't gain weight. Seriously. It is a magic vacation. There is no shortage of wonderful restaurants to choose from but if you are going to Bellagio for the first time here are a few you will want to visit. Outside at Restaurant de l'hotel Florence (I love it so much when the wisteria is in bloom), La Punta (incredible wine list too), Dispensa 63 (my personal favorite in Bellagio),  Bilacus (incredible food and wine list), BabaYaga for a good solid pizza and make sure to order the baby size (trust me), and  Alle Darsene de Loppia (outside).  The truth is that there are so many amazing restaurants that we have found over the years. Just explore, go down walkways, try something new and have fun. And don't forget that if you can find a tiny walkway with a little table I recommend you order a pizza and chianti and most likely it will be one of the best meals of your life. I have pretty much shared to pack a picnic lunch each day and then followed it up with dinner suggestions. So, what about in the middle of the day when you want a cappuccino or a gelatto? I highly recommend Bar Sport in the town center where you can get your espresso, listen to the church bells, the best spot to people watch and read a book. If you want to get out of the town center I recommend NeNe in San Giovanni.  This spot is perfect for a coffee break, to pick up a few things at their market or for an aperitivo.  When I was asking our Madolyn if I missed anything she was shocked I forgot gelato. Duh! This is a daily staple and I wish I could tell you to try a bunch of different places but we Olivers are creatures of habit and Madolyn and I would only go to Gelateria del Borgo and only get amarena. But it is REALLY good!
I tried not to repeat things I had shared with you in THIS post so if you are wanting more Lake Como suggestions you can also read more HERE.
I would love to hear YOUR Lake Como/Bellagio favorites too! You can also follow #artistinbellagio and #anartistinbellagio to see many of the photos I have tagged over the years.