Welcome to An Artist In series. In this series a different artist, that is intimate in different parts of the world, will share their insider tips for where to eat, stay, see the best art, sketch the best views, rest at their favorite cafes and more. You will be able to go out and adventure here in the US and abroad and feel like your best friend shared the best kept secrets about an area and you can explore with confidence.
The ninth in the series is An Artist in Georgia O'Keeffe's New Mexico with Julia Muller.   You can read previous episodes, An Artist in Florence HERE  ,  An Artist in Tuscany HERE,  An Artist in Marrakech HERE, An Artist in Lombardy HERE ,An Artist in Oaxaca HERE,  An Artist in Lisbon HERE,  An Artist in Bellagio HERE, and an Artist in Paris HERE.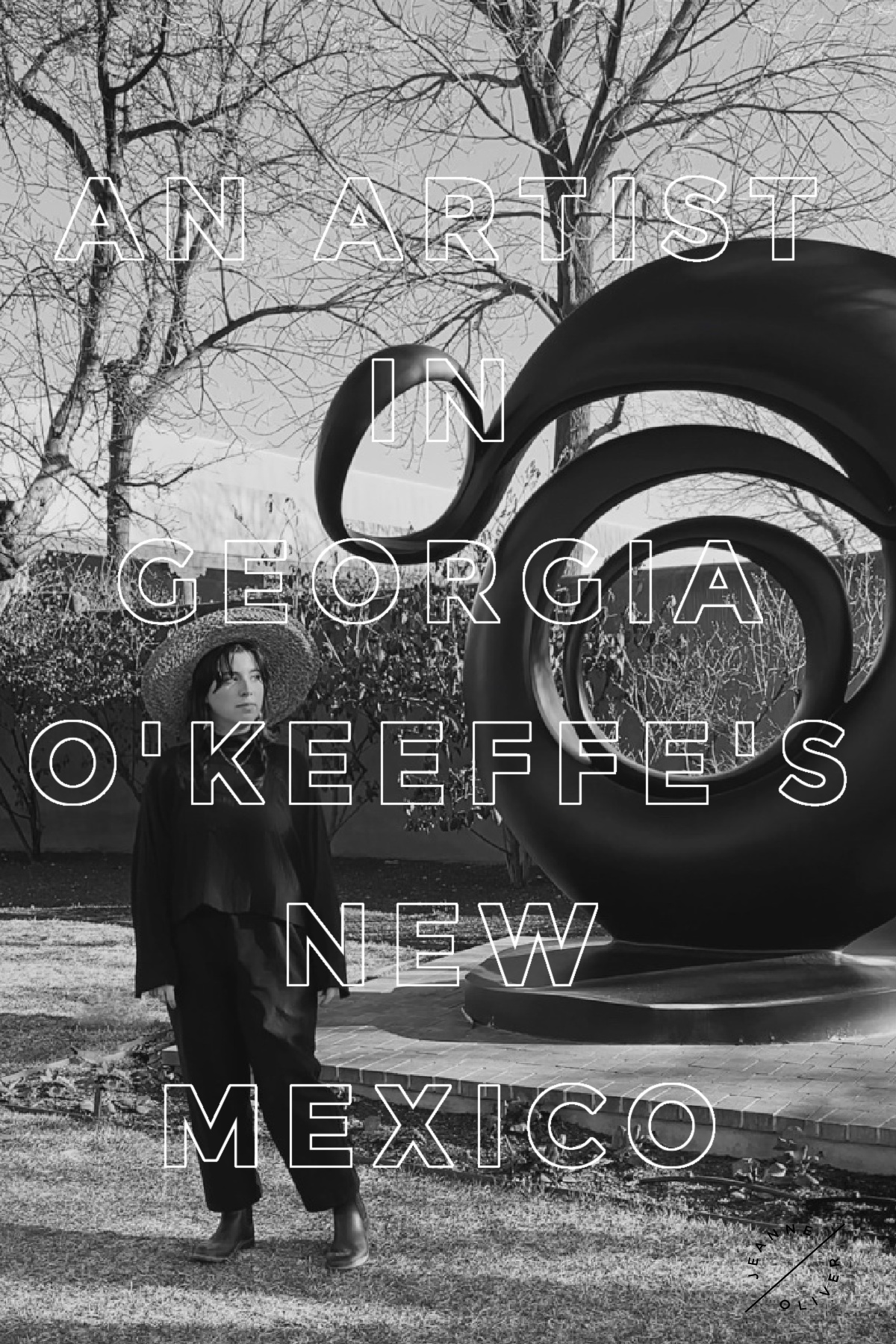 I recently traveled to New Mexico back in March to follow the footsteps of Georgia O'Keeffe and take in the beauty of the native mountain land. My mom and I took a beautiful road trip that started in Albuquerque, we made our way up to Santa Fe and Abiquiu and ended the week at one of Jeanne's workshops in Colorado to make some art and continue to be inspired by women artists. I gathered some of my favorite moments and photos from this trip to share with you to feel inspired or as a guide if you're looking to visit.
The Home, Studio + Garden of Georgia O'Keeffe in Abiquiu, Mexico |
Her space in Abiquiu is incredibly inspiring as an artist and for anyone who notices the small details in every day. She bought a property that was completely run down and "uninhabitable" but she trusted her vision and made it exactly what she wanted.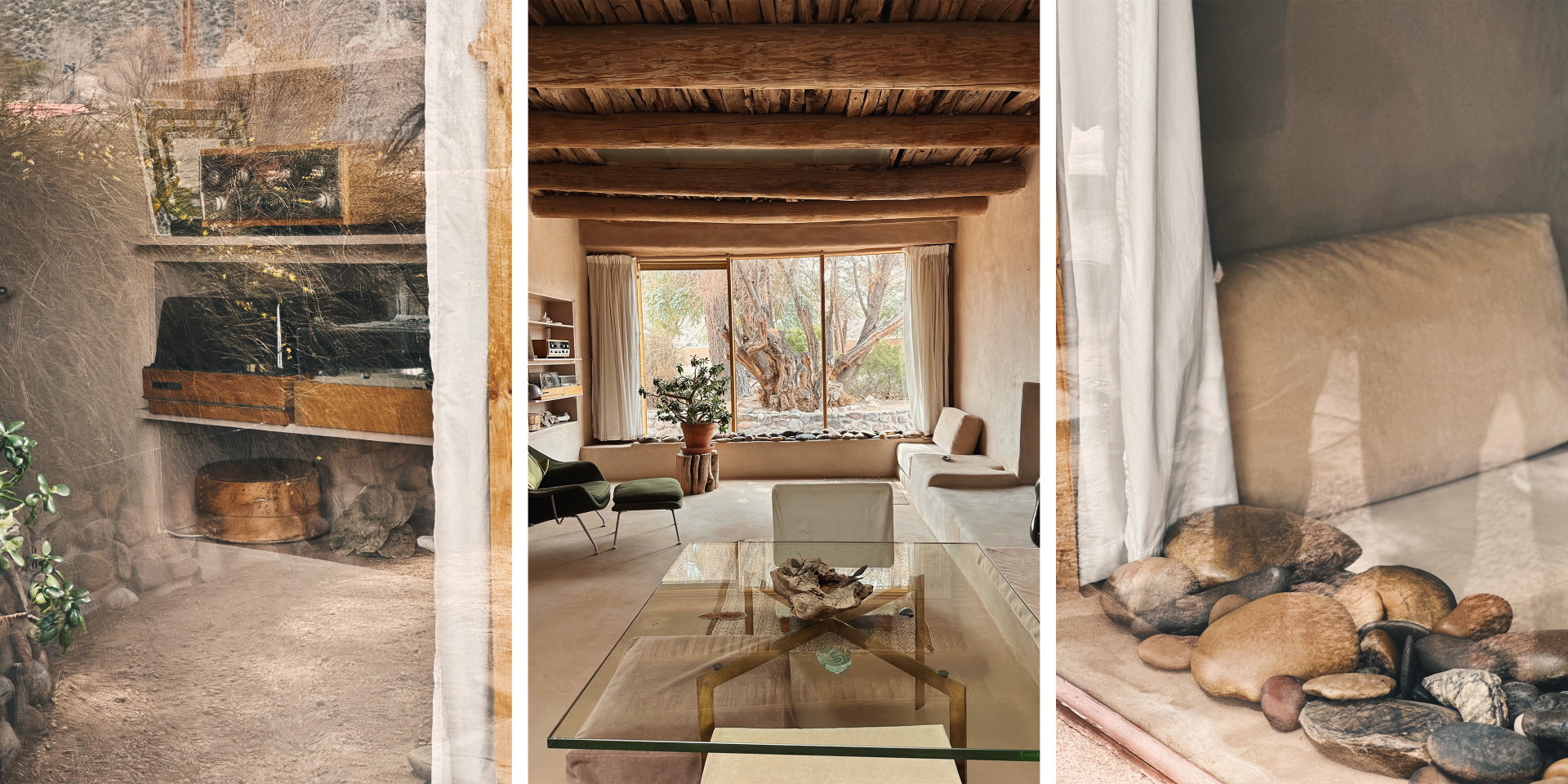 One of my favorite details of her home are the large glass windows that fill the space with light and nature. Her home blends the inside and the outside which created a serene environment for her artistic journey and life in her later years. Nature and the dry desert were so vital to her and how she lived and that is so evident in her space.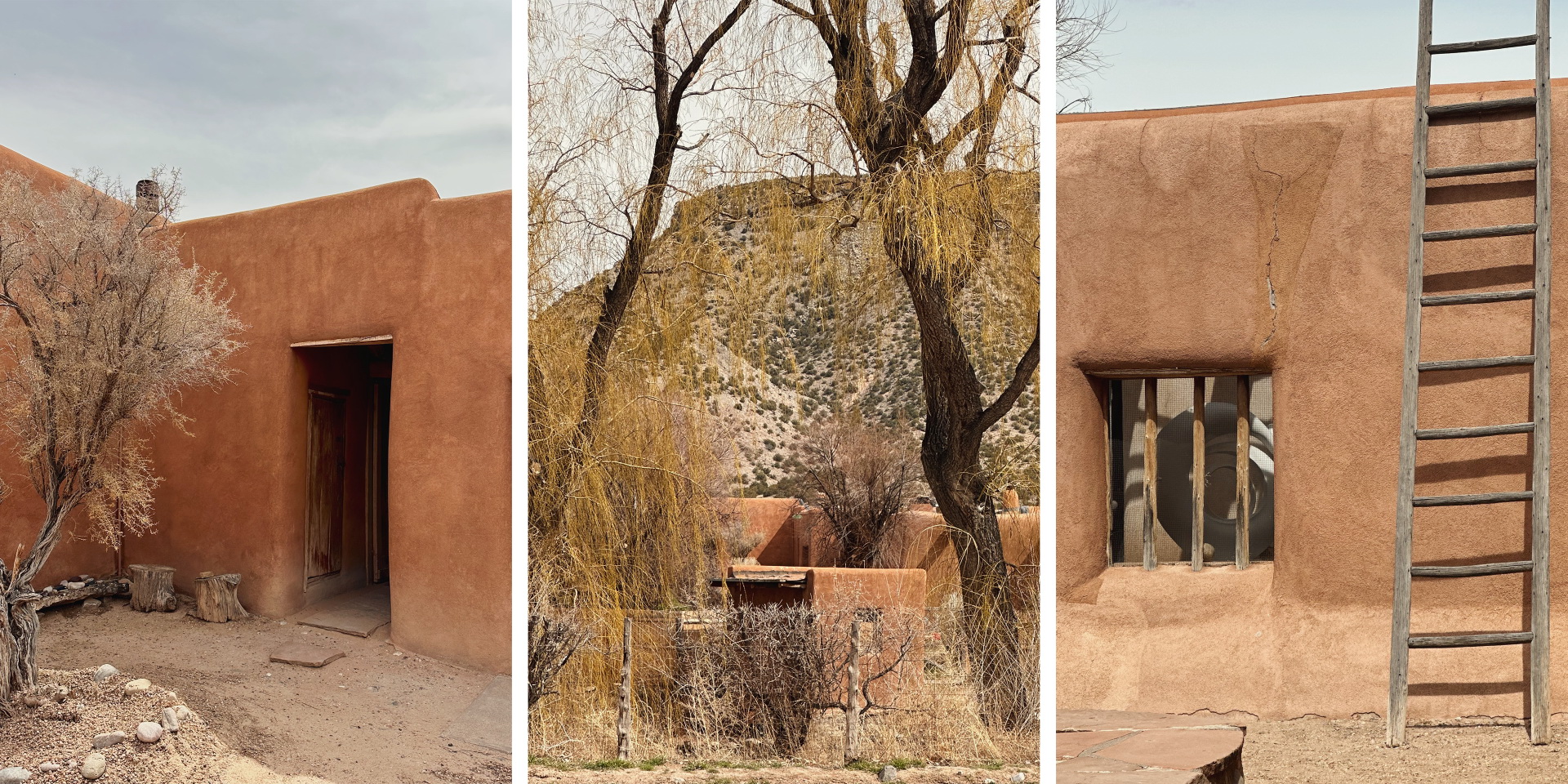 Terra-cotta colored adobe walls flickering with the sun shadows of branches, rocks covering every surface, the natural palette and minimal objects, bare walls that bring focus and the subtle pop of green from the house plants.. These are just some of the details I remember while walking through her space. She found inspiration right where she was with what she had – rocks, land, dried plants, animal bones, etc. It didn't matter that the desert was dry and "lifeless", she saw what made it alive.
On the 'Home + Studio' tour we got to walk through her garden, living room, dining room, kitchen, pantry, her studio and bedroom as well as explore a bit of the surrounding grounds outside. Overall it was an experience I think about often and will continue to draw inspiration from in my life.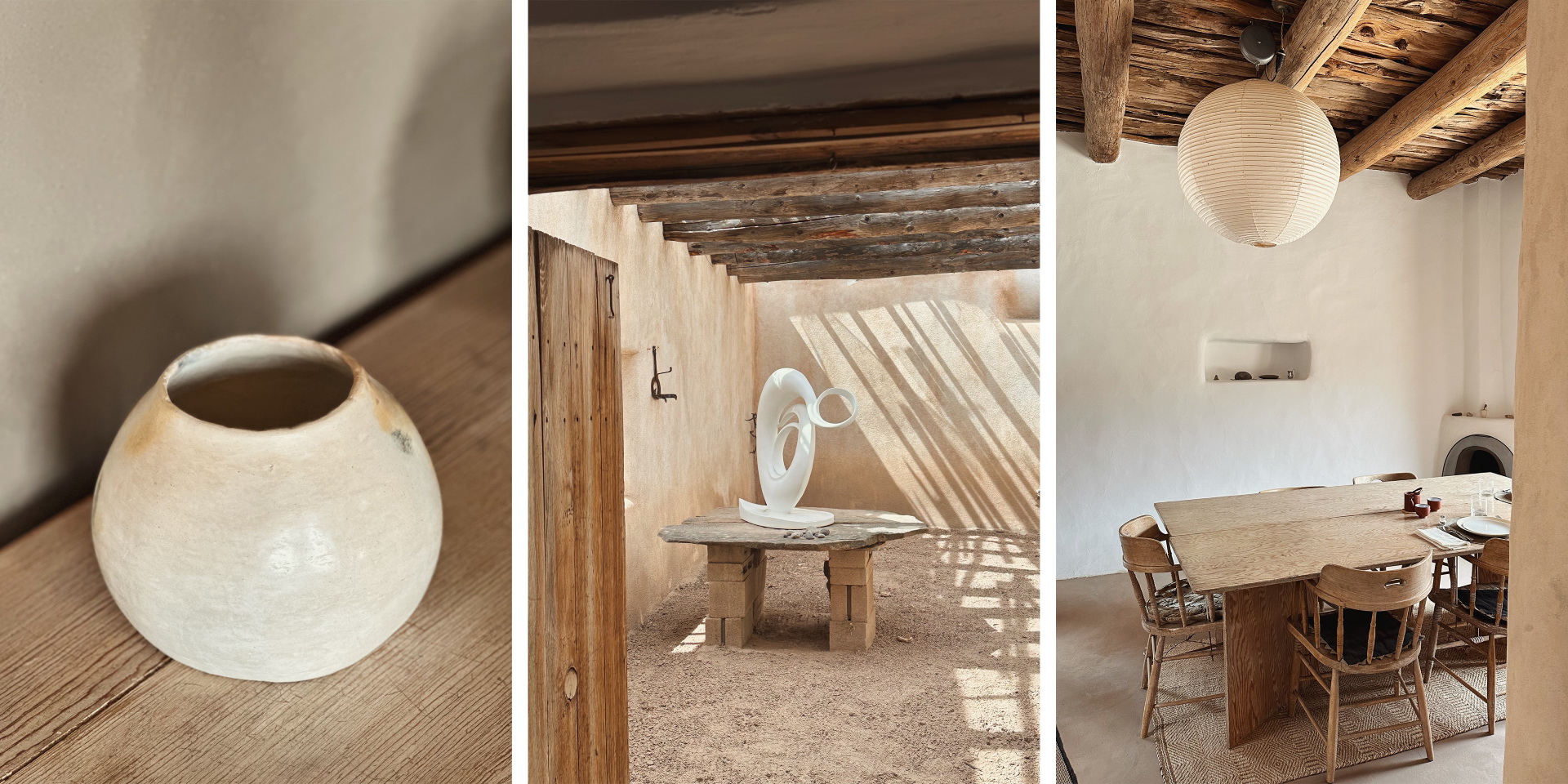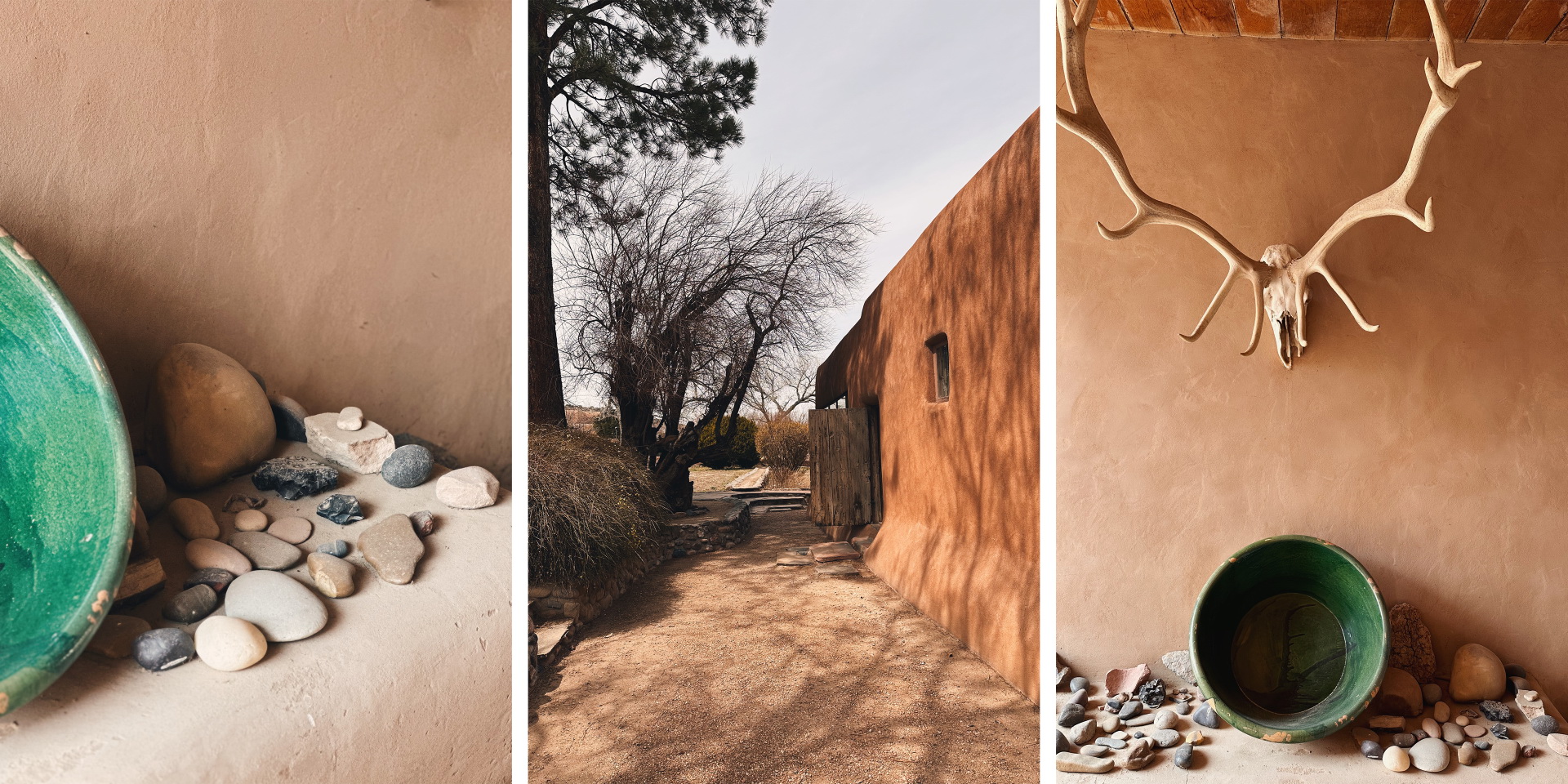 Make sure to stop by the museum store! There are beautiful books, art prints, jewelry and replicas of her iconic black wool hat.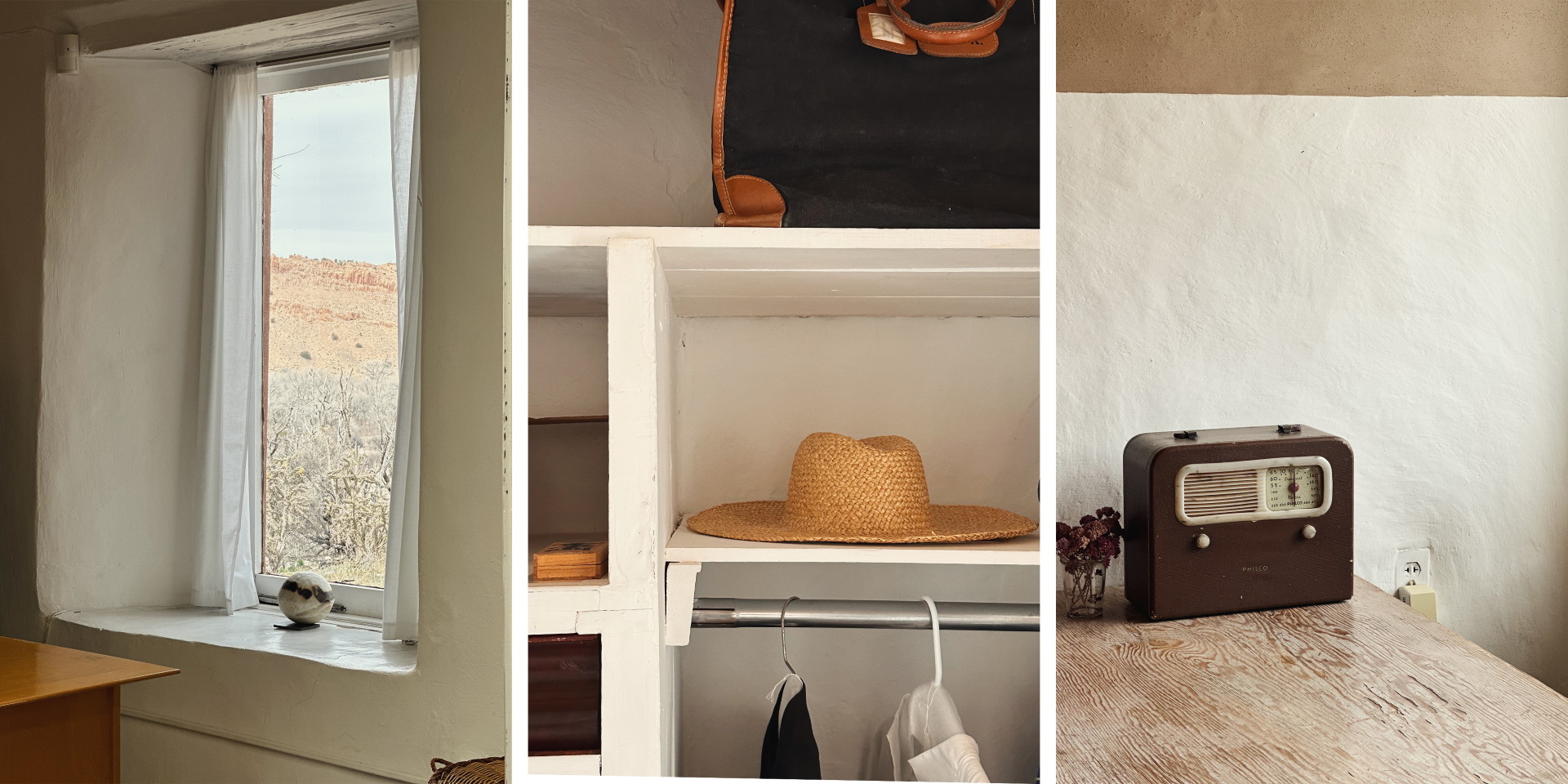 The O'Keeffe Welcome Center
2110 U.S. 84, Abiquiu, NM 87510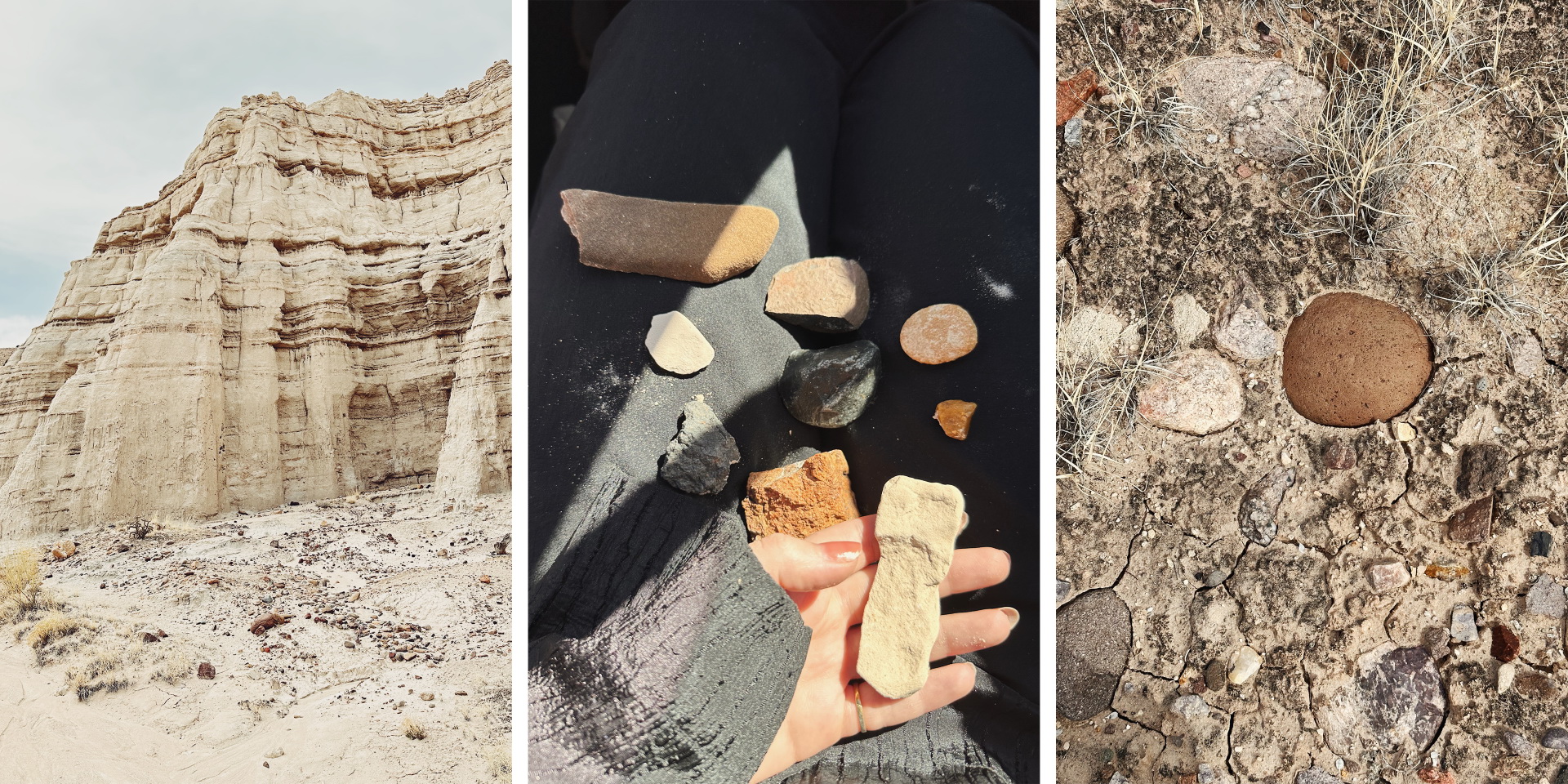 Plaza Blanca |
When looking for land to explore we stumbled upon Plaza Blanca while driving. I didn't know it at the time but this place is in many of her paintings called the White Place and I learned that it was one of her favorite spots to come to to find and gather inspiration through nature; I could feel her presence the entire time. Colored rocks stuck in the ground like a mosaic, the formations of the tall rock walls, the sand blown perfectly by the wind creating a path to follow deep into the mountains curves.. Plaza Blanca is beautiful native and earthy land to explore.
https://www.plaza-blanca.com/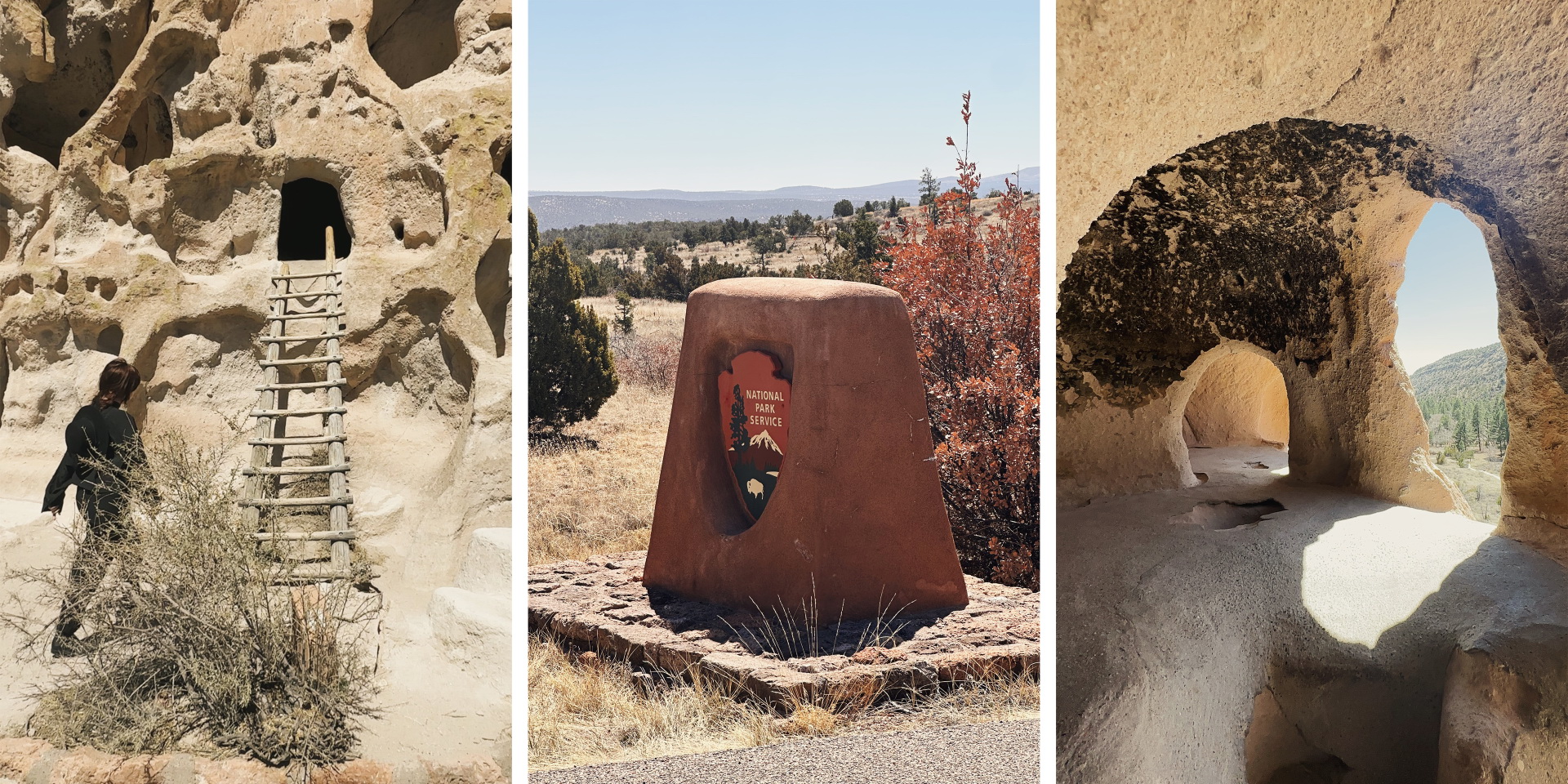 Bandelier National Monument |
Beautiful canyon land and mesa country filled with the magic of petroglyphs and rock cliff cave homes is what Bandelier is all about. We walked and explored the land on hiking trails and got to see wildlife and climb into some of the cliff dwellings. In the gift shop I picked up some piñon incense handmade by artisans in Santa Fe which captures the natural scent and feeling for all of New Mexico perfectly.
LewAllen Galleries in Santa Fe, NM. |
A beautiful art museum to visit while in Santa Fe. At the time there were sculptures, local artworks and a few Picasso works on display.
1613 Paseo De Peralta, Santa Fe, NM, 87501
https://lewallengalleries.com/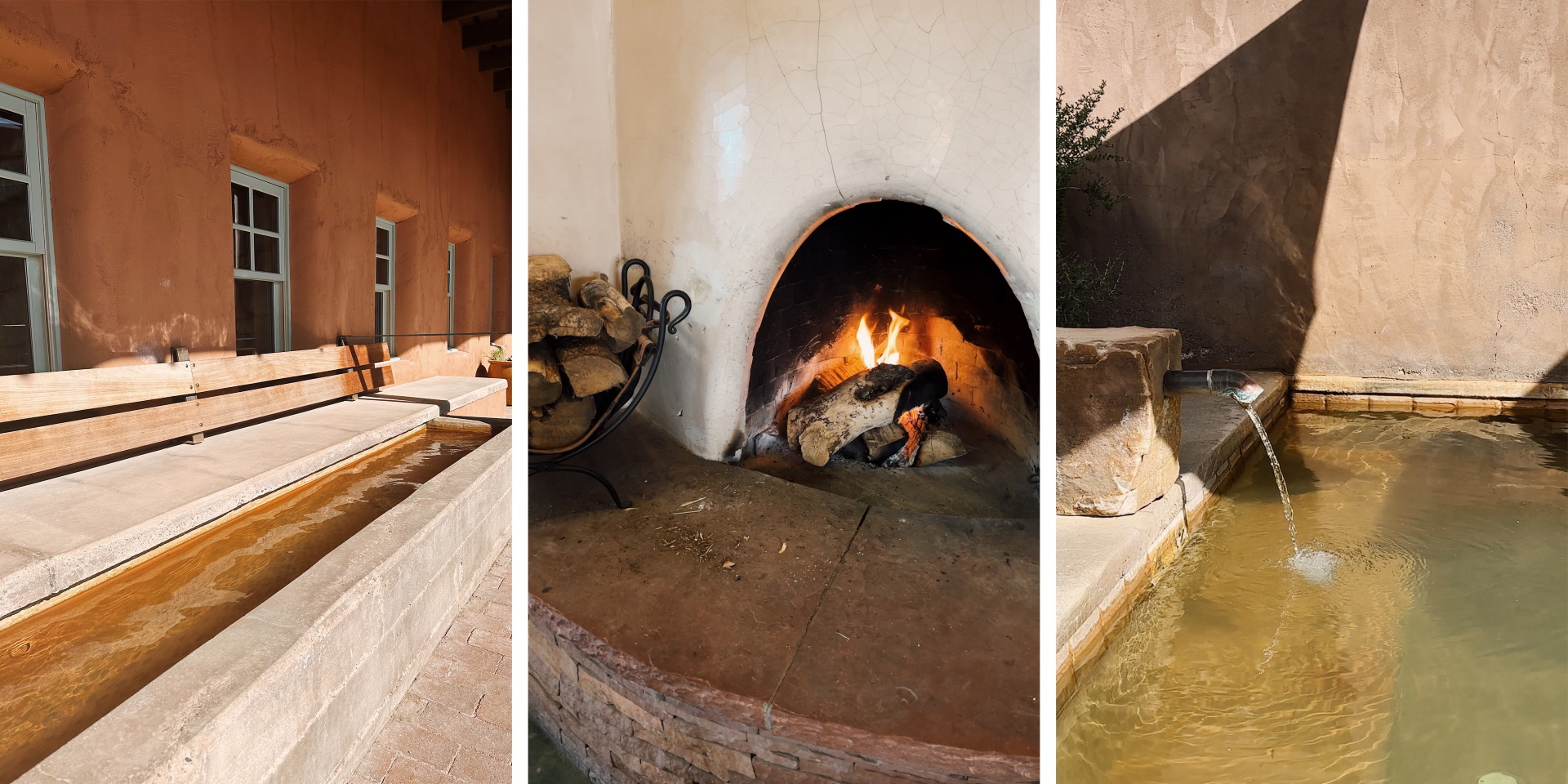 Zen spa day! At Ojo Caliente Mineral Springs Resort & Spa |
Truly one of the most breathtaking and relaxing experiences was spending the day at the spa in Ojo Caliente. Located in the mountains of New Mexico, it is one of the oldest health spas in the country! Healing hot springs of mineral waters for soaks, saunas, body/mind/soul treatments, and the sound of crackling fire wood and native flutes surrounded by crisp mountain air. We had breakfast and booked the Ojo Glow skincare treatment and a private soak. We left here feeling so refreshed and thankful. It really is a full mind and body meditational experience. I am dreaming of going back!
50 Los Banos Drive
Ojo Caliente, NM 87549
https://ojosparesorts.com/ojo-caliente/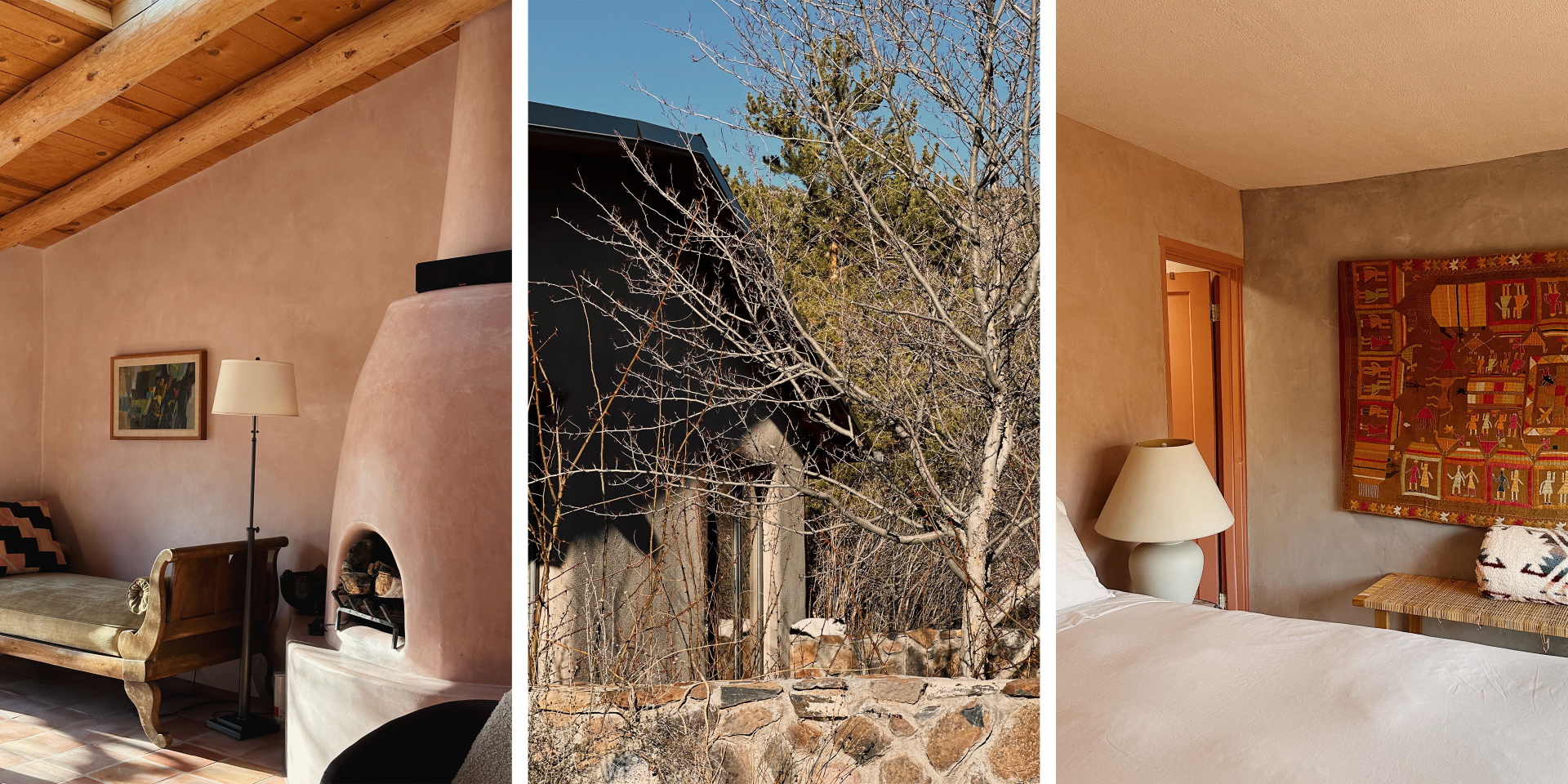 Where to stay |
We stayed at an airbnb adobe home on a property called THE LAND that had all the authentic new-mexico-georgia vibes. Located in the 200 person village of Canones and just 20 minutes away from Abiquiu are these few homes nestled together on beautiful quiet land. There are horses, cows, cats.. I was sold at cats. Say no more. There is another home located on the same property for rent as well! If you're looking for a
serene space and to immerse yourself and live as authentic to the land as possible, I recommend staying here!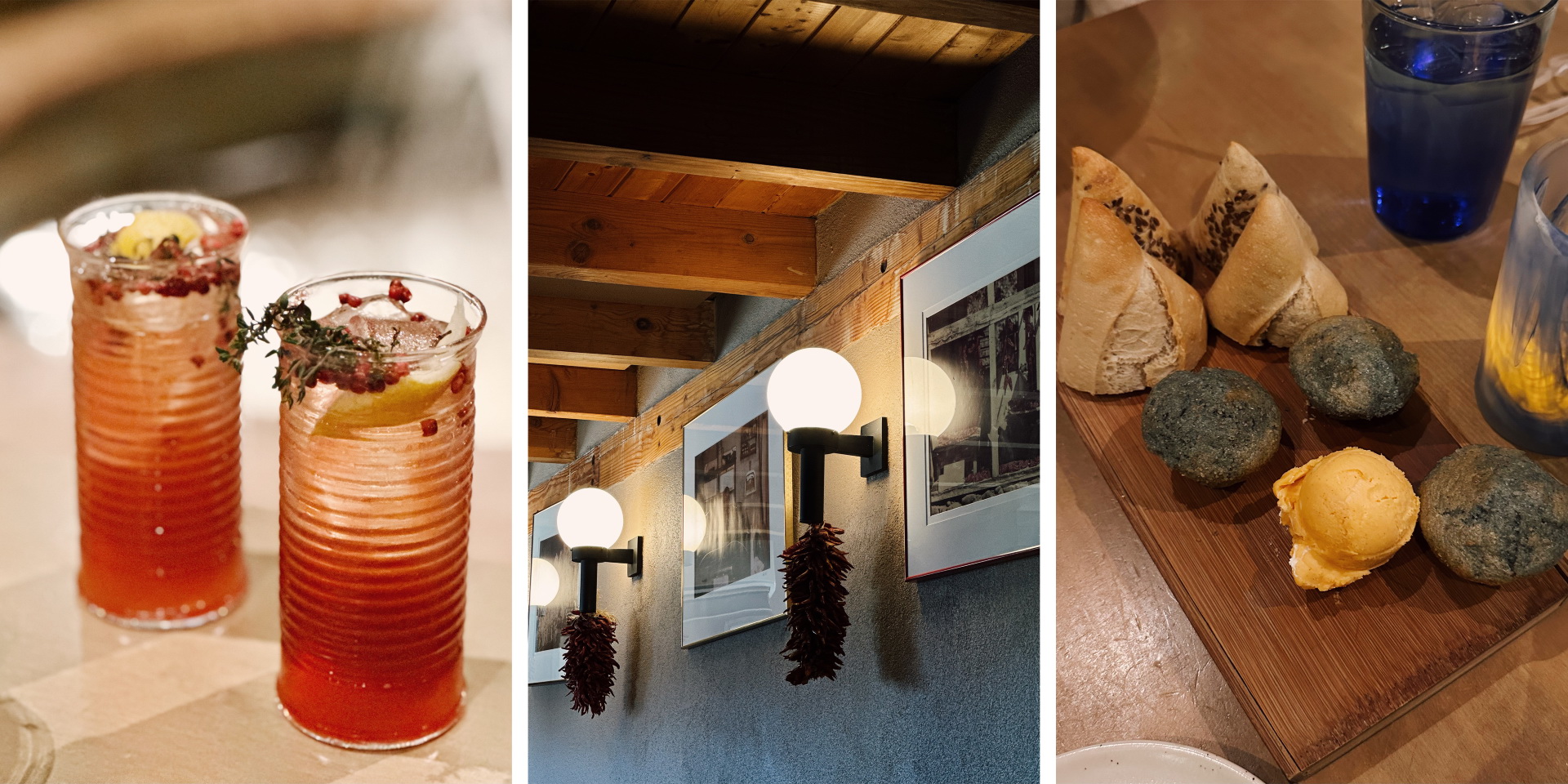 Food |
There wasn't a single bad meal while on this trip. The Mexican food is out of this world! You cannot go wrong. Here is a list of a few spots we ate at. Pictured on the left and right are drinks and the Artisanal Bread Board from La Plazuela. The photo in the middle is from Tomasita's; make sure to order the Sopapillas (delicious pillowy fried dough drizzled with honey) if you're able to!
Lunch at Tomasita's Restaurant | Santa Fe
https://tomasitas.com/menus/santa-fe
Dinner at La Plazuela at La Fonda on the Plaza | Santa Fe
https://www.lafondasantafe.com/la-plazuela
Dinner at La Cocina | Espanola
https://www.facebook.com/lacocinanewmexico/
Breakfast at Cafe Abiquiu & La Terraza | Abiquiu
https://www.abiquiuinn.com/cafe-abiquiu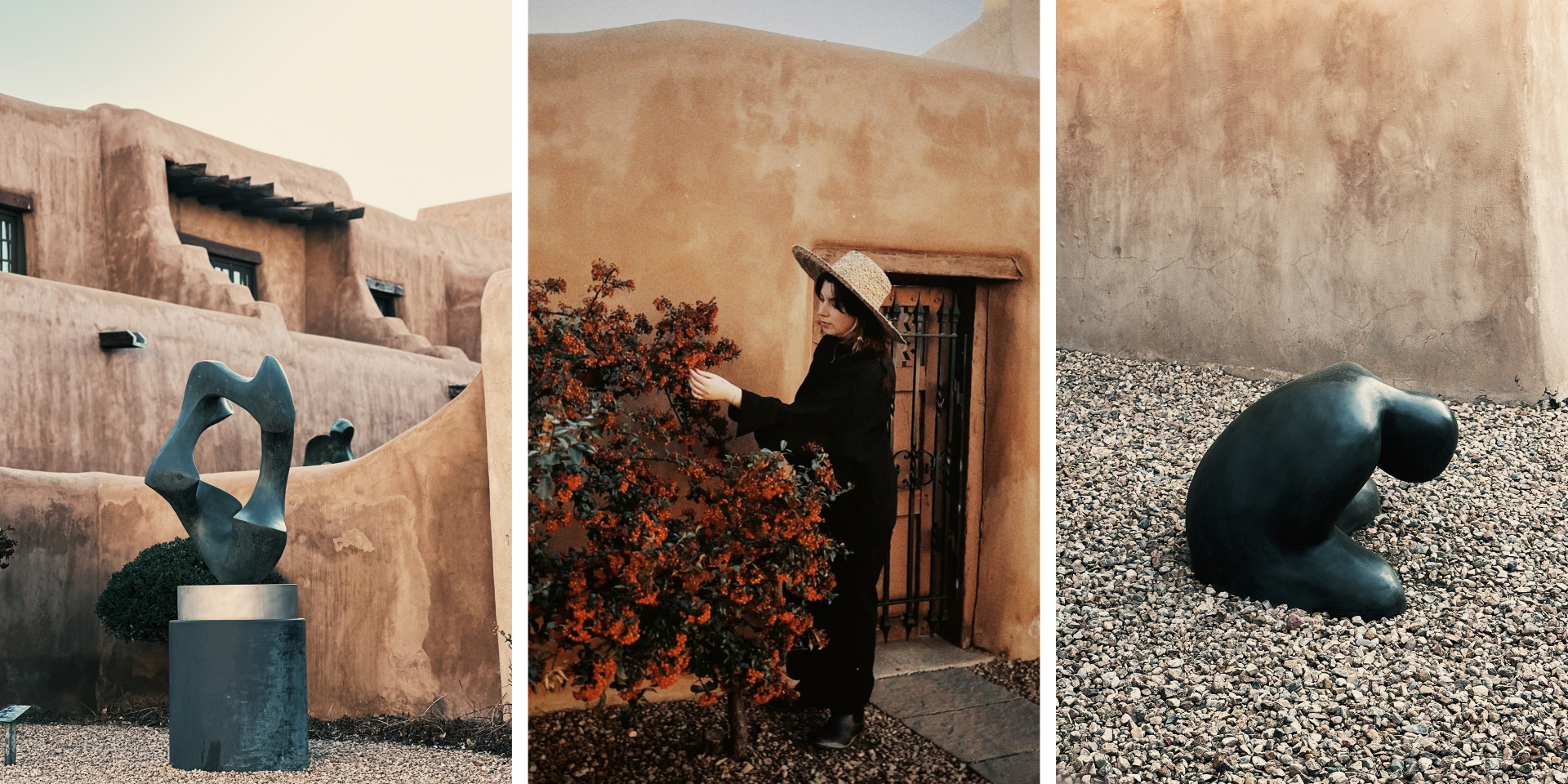 Some other inspiration found on the trip was Georgia's black spiral sculpture 'Abstraction' and the outdoor sculptures of Allan Houser in Santa Fe. We were trying to find her sculpture but there was zero information online about where it was. After asking around and following some clues, we stumbled upon a beautiful adobe building that had an orange berry tree perfectly placed alongside an abstract bronze sculpture. The artist is Allan Houser, an Apache Indian artist. These sculptures are outside of the New Mexico Museum of Art which was closed but we were able to admire the sculptures that were outside.
Right down the street we saw Georgia's giant spiral peaking out from the trees! It was outside of the Georgia O'Keeffe Museum Research Center.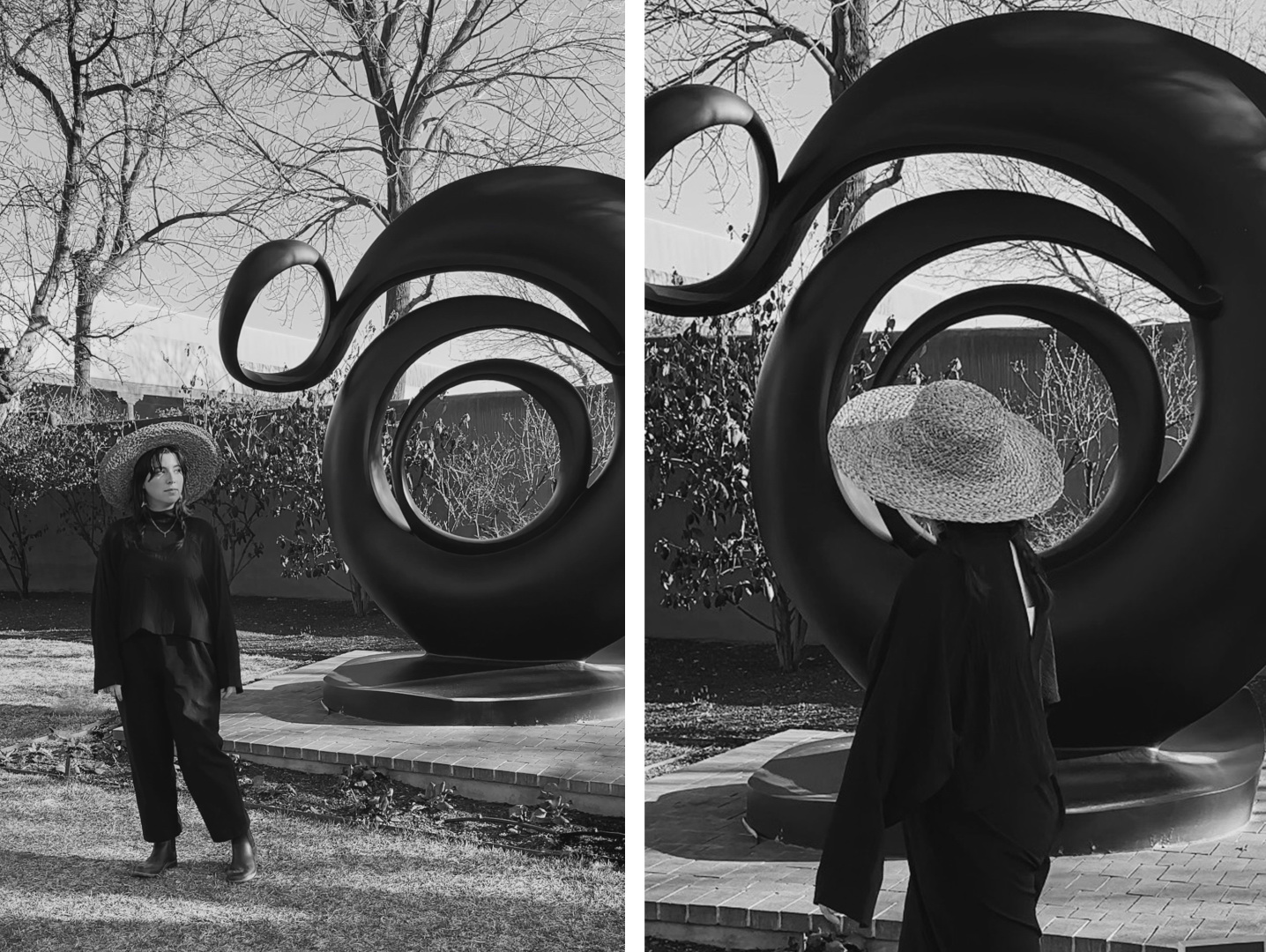 Nearby is the Georgia O'Keeffe Art Museum which was also closed but is the place you want to go if you're interested in viewing Georgia's art while in New Mexico! All three of these locations are close by within a short walking distance of each other. Just a beautiful quiet spot in Santa Fe to admire the beautiful and historical adobe architecture, see some art and eat good food.
Allan Houser Sculptures at New Mexico Museum of Art:
107 W Palace Ave, Santa Fe, NM 87501
Spiral Sculpture at Georgia O'Keeffe Museum Research Center:
217 Johnson Street
Santa Fe, NM 87501
Georgia O'Keeffe Museum:
217 Johnson St, Santa Fe, NM 87501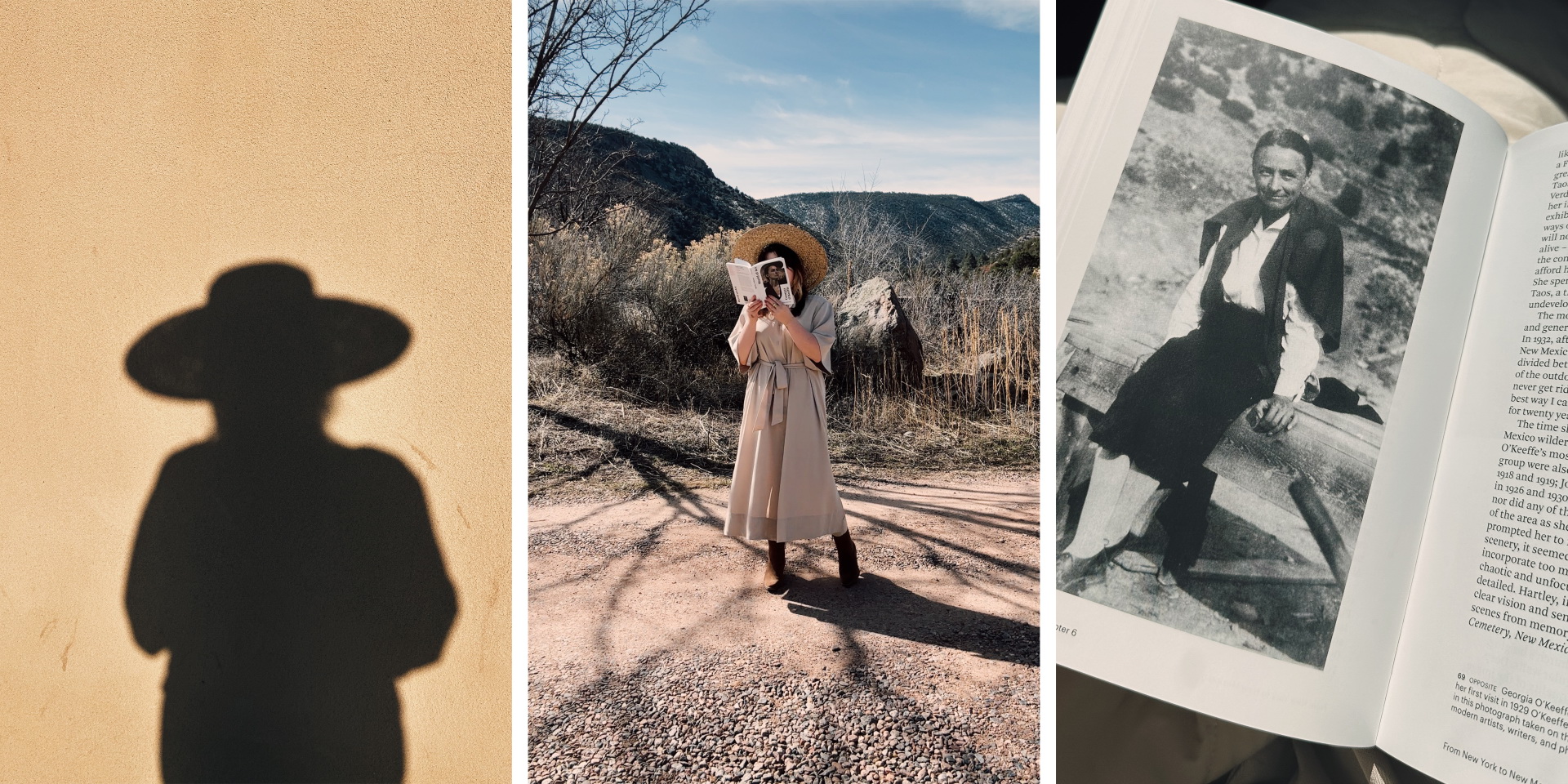 We had this trip booked before the lockdown happened a few years ago and we had to cancel it. I am so glad that happened because I would not have appreciated or seen the details the way that I got to years later in my mid-twenties. This trip and seeing the way that Georgia lived has impacted not only my artistic journey but showed me the importance of living slower. Noticing the details of every day, gathering inspiration from nature, simplicity in living, moving intentionally, following ones own path that we feel called to and not listening to the outside noise that tries to distract us.. Georgia lived out all of these things and it was truthful to her. As someone who loves a multitude of things, Georgia is an inspiration for the idea that we can be many things throughout our lives.
We don't have to be just one thing forever; At any moment, on any day, at any age, we can try something new and can change what we do with what we have and how we choose to live. Georgia once said "If you ever go to New Mexico… it will itch you for the rest of your life." and I couldn't agree more.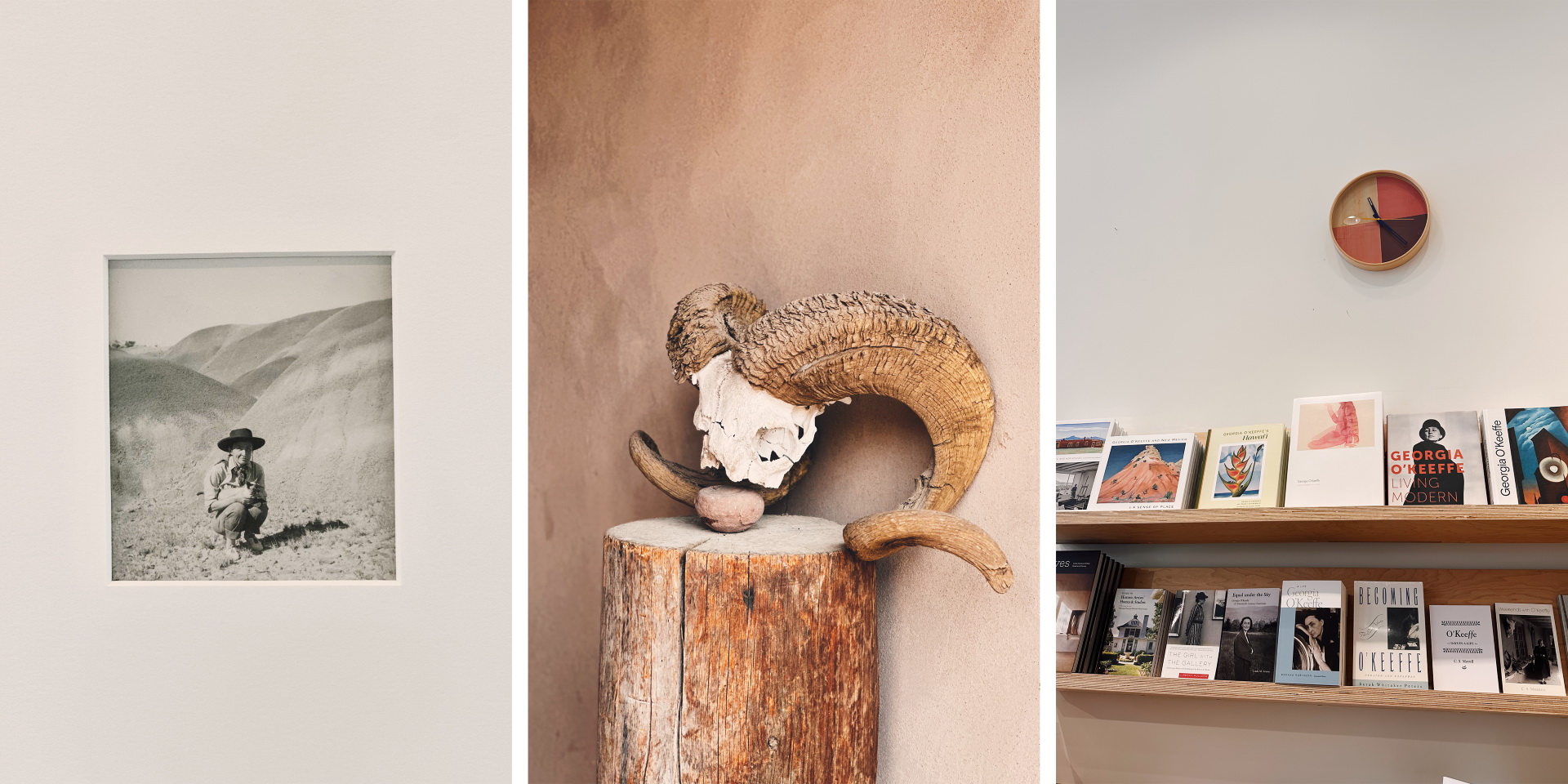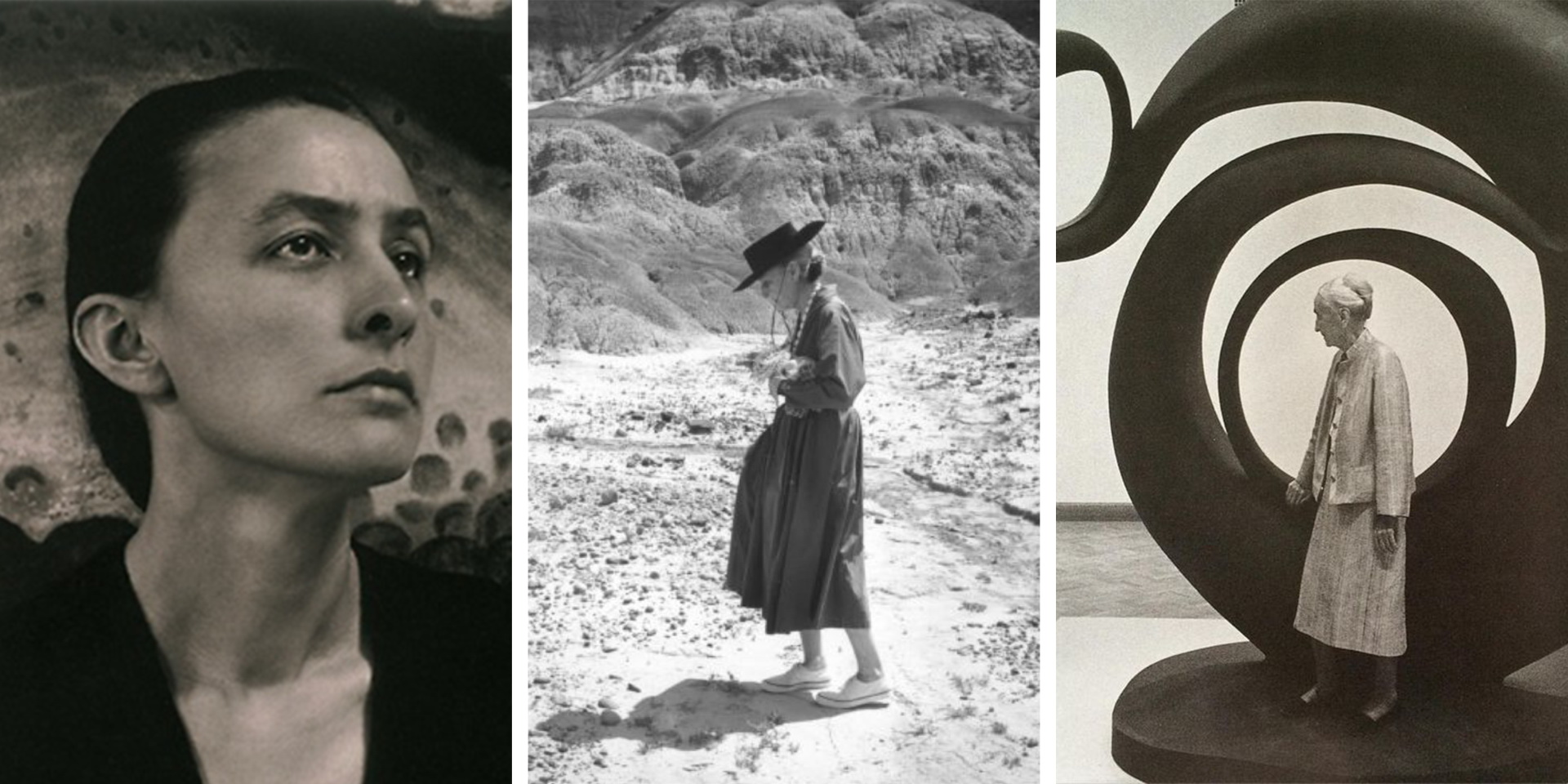 "I've been absolutely terrified every moment of my life and I've never let it keep me from a single thing that I wanted to do." -Georgia O'Keeffe
ABOUT ME
Hello – I'm Julia Rose! A 25 year old creative freelancer and graphic design student from New York. I'm a lover of all things vintage, interior design and florals. My art consists of abstract line drawings, mixed media collages, clay sculptures, and (more recently) oil pastel based works. You can check out some of my art and product styling/photography below ~ thanks for reading along!
Art // etsy.com/shop/juliarosemuller
Web // https://juliarosemuller.myportfolio.com
IG // @juliarosemuller instagram.com/juliarosemuller