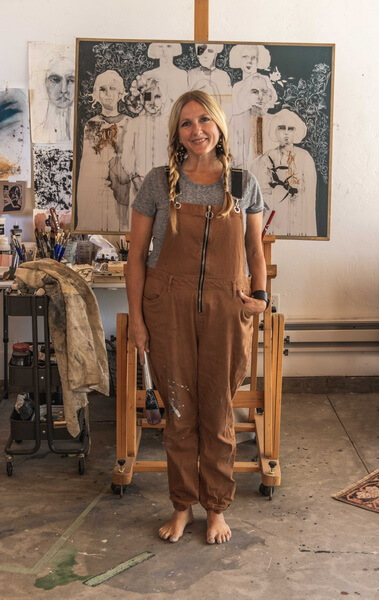 Jeanne Oliver grew up in rural Illinois and now resides in Castle Rock, CO. She is inspired by our personal stories, travel, and nature.
Jeanne uses art to tell her current stories and also those of growing up among gravel roads, cornfields and early life surrounded by open spaces. Through mark making, layers and mixed media, she hopes to convey that we all have a story to tell.
Jeanne is married to her dream maker, Kelly, and the mother of three funny and creative children. She homeschools her children even though she has tried to get out of it a few times. You can often find her hiking, creating in her studio and finding an excuse to have another cup of coffee. She speaks and teaches all around the country and sometimes she even gets to cross the pond. She was told that she needed to find that one thing but she doesn't like listening to directions so she embraces many loves and that has given her a sweet mash-up of family, art, and travel. Connecting with women and sharing that each of us has been creatively made is one of her passions.
You can join Jeanne here through, her blog posts, taking an online course with her, taking an in person class with her in the US and abroad thru The Living Studio. Visit the Press page for publications and listen below for interviews.
Jeanne's Website